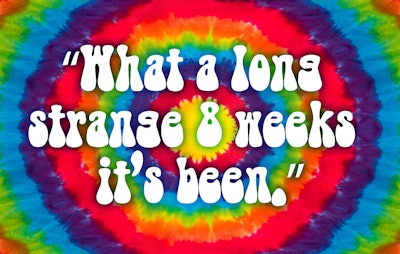 Coming in to 2020, many carriers were happy to have survived last year and, thanks to federal tax cuts and a business-friendly White House going into a re-election campaign, were optimistic about what lie in store.
According to a survey conducted by CCJ in late January, corporate tax cuts enacted in 2017 helped 48% of for-hire carriers and 52% of private carriers to invest in new equipment last year, while 44% and 39%, respectively, said they raised driver pay. Only 12% of for-hire carriers and 14% of private fleets claimed to have put that cash infusion in the bank.

Click here to view our full coverage of the coronavirus' impact on the trucking industry from the leading industry publications of Commercial Carrier Journal, Overdrive, Truckers News and Trucks, Parts, Service.
Many of the comments on the survey pinned a lot of hope to a strong U.S. economy getting even stronger, spurring growth in domestic freight and, by proxy, rates. Barely two months later, the COVID-19 coronavirus has blown apart that optimism.
Research firm MacKay & Company's monthly DataPulse Plus report noted in late March its panel of fleets expect to see a steep drop in revenue miles, with the carriers forecasting a 10.3% slide over the next 2 to 3 months. In contrast, the agency's January report – pre-global pandemic – showed fleet panel members expected a gain of 1.2% revenue miles this year over 2019. Currently, the group of motor carriers expect revenue miles to end the year 10.1% under last year's levels – a -11.3% net deficit of the expectations with which they rang in the New Year.
Another CCJ survey sent just last week – as the pandemic's rise accelerated – showed 41% of respondents had already seen a drop in freight levels, data that jives with that collected from more than 2 million Geotab connected vehicles worldwide through the last two months.
From Monday, March 16 to Friday, March 27, Geotab data shows there has been a significant drop in commercial transportation activity in both the U.S. and Canada versus baseline levels recorded from Feb. 1 to March 15. The U.S. has shed nearly 25% of its normal commercial transportation activity.
"We book and service a large amount of trade show volume," a private fleet respondent to with up to 500 truck noted in CCJ 's March survey, "and that freight is non-existent right now."
Petroleum and oil field has slowed drastically, and haulers that support auto manufacturing and specialized freight noted that as those plants shut down, those loads go with them.
"Manufacturers and our customers are closing," a for-hire respondent with up to 250 trucks wrote.
Carriers with up to 99 power units were hit the hardest according the the recent CCJ survey, with 47% seeing losses in freight levels. Fleets with 100 trucks or more are faring better, with only 27% seeing a drop in freight and 51% seeing an increase. Among the carriers with less than 100 units, 24% reported an increase in freight.
While commercial vehicle movement surrounding warehouses and retail stores has dropped 20-30%, Geotab CEO Neil Cawse said the flow of essential goods around grocery stores has only declined by 10% since March 15.
"We are a 100% refrigerated carrier and we are having great volumes of loads," one CCJ respondent with up to 500 units wrote, while others noted shipments to food and household good retail outlets have tripled. "Lots of soft retail closing, but surging in toiletries and grocery," added a for-hire carrier with more than 1,000 trucks.
More than 90% of carriers with up to 100 trucks expected to either grow (35%) or "hold steady" (56%) this year, according to the January CCJ survey. Carriers with 100 trucks or more were slightly more optimistic, with 41% expecting growth this year and 55% standing pat, but current conditions have been especially tough to weather for fleets who invested in new assets last year.
A for-hire carrier with less than 25 trucks commented on CCJ's March survey that the tough 2020 business climate has already forced the company to shed 20 leased units and cancel pre-planned truck and trailer orders. In all, 19% of respondents said they had already cancelled orders for new trucks (12%) and/or trailers (7%).
As difficult as the last two weeks have been, respondents to our March survey don't expect much improvement over the next 30 days, with 48% expecting a decrease in freight volume through April.
"When the grocery surge ends, we expect freight overall to drop," penned a for-hire carrier with more than 1,000 trucks.
Not all the news is foreboding. Only 15% of respondents had been forced to reduce their non-driver workforce and 13% forced to eliminate drivers, and there is some optimism among the group, as 28% of respondents expect freight levels to stay the same with another 25% expecting an increase.
"We are seeing light at the end of the tunnel," wrote a for-hire bulk hauler with up to 100 trucks. "I anticipate things to start going back to semi-normal, even though it'll be defined as a new normal. Things will probably stay different for some time."