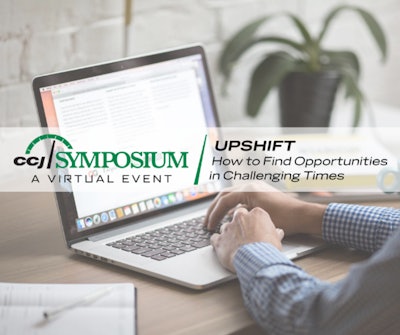 The COVID-19 pandemic has thrown the trucking industry into chaos, disrupted supply chains across the globe and caused freight rates to tank. As states gradually lift strict stay-at-home mandates and begin to open up retail stores, restaurants and other non-essential businesses, the pistons that drive the U.S. economy are beginning to fire again.
The virtual CCJ Symposium, Upshift: How to Find Opportunities in Challenging Times, will help fleet executives understand how to navigate their businesses back to productivity and profitability and create contingencies for future business disruptions.
Fleet executives, get expert insights on managing your fleet during the pandemic.
Save your spot at our virtual CCJ Symposium, May 27-28
CCJ
invites all fleet executives to
reserve their spots today
for the free, virtual
CCJ
Symposium on May 27-28, 2020. Space is limited to the first 500 attendees, so make your plans to attend today.
Sessions at the virtual event will include an analysis of the COVID-19 pandemic's impact on the trucking industry from economist Donald Broughton, as well as a conversation with industry veteran Richard Stocking on how to outperform in a down market.
"Fortunes aren't made in an up market," says Stocking, CEO of DPX Consulting and former CEO of Swift Transportation. "Now is the time to get your business strategies aligned so you will be in a position to prosper in the next cycle when the economy turns around."
The CCJ Symposium also features panel discussions with thought leaders at innovative carriers including B-H Transfer, Daseke, Dupre Logistics, Florida Rock & Tank Lines, Halvor Lines, Hirschbach Motor Lines, Jetco Delivery and Liquid Trucking. These sessions include:
On the Front Line: How to Keep Drivers – and Keep Them Safe – in a Post-Pandemic World
Breaches & Ransom!: Why Fleets are Easy Targets for Hackers Right Now
Disaster Recovery: Lessons Learned in the Bounce Back from Near-Ruin
Town Hall: Supplier discussion on ways they can help you manage today's unique challenges
Attendees will have the opportunity to ask questions live after each session and visit the virtual tradeshow booths of program sponsors Comdata, Freightliner Trucks and Shell Lubricants.