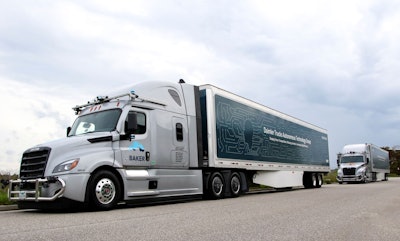 Just a year into their self-driving truck partnership, Daimler Trucks and Torc Robotics – now part of Daimler Trucks' Autonomous Technology Group – announced Tuesday the two companies plan to erect a new testing center in Albuquerque, New Mexico.
The Group's focus is to bring series-produced highly automated trucks (SAE Level 4) to the roads within the coming decade. Plans include on-road deployment of a Level 4 test fleet, initiation of truck chassis redesign, adoption of a hub-to-hub model, formalized rigorous testing protocols, formal truck safety driver certification process, and extended software capabilities. Expanding to a new location this fall, the companies say, will support testing and provide data for more use cases of next-generation vehicles on public roads.
Initial public road testing on highways began last September near Torc's headquarters in southwest Virginia. Closed-track road testing is conducted at Daimler Trucks North America's High Desert Proving Grounds in Madras, Oregon. In February, Daimler Trucks and Torc announced plans to expand testing of automated truck technology to additional locations, adding new public routes in the U.S. That plan was postponed due to the COVID-19 pandemic, however.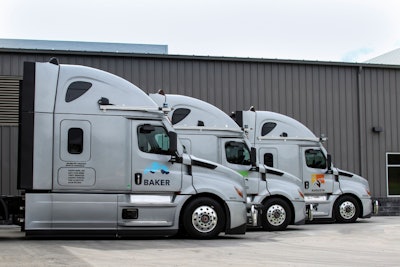 During the pandemic downtime, the teams continued testing by focusing on robust simulation testing. Public road testing with safety and health protocols in place resumed in Virginia in June and will continue with the next generation of automated driving software. The team in Oregon will continue focusing on the development of vehicle safety systems, which are critical for delivering the safety standards for self-driving trucks today and in the future.
Dr. Peter Vaughan Schmidt, head of the Autonomous Technology Group at Daimler Trucks said the partnership has enabled Daimler and Torc to move faster on developing Level 4 trucks by providing Daimler engineers with insights on how the technology will impact truck design, and Torc with data and perspective on what technology will work best for the trucking industry.
"We will implement the results of our collaboration in the next phase of public road testing later this year," he added.
Torc Robotics – which CEO Michael Fleming dubbed "one of the pioneers of self driving" – has 15 years of experience in commercializing self-driving technology in heavy-duty, safety-critical applications, and its Asimov autonomous driving system has been tested on public roads, including a cross-country trek.
All automated test drives require the combination of a safety conductor, who oversees the system, and a CDL-carrying safety driver that is certified by Daimler Trucks and Torc and specially trained in vehicle dynamics and automated systems.
"It's a really difficult mission," Vaughan Schmidt said of commercializing such a disruptive technology.
According to the U.S. Bureau of Transportation Statistics, the U.S. has seen the tonnage of goods shipped by trucks increase by 56% in the past decade. This number is expected to nearly double in the next two and a half decades. Fleming said these developments contribute to a growing need for safe, reliable, cost-effective trucking solutions.
"Trucking is the strongest self-driving case that I've ver seen by far," he said.
As part of the collaborative research and development, Portland-based Daimler Trucks North America (DTNA) has in the works a refined truck chassis suited for highly automated driving as well as the redundancy of systems needed to achieve safe, reliable driving. As part of the Autonomous Technology Group, DTNA is also researching the infrastructure required for the operational testing of initial application cases.
The race is on to be the first OEM to successfully commercialize self-driving tech, and Navistar and TuSimple recently announced a tie up that puts each firmly in contention. However, Fleming was reluctant to tie a date to when the technology would be commercially viable, emphasizing that the Daimler Trucks' Autonomous Technology Group approach "is we will deploy the product when it's safe," he said.