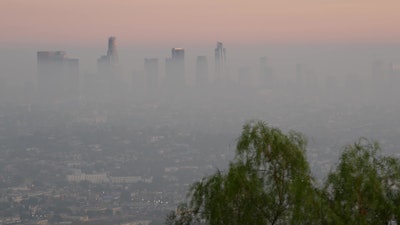 The Nevada Division of Environmental Protection on Tuesday released its State Climate Strategy, and included in the new outline is the possibility of the Silver State adopting the California Air Resources Board's (CARB) Clean Truck Program, which the Golden State adopted in June.
The CARB regulation aims to accelerate California's transition to zero-emissions by calling for manufacturers of commercial trucks with combustion engines to also sell zero-emissions trucks at an increasing percentage of their annual California sales from 2024 to 2035.
It also requires fleet owners with 50 or more trucks to report on existing fleet operations. The agency will use this information to help identify future strategies to ensure that fleets are purchasing available zero-emissions trucks and placing them in service where applicable.
Kristina Swallow, director of Nevada's Department of Transportation (NDOT) noted that while NDOT played a leading role in developing the state's Climate Strategy, the transportation sector "recently surpassed energy generation as the largest contributor of emissions in our state."
Nevada's strategy lays out four key metrics for evaluating its proposed climate policies – GHG emissions-reduction potential, climate justice, economic implications and implementation feasibility – but the state's CARB-inspired proposal fared poorly across each category.
Climate Justice – how the initiative could impact low income populations – faired the worst. That low-income demographics are often clustered closer to areas of freight movement – like freeways and industrial centers – the report found it could be beneficial among the population near freight hubs, yet found that "this policy may not affect freeway operations, [and] the impact is uncertain without additional information on the areas with a high volume of short truck trips compared with demographic data."
The impact of every other metric was deemed "minimal and/or uncertain information resulting in uncertainty about the magnitude of the emissions reduction and timeline."
Without climate action, Nevada's 2019 greenhouse gas emissions inventory suggests the state will fall 4% short of its 2025 emissions reductions goal and 19% short of the 2030 target.
"NDOT has been working hard to encourage alternative modes of transportation and carpooling to decrease the number of vehicles on our roads, as well as review our agency's internal operations for opportunities to further reduce emissions," Swallow said. "Through the Nevada Electric Highway, HOV lanes, Clean Cities, and other initiatives, we will continue to work collaboratively with our local, state, and federal partners on creative, data-driven strategies to reduce emissions across our vast transportation network."
In July, the governors of 15 states pledged to work collaboratively toward the decarbonization of commercial vehicles, signing a Memorandum of Understanding (MOU) – dubbed the Multi-State Medium- and Heavy-Duty Zero Emission Vehicle MOU – that outlines a coordinated effort to expedite the deployment of zero-emission medium- and heavy-duty vehicles. Nevada was not one of the signees, but the report notes it could join the initiative that calls for 30% of new commercial truck and bus sales to be zero-emission by 2030 and 100% zero-emission by 2050.
Nevada's State Climate Strategy is intended to serve as a framework and roadmap for state policymakers to develop Nevada-specific policy and budget proposals in-line with climate change mitigation and greenhouse gas (GHG) reduction goals.