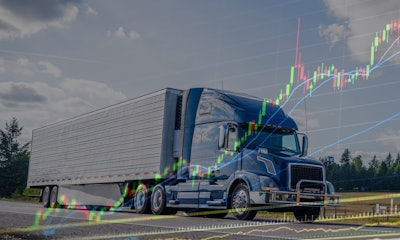 Despite economic activity seemingly slowing some in December overall, indicators relating to trucking activity continued to show strength in the month. In addition to Class 8 truck orders closing the year on a rally, spot market rates in December continued to accelerate for dry van and refrigerated loads, according to load board operator Truckstop.com, and trucking employment numbers jumped again in December from November.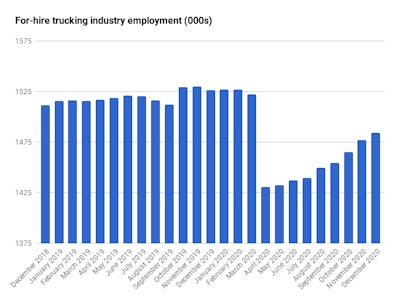 For-hire trucking in December added another 7,300 jobs, according to the Department of Labor's monthly Employment Situation Report. That gain continues a now eight-month rally in trucking employment. Since May, for-hire fleets have added back 53,700 jobs. That's still 43,000 jobs shy of the most recent peak, February 2020. And trucking's December total total of 1,484,300 payroll jobs is also 42,100 jobs short of the same month in 2019.
However, trucking bucked the economy's overall employment trend. The U.S. economy at large lost 140,000 jobs as economic activity slowed. Surging virus cases have been considered a culprit, with the leisure and hospitality sector dropping nearly half a million jobs, including big losses in the food services and drinking places segments.
Goods-heavy sectors that usually benefit trucking, such as construction and manufacturing, saw jobs growth, as did overall retail trade — which includes home furnishings and building materials, merchandise retailers, car dealers, among other retail segments.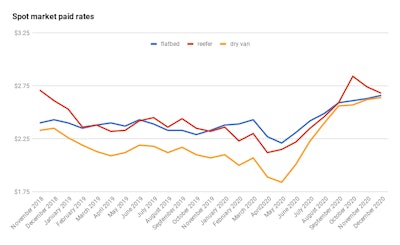 On rates, dry van and flatbed hit multi-year highs, while reefer remains elevated, historically speaking.
Dry van loads averaged $2.64 a mile in December in Truckstop.com's system — a 2-cent increase from November and an 80-cent jump from May, just seven months earlier. It was van's strongest showing in two and a half years, since July 2018.
Flatbed rates, likewise, climbed 3 cents in December to $2.66 — a 45-cent gain from its recent low point in May. It was also a multi-year high mark for flatbed on Truckstop.com's board, hitting its best monthly average since September 2018.
Lastly, reefer's average in December slipped 8 cents, to $2.68 a mile. That's still 46 cents higher than the segment's low in April. It's also 36 cents stronger than November 2019 (Truckstop.com averages were unavailable for December 2019).