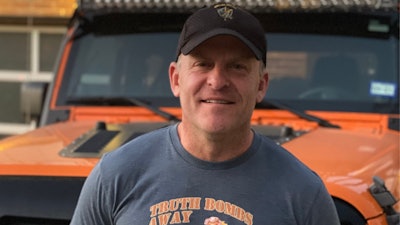 Grant Stinchfield
So what led a four-time Emmy award winning journalist to go into trucking?
In a word: Necessity. Grant Stinchfield, host of Stinchfield on conservative cable news outlet Newsmax, explained that he was reporting on jack-knifed trucks and other traffic issues during an ice storm on the High Five Interchange in Dallas "while the Super Bowl was in town" when reality came to call.
"I was making a pretty decent living, working for the NBC station," Stinchfield said. "And I said, this model does not work for them – for them to be paying me money that they are paying me. I better go find something else to do because you remember in 2011, the economy was in the tank and I figured I'd better go find something else to do before they make me go find something else to do, so I bought an oil change business."
Revenue flowed in and about four years later he bought his first truck. He's now up to 10 Kenworth trucks at his Dallas-based long-haul trucking company, GPS LineHaul. Stinchfield acquired his trucks as they came off lease with roughly 200,000 to 350,000 miles on the odometer.
"That seems to work best for me because I run singles overnight," he said. "I love the idea of teams though anybody in this industry knows just how hard it is to get drivers in a seat, so I make a conscious decision to maybe make a little less money running solos, but not have quite the headaches of trying to keep those seats full."
The majority of respondents to CCJ's 2021 Industry Outlook Survey cited driver availability as their top challenge last year (56%) and this year (46%). However, Stinchfield noted drivers have been easier to come by in Dallas given the "fall of the oil markets," he said, which has "drivers working out in the oil fields that are now coming back with the promise of great money out there that dried up."
While having a bigger driver pool is nice, Stinchfield is concerned about the market conditions that led there.
"I feel bad about what's happening in the oil fields, which is the next issue for truckers right now — the price of fuel," he said. "I mean, what the Biden administration is doing to our energy independence like canceling the Keystone pipeline."
A whopping 72% of respondents to CCJ's most recent Industry Outlook Survey said they voted for Trump/Pence, and only 8% cited the Donald Trump-led political climate in Washington as their biggest challenge last year. But 2021 brought with it turnover in the White House and both chambers of Congress. Driven by political upheaval, 18% of respondents cited the political climate in D.C. as likely their biggest challenge this year.
"Biden's policy doesn't fair well for trucking in general with heavy tax and labor restrictions that are common with the usual Democrat policies," wrote one for-hire carrier with up to 1,000 trucks. "Biden will be bad for the industry and he seems to support higher minimum wage laws that will just drive up cost for our customers and ultimately the end consumers of goods, which could result in lower demand for trucking's services."
Another for-hire carrier with up to 1,000 trucks noted, "while some of the Biden administration's policies will help trucking, the policies I fear most are the environmental policies. Depending on how progressive they are and how quickly the administration moves to implement them, adopting the policies could place a huge financial burden on the industry."
It doesn't take Stinchfield long to talk about politics – his prime area of coverage on his 8 p.m. EST show. Like so many others in the trucking industry, he shares plenty of concerns about what lies ahead under the Biden administration, including liability insurance.
"I've got a lot of friends in Washington saying that Joe Biden is pushing for $4 million in liability coverage. $4 million!" he said. "I kept stats on this. You know how many crashes cost more than $750,000 involving a big rig? .06%. I'm a numbers guy. If 0.06% – half of 1%, basically – is an accident, a crash over $750,000, why are you mandating the entire nation go to $4 million or $2 million worth of coverage? Unless your ultimate goal is to stick it to all of us who burn fuel. Unless your ultimate goal is to stick it to the good workers of America because they're the ones who are ultimately going to suffer the most."
More than 40% fleets surveyed by CCJ expect fuel to be the expense item that increases the most this year when compared to 2020. Driver pay (15%) and insurance premiums (14%) were distant second and third.
On the topic of autonomous trucks, Stinchfield points out that computers can out-perform their human counterparts though a lot of important concerns remain.
"People will get mad when I say this but computers on average do a better job than people do," he said. "Computers do not make as many mistakes as people do, but when they do make mistakes it goes pretty badly. But you know, when humans make mistakes, it goes pretty badly as well.
"What I don't understand is how they're going to handle it from the end point when the truck comes into the yard and you've got to look for another," Stinchfield continued. "At some point, whether it's like the tugboat system in New York Harbor, somebody's got to take over that truck and bring it in and I do worry about the job prospects for all of these truck drivers."
When it comes to future powertrain choices designed to meet increasingly tougher emissions regulations, Stinchfield isn't picking any favorites among hybrid, fuel cell or all-electric trucks, which are gradually rolling out in California where regulations there will require OEMs to begin selling zero-emission commercial vans and trucks by 2024.
"If I had my way I'd keep my 2005 Kenworth that runs like a machine and it never, ever breaks down," he said. "These DPF systems are the biggest cost to me from a maintenance perspective. That crushed me as a little guy. And I say, 10 trucks is a little guy in this business. This is a big boy game.
"And I learned that very quickly, getting into this business, if you're an owner-operator and you've got one truck, I don't know how you do it when you get a $7,500 bill for a DPF system," Stinchfield continued. "When that goes down because it clogs up, it gets dirty, the computer malfunctions, whatever, it's a nightmare. And I used to work for the NRA. We had an old saying at the National Rifle Association that what happens in California never stays in California. Well guess what? That goes for trucking as well."