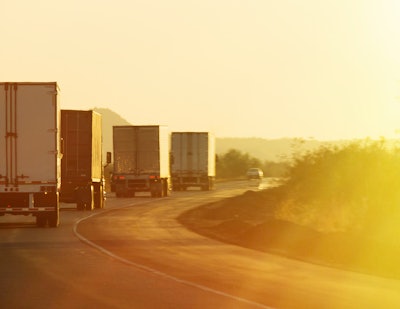 The leased owner-operator model in California suffered a severe blow Wednesday as the Ninth Circuit Court of Appeals reversed an injunction that had exempted the trucking industry from state's AB 5 law and the ABC test for determining validity of any independent contractor classification.
Transportation specialists Scopelitis, Garvin, Light, Hansen and Feary said the California Trucking Association has 14 days to seek rehearing and up to 150 days to appeal with the U.S. Supreme Court. Scopelitis added that the injunction will be lifted either seven days after the expiration of time to request a rehearing or following a denial of a request for rehearing. Or it could be stayed upon further petition of CTA, such as if CTA seeks review by the U.S. Supreme Court.
"Therefore, it is difficult to predict the precise date when the injunction will be lifted and AB 5 can be enforced against motor carriers, although this date could be as early as May 19," Scopelitis said.
Small fleet owner Jimmy Nevarez, who works with more than one owner-operator contractor in addition to hauling himself, remained "curious to see what can be done" in terms of further appeals. He believes the injunction reversal to be "the ugliest thing that could happen to the labor laws in California" when applied to trucking, if it sticks.
The AB 5 law took effect at the beginning of 2020, but a district judge granted CTA an injunction on the grounds that the Federal Aviation Administration Authorization Act of 1994 (F4A or FAAAA) preempted the ABC test's application to trucking. F4A preempts any state-level laws that would "interfere with prices, routes and services" of motor carriers. The 'B' prong of test is particularly problematic for traditional leasing arrangements with owner-operators classified as independent contractors, given it requires a contractor to be outside the normal course of business of the entity contracted to.
In Wednesday's ruling the three-judge panel, which voted 2-1 to overturn the injunction, said the district court that issued the injunction "abused its discretion by enjoining the state of California from enforcing AB 5 against motor carriers doing business in California on the ground that such enforcement is preempted by the FAAAA."
The panel determined that because AB 5 is a "generally applicable labor law that affects a motor carrier's relationship with its workforce and does not bind, compel, or otherwise freeze into place the prices, routes, or services of motor carriers," it is not preempted by F4A.
In a statement following Wednesday's ruling, CTA said it still believes AB 5 should be preempted by federal law. To do otherwise "is clearly detrimental to the long-standing and historical place California's 70,000 owner-operators have had in the transportation industry," said CTA CEO Shawn Yadon. "The California Trucking Association will take whatever legal steps are necessary to continue this fight."
Angus Transportation owner Nevarez will be watching for next steps, though may ultimately put in place plans he described to Overdrive in 2019, ahead of AB 5's original implementation date. "I might consider the move out of state now, depending what's going to happen with the PRO Act," he said, making reference to a labor union-friendly bill that would enshrine a similar ABC test for the independent contractor classification, which typically puts a worker outside National Labor Relations Act protections.
"If we have to move out of state and then we just get thrown to the wolves because of the PRO Act," he speculated, maybe the move isn't worth the effort. At once, "all of our contractor relationships are true business to business" relationships, which Nevarez has hoped could be sufficient to really cement the validity of the contractor status of the owner-operators leasing there.
He's also considered two-check systems he's familiar with through family members in other industries. A welding business owner, for instance, is paid wages and treated as an employee for his time but also earns rental fees for his equipment, including his truck, as a business owner. Such hybrid systems were once common in segments of trucking, too.
[Related: California independent contractor fallout: Two-check pay systems explored]
The lone dissenting voice on the Ninth Circuit's three-person panel, Judge Mark Bennett, said he did not agree with the other two judges that AB 5 is not related to motor carriers' services and therefore not preempted by F4A.
"California will now be free to enforce its preempted law," Bennett said. "CTA's members will now suffer irreparable injury. And the damage to the policies mandated by Congress will likely be profound."
Joe Rajkovacz, director of governmental affairs and communications for the Western States Trucking Association, is hopeful for an appeal by CTA to the U.S. Supreme Court.
[Related: Time for operators to 'tell their story': Nationalized ABC test would ice trucking's independent contractor model]
Rajkovacz believes SCOTUS would hear the case because "there is now a split among federal circuit courts on whether a state can apply an ABC test to motor carrier operations." The First Circuit Court of Appeals ruled in 2016 that Massachusetts' independent contractor statute is preempted by F4A.
"Having that split, which is why I think the Ninth tried to differentiate their decision, is typically the number one way the Supreme Court accepts cases – can't have Americans living under two different sets of laws, depending on where you live," Rajkovacz said.
He added that he believed that if SCOTUS does not overturn Wednesday's decision, it will be more harmful to the trucking industry than the proposed PRO Act legislation in Congress.
"If this decision is not overturned, it is not a stretch to assume 'blue states' would adopt similar labor-friendly laws effectively banning the use of owner-operators under [traditional] federally authorized lease arrangements," he said. "While many think getting one's own operating authority is the solution, there are a lot of issues there, too. For example, an [owner-operator] could be fully independent but mostly rely on a single broker who also happens to be a motor carrier for their work. That business model, in my opinion, would also fail the 'B' prong of the ABC test."