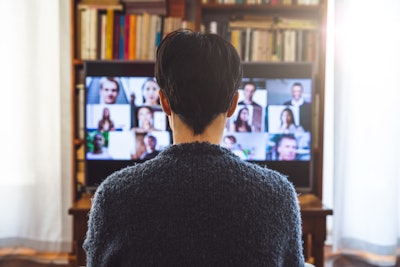 Editor's note: Jim Ward will be a featured guest speaker at CCJ's Symposium event Aug. 9-11 in Birmingham, Alabama. Click here to attend.
--
"You're on mute."
There's a phrase we've all surely heard dozens of times over the course of the past year sitting in countless Zoom meetings with colleagues as the world reeled from the COVID-19 pandemic.
Conducting business as usual virtually has been a struggle for all of us, but one which our industry has had to overcome to keep our country supplied with the necessary goods and equipment to combat the largest health crisis in generations.
We have been able to impact countless lives by continuing our business remotely. One event held virtually has certainly changed mine. During the Truckload Carriers Association's (TCA) Spring Business Meetings in April, I was passed a very important baton and took the helm as TCA's new chairman.
If you are not familiar with TCA, we are the only trade association whose sole focus is on the truckload segment of the motor carrier industry. Since 1938, the purpose of the Association has been to provide leadership that will increase our member's productivity, profitability, and ability to provide superior service; to advocate on behalf of our members; and to enhance the truckload industry's ability to provide safe, reliable truckload transportation services to the shipping public.
I am grateful to Commercial Carrier Journal for the opportunity to have a new outlet in which to share my thoughts on our regulatory and legislative advocacy efforts on Capitol Hill and in states across our nation; inform readers of upcoming TCA programs and events ranging from contests and awards to industry education and professional development curricula; and, hopefully, get you involved in some of the many avenues we are using to improve the image of our industry to the motoring public.
In the upcoming columns you will meet the TCA Scholarship Fund's first recipient, Manhattan Associates' Michael Glasgow. This member benefit truly changes lives. For nearly 50 years, the TCA Scholarship Fund has been helping students with connections to the truckload industry pay for education. The Fund awards up to $6,250 per year, per full-time college students. In the 2020-21 school year, the Fund's Board of Trustees awarded more than 50 students totaling to more than $150,000.
Also, we will explore the ongoing challenges to the successful independent contractor model our industry has employed for decades in California's AB5 bill – an issue that is close to my heart. In 1959, some 62 years ago, D.M. Bowman started out when Don Bowman climbed into his B model Mack to haul coal. In 1966, the company obtained its ICC authority and joined TCA at just about the same time. In saying that, none of this would have happened without the availability of the independent contractor business model that exists today. Don had a dream to start a business, like the dream many TCA members had when their companies started out. It is imperative that we stand behind and support this path to achieving an American success story.
We will also have a chance to hear thoughts from our 2019 Owner Operator of the Year, Diamond Transportation Systems, Inc.'s Kevin Kocmich, as he shares what changes to this model would affect his successful business.
If you are interested to delve into recent TCA educational offerings on the topic prior to these upcoming editions, I encourage you to view a recording of our April complimentary webinar titled An Update on AB5 Compliance.
Misclassification is a pain point in a variety of industries, especially those that utilize owner-operator workforces. Everyone knows they want to avoid a misclassification claim, but few understand exactly what that means. The term "misclassification" represents a broad spectrum of legal woes. It might include workers' compensation claims, unemployment claims, civil action claims, Department of Labor claims, and many other types of claims at various levels of government. Differences in state and federal law further complicate the issue.
In this webinar, Openforce CEO Ryan Kelly provides a blueprint for jumpstarting risk mitigation. He discussed the types of misclassification claims and how they affect companies with owner-operator workforces. He explained how such claims are changing based on an evolving regulatory landscape, including AB5, the ABC test, and more. Ryan Kelly was joined by transportation litigation expert Kristen M.J. Johnson, partner at the transportation law firm Taylor & Associates.
I look forward to seeing you on the road one day soon.
Jim Ward is president of D.M. Bowman, a 382-truck fleet based in Williamsport, Md. Under his direction, the company has transitioned from truckload carrier to a full-service transportation company, offering its customers dedicated fleet services, short haul, linehaul, brokerage, logistics and warehousing for dry van, flatbed, bulk and specialty services. Ward is the 2021-2022 chairman of the Truckload Carriers Association.