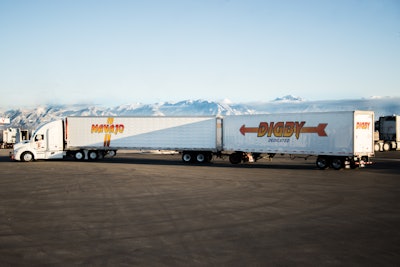 CCJ Innovators profiles carriers and fleets that have found innovative ways to overcome trucking's challenges. If you know a carrier that has displayed innovation, contact CCJ Editor Jeff Crissey at jcrissey@ccjmagazine.com or 800-633-5953.
As president of Navajo Express (CCJ Top 250, No. 109), Don Digby Jr. is motivated by opportunities to improve the quality of life for the company's drivers.
That motivation started at an early age. At seven years old, he was coming to work on Saturdays with his father, Don Digby Sr., chairman of the Denver-based company. He washed equipment, worked in the shop and later drove a truck on local routes and managed terminals.
"My passion is to find ways to give drivers good, solid, steady work and treat them always with respect," he says.
In 2016, his passion fueled a strategy to win a dedicated contract from a large shipper. Getting the business would mean steady home time and higher income for drivers, but Digby needed to pull a bigger lever than pricing to uproot the incumbent carrier.
"I knew I would not beat them if I was a penny-per-mile cheaper," he says. "We needed creative solutions to be able to go take it."
Bigger could be better
Digby started researching options for Navajo to increase its payload capacity and offer the shipper a solution that also would reduce its emissions and transportation and labor costs.
In 2015, a bill circulated through Congress to bump the size and weight limits of commercial vehicles to a maximum tractor-trailer weight of 91,000 pounds with a six-axle limit.
The American Trucking Associations and other proponents of the bill touted benefits for highway safety, traffic congestion relief and efficiency. The Truckload Carriers Association, however, steadfastly opposed anything beyond the current 80,000-pound limit.
The bill was not passed, which kept the national weight limit of 80,000 pounds and 53-foot trailers as the standard. Undeterred, Digby put in motion a plan to use 57-foot tri-axle trailers for regional operations.
On paper, the plan looked good, but "no one had 57-foot trailers," he says. "We couldn't buy any, rent any or test any."
So, he decided to take a gamble – a $500,000 gamble – and sent 22 Navajo trailers to specialty manufacturers that added four linear feet and a third axle to the 53-foot frames.
Navajo obtained permits from local and federal transportation agencies to operate the equipment for the shipper in Utah, where state officials saw the benefits of reduced traffic congestion, Digby says.
But while the shipper gave Navajo a window of opportunity to prove the concept at a single warehouse, it ended the trial period abruptly after 30 days.
"Now what do I with these things?" Digby wondered.
Change of heart
Six months later, the shipper called the fleet to award a dedicated transportation contract for its large distribution center in Salt Lake City. Navajo had a month and a half to prepare for the April 2017 start date.
"(The customer) believed in what we were saying and doing." Digby says. "This is the most environmentally friendly solution out there."
Drivers assigned to the dedicated account are based primarily in the Denver and Salt Lake City areas and earn between $70,000 and $80,000 a year. They return home every other night.
"Our goal is to get drivers out of living in their trucks," he says.
Today, the company's dedicated fleet for the customer includes 250 lightweight trucks in daycab and 52-inch sleeper configurations that power 750 reefer and dry van 57-foot trailers with tandem and tri-axles. The account is a significant volume of Navajo's overall business; the company's total fleet is comprised of more than 1,000 trucks and 3,100 trailers.
With its dedicated fleet, Navajo is transporting reefer loads up to 48,000 pounds and dry van loads up to 50,000 pounds. The typical payload of a 53-foot dry van trailer is 44,000 pounds.
Nearly every load for the customer is hitting the limits of weight or cube, but seldom – if ever – do they hit both at the same time, Digby says.
Doubling down
While Navajo was building out its fleet of 57-foot trailers, Digby added another solution to increase capacity and take trucks off the road.
The company purchased new equipment and obtained permits for what Digby calls a "super set" of trailers: a 48-foot and 42-foot trailer combination. This is a significant extension of the "Rocky Mountain doubles" allowed in Western states with a 48-foot and 28-foot combination.
The unique set has gained a new nickname in the trucking industry — the "Digby Double," says Tim Staroba, Navajo's executive vice president. The company uses the combination to deliver both refrigerated and dry van truckloads to customer locations.
To teach drivers how to operate the trailers safely, Navajo incorporated simulators into its training program. Through a partnership with a training provider, the company has a trailer with simulators parked at its Denver headquarters for drivers to complete custom training modules for 57-foot trailers and Digby Doubles.
Using the 57-foot trailers and Digby Doubles has eliminated the equivalent of one out of every nine loads for the customer. In 2017, Navajo transported about 12 percent more volume for the shipper, year over year, in 349 fewer loads than its previous carrier, Digby says.
The fleet's fuel economy hasn't suffered from added payload, axles and trailer lengths. Navajo is averaging 7.8 mpg for the heavy hauls, Digby says. In recognition of its significant fuel savings and reduction of emissions, the company last October received the 2017 SmartWay Excellence Award from the U.S. Environmental Protection Agency.
Drivers first
Devising a strategy to win the dedicated business was the start of a concerted effort by Navajo to re-evaluate all its lanes and make them more driver-friendly, Digby says.
Currently, about 50 percent of the company's refrigerated business is dedicated operations. The remaining half is split evenly between regional and over-the-road operations. Ideally, Staroba says, Navajo hopes to grow its dedicated business to become 80 percent of total revenue.
To help facilitate a change in network design, the company in April implemented a new business intelligence tool to give office staff key metrics and data visualizations to make optimal load planning decisions.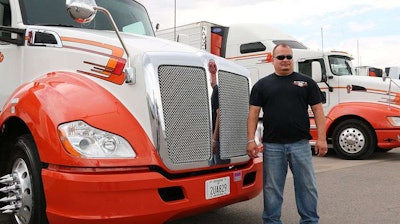 The new tool creates map visualizations by pulling data and insights from multiple sources to forecast where Navajo's trucks and loads will be in the next five days based on historical shipping patterns.
"We use the information to understand if we are putting too much or too little capacity in certain markets," Staroba says. "The system is able to tell us what capacity will look like in the future based on customer patterns and current freight in the systems and where trucks will be landing."
Going forward, Digby says, the technology will be helpful to strategically match customers to the company's network in terms of driver friendliness, transit times, dwell times and other important criteria.
The technology has already played a role in boosting miles and Navajo's ability to meet drivers' home time requests. The company's measurement for getting drivers home on the dates they request has increased 25 to 30 percent and now is at 95 percent, Staroba says.
Since April, Navajo also has reduced driver turnover and significantly improved its operating ratio.
The opportunities to expand the company's use of 57-foot trailers are abundant, Staroba says, even though they are legal in only about a dozen states at present. Besides having a dedicated account in Salt Lake City, Navajo uses its specialty heavy-haul equipment for customers in Arkansas, Arizona, Indiana and Texas.
Even if other fleets could take delivery of 57-foot trailers and lightweight trucks today, Navajo already is ahead of the competition because the trucking industry has "notoriously fought change," Staroba says.
"Our culture is that we embrace hard work because no one else wants to," he says.