Trucking news and briefs for Monday, April 18, 2022:
Trucking conditions saw slight improvement in February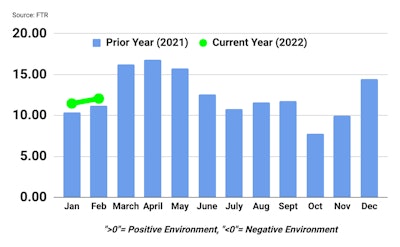 FTR's Trucking Conditions Index (TCI) strengthened marginally in February despite a sizable increase in fuel costs, as freight rates were strong and freight demand improved. The TCI increased to 12.06 from 11.46 in January.
The record surge in diesel prices during March almost certainly will send the TCI measure into negative territory for the first time since May 2020 once that data is finalized, FTR noted. The TCI is forecast to recover to positive territory in April and beyond, but signals of potentially weaker demand and rates than currently forecast could temper that outlook, especially if fuel costs remain volatile.
"The truck freight market has entered the inevitable period where conditions for carriers are transitioning from uniformly strong to those that will be more variable from month to month and from segment to segment," said Avery Vise, FTR's vice president of trucking. "Uncertainty is high on both the demand and supply sides. Consumers generally remain strong financially, but prices are soaring, which undercuts buying power."
Vise added that the implications of the spot market starting to normalize "are unclear owing to the unprecedented shift of volume and capacity into the spot market since the rebound in mid-2020. It is premature to declare doom and gloom for carriers or major relief for shippers, but both should be weighing threats and opportunities."
Kenworth receives clean energy award from Washington state
Kenworth received the first annual David and Patricia Giuliani Clean Energy Entrepreneur Award — presented by Washington Governor Jay Inslee on behalf of Clean & Prosperous Washington — during an event held recently at Climate Pledge Arena in Seattle.
The award is named for the late David Giuliani, founder of Clean & Prosperous Washington, and his spouse Patricia Giuliani. Clean & Prosperous Washington is a project of the Washington Business Alliance.
Kenworth was honored for its "Driving To Zero Emissions" program that features the Class 8 Kenworth T680E, Class 7 K370E and Class 6 K270E battery electric vehicles, along with Paccar Parts charging stations.
"It is a truly an honor to receive the first David and Patricia Giuliani Clean Energy Entrepreneur Award on Kenworth's behalf," said Erik Johnson, Kenworth general sales manager – West. "We thank Clean & Prosperous Washington for its leadership in this important environmental area."
Two diesel shops plead guilty to emissions tampering charges
The U.S. Attorney's Office for the District of Colorado announced April 13 that two diesel shops — Pro Diesel Inc. and Endrizzi Diesel — pleaded guilty to conspiring with a Colorado-based diesel shop to remove or alter the monitoring component of emissions control systems on Class 8 trucks, thereby violating the Clean Air Act.
According to plea agreements, between July 2017 and May 2020, Iowa-based Pro Diesel allegedly paid a Colorado diesel shop identified as "E.D." more than $76,000 to disable on-board diagnostic systems on 34 Class 8 trucks. Additionally, between January 2017 and December 2020, Missouri-based Endrizzi Diesel allegedly paid E.D. more than $149,000 to disable the diagnostic systems on approximately 60 class 8 trucks.
Both diesel shops pleaded guilty to one count of violating Title 18, United States Code, Section 371, Conspiracy to Defraud the United States.
According to the attorney's office, through a remote connection, individuals at E.D. would run software programs to reprogram or "tune" the vehicles' on-board diagnostic systems. These programs would tamper with, render inaccurate and disable the monitoring functions of the on-board diagnostics systems so they would no longer detect malfunctions in the emissions control systems.
Pro Diesel will be sentenced on June 14, and Endrizzi Diesel will be sentenced on June 29.