Trucking news and briefs for Thursday, April 21, 2022:
Truck tonnage increased again in March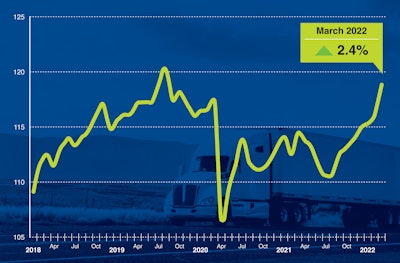 American Trucking Associations' advanced seasonally adjusted (SA) For-Hire Truck Tonnage Index increased 2.4% in March after rising 0.7% in February. In March, the index equaled 118.8 (2015=100) versus 116.1 in February.
"During the first quarter, the index rose 2.4% from the final quarter of 2021 and increased 2.6% from a year earlier," said ATA Chief Economist Bob Costello. "While there might be some recent softness in the spot market, for-hire contract freight tonnage remains sold and is only limited by lack of capacity, both drivers and equipment."
Costello added that ATA's for-hire tonnage data is dominated by contract freight with small amounts of spot market freight, noting that contract freight saw the largest sequential gain since May 2020 in March.
Compared with March 2021, the SA index increased 3.8%, which was the seventh straight year-over-year gain and the largest over that period. In February, the index was up 3.2% from a year earlier. In 2022, year-to-date and compared with same period in 2021, tonnage was up 2.6%.
The not seasonally adjusted index, which represents the change in tonnage actually hauled by fleets before any seasonal adjustment, equaled 123.9 in March, 17.9% above the February level (105.1). In calculating the index, 100 represents 2015.
Conditions for shippers fell sharply in February
FTR's Shippers Conditions Index (SCI) fell sharply again in February to -17.9 after dropping to -10.1 in January. The February reading narrowly beats March 2021 as the toughest month to date for shippers.
The record won't last long, FTR says, as March is expected to be much lower still as some rate relief will not nearly offset a surge in diesel prices. For now, SCI forecasts for the balance of the year past March is for the measure to moderate into a low single digit negative range.
"Uncertainty abounds going forward as the war in Ukraine rages, supply chains remain disrupted in China and elsewhere, and fuel prices are likely to remain high," said Todd Tranausky, vice president of rail and intermodal at FTR. "This will put significant downward pressure on the index in March, and many of those pressures add downward risk to the index through the balance of the year. There is the potential that a slowing economy improves conditions later in the year, but it is far too early to predict that with any certainty."
Four more guilty pleas announced in New Orleans staged-accident fraud scheme
U.S. Attorney Duane A. Evans in the Eastern District of Louisiana recently announced four more individuals have pleaded guilty in the widespread staged-accident fraud scheme in New Orleans targeting mostly trucking companies and their insurers, bringing the total number of guilty pleas in the case to 36.
Ashley McGowan, who falsely claimed to be a passenger in a car that was struck by a tractor-trailer on June 8, 2016, pleaded guilty to one count of conspiracy to commit mail fraud, which carries a maximum penalty of five years in prison, up to three years of supervised release, and up to a $250,000 fine.
According to her indictment, McGowan was riding in a "spotter" car at the time of the collision and got into the "slammer" car involved in the crash after the collision occurred in hopes of receiving monetary settlements.
Lertrice Johnson also pleaded guilty to conspiracy to commit mail fraud and faces the same penalties as McGowan. As part of her plea, Johnson admitted her involvement in a scheme to falsely claim she was a passenger in a car that was struck by a tractor-trailer in the same crash as McGowan on June 8, 2016.
After the crash, Johnson claimed that McGowan was in the car that was struck by the tractor-trailer when she was not. Johnson also claimed that she had gone to the hospital after the collision when she had not.
Additionally, for her alleged involvement in the same crash as McGowan and Johnson, Davienque Johnson pleaded guilty to conspiracy to commit mail fraud. Her indictment said she also lied about the extent of her and others' involvement in the June 8, 2016, crash in hopes to scam the truck driver, trucking company and insurer out of money in a settlement.
Finally, for her involvement in a separate crash, Gilda Henderson pleaded guilty to conspiracy to commit mail fraud. Like McGowan, Lertrice Johnson and Davienque Johnson, Henderson falsely claimed she was a passenger in a car that was struck by a tractor-trailer on May 11, 2017. After the collision, Henderson filed a fraudulent lawsuit claiming that the tractor-trailer was at fault and lied in a deposition. This scheme caused the insurance company for the tractor-trailer to pay more than $140,000 in settlement funds for the collision.