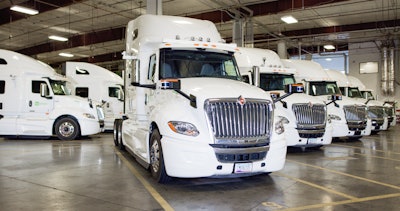 Trucking news and briefs for Tuesday, May 11, 2021:
TuSimple books thousands of orders for self-driving trucks
Self-driving technology company TuSimple said Monday it has received 6,775 reservations for a new line of purpose-built SAE Level 4 International LT Series autonomous trucks.
Level 4 automated driving means the vehicle does not require human intervention in the event of a problem or system failure.
The self-driving trucks, developed in partnership with Navistar, will be equipped with TuSimple's autonomous driving system and manufactured by Navistar beginning in 2024. Among the first customers to place reservations are Penske Truck Leasing, Schneider, and U.S. Xpress, among other large freight transportation companies in North America.
TuSimple's Autonomous Freight Network currently operates a fleet of 50 Level 4 autonomous trucks across Arizona, New Mexico and Texas. The company plans to expand the AFN network coast-to-coast by 2023 and today transports freight for revenue on highways and surface streets for customers such as UPS, U.S. Xpress and the Arizona Association of Food Banks, among others.
Navistar, Schneider and U.S. Xpress are shareholders in TuSimple. Penske Truck Leasing and U.S. Xpress are among the partners in the Autonomous Freight Network.
Bendix gets FMCSA exemption for camera mount
Bendix has received a five-year regulatory exemption from the Federal Motor Carrier Safety Administration (FMCSA) for a windshield-mounted video camera, the company announced this week. The exemption is in effect until April 6, 2026.
The exemption allows the housing for the Bendix safety cameras – including a driver-facing camera as part of the SafetyDirect system – to be mounted slightly lower on the interior of the windshield than was previously permitted.
FMCSA prohibits obstructions to a driver's field of view and devices like antennas or transponders that are mounted at the top of a windshield must be located outside the area swept by the windshield wipers. However, FMCSA noted, "that lower placement of the ADAS (Advanced Driver Assistance Systems) technology would not have an adverse impact on safety and that adherence to the terms and conditions of the exemption would likely achieve a level of safety equivalent to, or greater than, the level of safety provided by the regulation."
Fred Andersky, Bendix director of demos, sales, and service training, said that as more fleets, drivers, and truck builders incorporate these safety technologies into their vehicles, "it's important we're able to continue advancing the systems without fleets and drivers having to worry about violating windshield clearance rules." he said. "This decision builds on similar previous exemptions that were made permanent, and it's limited to the Bendix camera housing – which is about 5.6 inches tall and 5.4 inches wide. It allows the bottom of the component to reach eight inches below the top of the area swept by the windshield wipers – about an inch lower than the current regulation permits."
Since the Wingman Fusion active safety system and AutoVue LDW (lane departure warning) are effective in most weather conditions where lane markings are visible, the systems' forward-facing cameras need to be mounted within the swept area of the windshield wipers.
Motor carriers using approved safety technologies such as lane departure warning systems and collision mitigation systems can mount devices within the newly revised area, although the devices must still remain outside the driver's sight lines to the road, highway signs, and signals.
"This particular FMCSA decision is a narrow one, specific to Bendix," Andersky noted. "And it expects that fleets and drivers will apply a level of common sense. The wrong devices, or too many of them in the sweep area, can still be in violation of the windshield obstruction rules. It's important for fleets that are not using Bendix devices to check with their system supplier concerning the appropriate windshield clearance exemption for the device being used. If not, the fleet could be subject to inspection violations."
Forward Air adds LTL service in Kansas
Forward Air Corporation (CCJ Top 250, No. 33) said Monday that it will now offer expedited less-than-truckload (LTL) along with pickup and delivery services in Wichita, Kansas.
Forward LTL will cross-utilize space and resources with the company's final mile operation in Wichita to bring a larger service offering to the area. The new Wichita facility is Forward's first LTL terminal in Kansas. This expansion is part of Forward's ongoing journey to evolve its national LTL network for broader market coverage, beyond its airport-to-airport footprint.
"We have a strong final mile presence throughout Kansas and high customer demand for LTL in the region," said Chairman, President and Chief Executive Officer Tom Schmitt, "so we can flex our muscle and bring our world-class expedited LTL service to Wichita and the greater Kansas market."
Autonomous truck tech firm Plus plans to go public
Self-driving truck technology provider Plus has entered into an agreement with Hennessy Capital Investment Corp. V (HCIC V) that, upon closing, will make Plus a publicly traded company on the New York Stock Exchange.
The transaction represents a post-combination market capitalization of approximately $3.3 billion for Plus upon closing. The deal is expected to close in the third quarter of this year.
The partnership is expected to deliver up to approximately $500 million in gross proceeds at closing, including approximately $345 million of cash held in HCIC V's trust account from its initial public offering in January 2021, assuming no redemptions by HCIC V's public stockholders.
The deal is further supported by a fully committed common stock private investment in public equity (PIPE) at $10 per share of $150 million, including investments from funds and accounts managed by BlackRock and the D. E. Shaw group, among other institutional investors.
Under the terms of the business combination, Plus's existing shareholders will convert 100% of their ownership stakes into the combined company and are expected to own approximately 80% of the post-combination company at close.
"All of us at Plus are inspired each day to help make heavy trucks safer and more comfortable, reduce operational costs for fleets, and make our world greener. We are on track to start mass production of autonomous trucks this year," said David Liu, CEO and Co-founder of Plus. "This transaction enables Plus to continue growing our business globally, so that fleets and drivers can benefit from our revolutionary technology and usher in a new generation of innovation. At the same time, the transaction introduces a partner in HCIC V that shares our focus on sustainable technology and infrastructure, is aligned on our growth and value creation objectives, and recognizes the challenges trucking companies face today. We look forward to working closely with the HCIC V team as we move to commercial deployment and deliver value for drivers, customers and shareholders."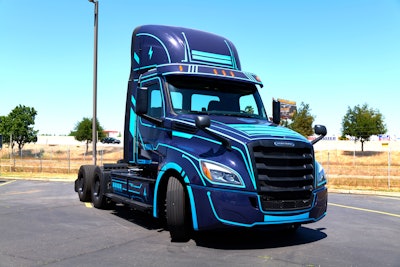 Top 250 carrier adding electric trucks to SoCal fleet
New Legend (CCJ Top 250, No. 123) plans to switch all of its local lanes to a fully all-electric fleet by 2023, starting with the purchase of 50 battery-electric Freightliner eCascadias for Southern California.
Legend initiated their plan by placing an order for 50 Freightliner eCascadias the week of May 3. The company expects to receive its beginning in early 2023. The company's first all-electric Class 8 trucks will be deployed to their Los Angeles lanes, with plans to expand other local lanes by the end of the same year.
Legend currently operates local lanes in Phoenix, Arizona, Portland, Oregon and Dallas, Texas, but as the company grows, it plans on continuing to bring zero emissions transport to more large cities.
"This is a good move for us and for our customers," said Sunny Samara, owner and founder of New Legend Inc. "We want to electrify our local lanes completely by the end of 2023, starting in the Los Angeles area with 50 Freightliner eCascadias."