Trucking news and briefs for Friday, Feb. 11, 2022:
Autonomous yard tractor developer releases autonomous backing capabilities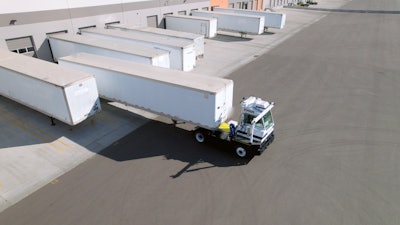 Autonomous yard tractor developer Outrider announced Thursday it has released fully autonomous trailer backing capabilities to its fleet.
The proprietary technology enables autonomous yard trucks to back trailers into tight spaces with precision and without modifications to trailers, the company says. These capabilities are now available as part of the Outrider System, which automates distribution yards for large, logistics-dependent enterprises.
"Automation is key to relieving the inflationary pressure on the supply chain," said Andrew Smith, founder and CEO of Outrider. "Distribution yards are critical links in the supply chain and prime targets for automating the flow of goods between over-the-road transportation and fulfillment centers, warehouses and manufacturing plants. Automating yards requires backing trailers of all kinds safely and precisely into parking spots and dock spots billions of times a year."
Outrider's articulated backing technology is fully autonomous, adheres to strict operational requirements, and is capable of seamlessly controlling a trailer through its full range of motion. With this technology, Outrider says it's system is able to precisely back the diversity of semi-trailers that are used in the industry, including 28-foot, 48-foot, and 53-foot dry van trailers, containers, and refrigerated trailers – all without teleoperation or other types of human interaction.
The Outrider System consists of three integrated parts — management software, autonomous vehicles, and site infrastructure. In addition to the latest articulated backing technology, the Outrider System uses proprietary autonomous technology to hitch to and unhitch from trailers, robotically connect and disconnect trailer brake lines, interact safely with loading docks, track trailer locations, and centrally manage and monitor all system functions.
Drivewyze adds seven weigh station bypass locations in Iowa
Drivewyze has announced the addition of weigh stations in Iowa for bypass opportunities.
With seven Drivewyze-enabled weigh stations in Iowa, Drivewyze PreClear is now available in 49 states and provinces – providing bypass opportunities at more than 800 locations.
The new sites in Iowa include:
I-80 WB in Avoca, near Omaha, Nebraska
I-80 EB in Dallas County, near Des Moines, Iowa
I-80 WB in Jasper County, near Des Moines
I-29 NB in Fremont County, near Omaha
I-35 SB in Worth County, between Albert Lea, Minnesota, and Mason City, Iowa
I-380 NB & SB in Brandon, between Waterloo, Iowa and Cedar Rapids, Iowa
Weigh-in-motion sensors, for weight screening, will be added by Drivewyze at these sites.
Women in Trucking seeks industry input on diversity
The Women in Trucking Association (WIT) is encouraging transportation companies to complete a survey that collects data on gender diversity in the industry.
The data will be used to develop this year's version of the WIT Index, which is an industry barometer to regularly benchmark and measure the percentage of women who are professional drivers, in corporate positions, and serve on boards of directors. This year, WIT has expanded its collection on the percentage of women in additional functional roles, including operations, technicians, human resources and talent management, and marketing.
WIT is requesting for-hire trucking companies, private fleets, transportation intermediaries, railroads, ocean carriers, equipment manufacturers and technology companies to report the percentage of women in various roles of their workforce include. Data reported will be kept strictly confidential, and data will be reported only as aggregate totals of respondents. Individuals completing the survey must be an authorized respondent from the company. Interested participants can report their data via the live survey through April 1, 2022, at www.womenintrucking.org/index.
Participating companies in the survey will receive at no cost an executive summary of the 2022 WIT Index, which will enable them to benchmark their gender diversity practices against other companies in transportation.
"By ensuring we have gender diversity in the marketplace, our overall industry benefits from increased creativity and innovation," said Ellen Voie, president and CEO of WIT, who spearheaded the launch of the first WIT Index in 2016. "Through more gender diversity, individual companies also can ultimately tap into more people who have the right skill sets and talents they need in their workforce."