Spec'ing a commercial truck is as much an art as it is science, but the general public doesn't know much about active safety systems or fuel economy and they can't see it. And if they can't see it, it's not cool. On the other hand, well-executed fleet graphics not only project a largely positive image, they're also pretty obvious.
Trucks and trailers are 70-feet of canvas with unlimited possibilities for showcasing a company's heritage, its values and its strengths, and they are a carrier's most visible – and most mobile – means of marketing.
Since 1978, CCJ has recognized excellence in fleet graphics design and execution among carriers willing to invest in their own imagination.
The judges for this year's Five Flashiest Fleets, sponsored by 3M, included an 11-person panel from the editorial, art design and marketing staffs of CCJ and fellow Randall-Reilly publications Overdrive; Trucks, Parts, Service; Successful Dealer; and Truckers News. This year, we also allowed readers to cast a vote.
Each judge ranked their favorites out of 89 submitted entries, and scores were weighted to determine a final ranking. The top five submissions this year successfully relate the company's purpose, tell a story, champion a cause or promote a strong corporate brand image.
5. In it for the Long Haul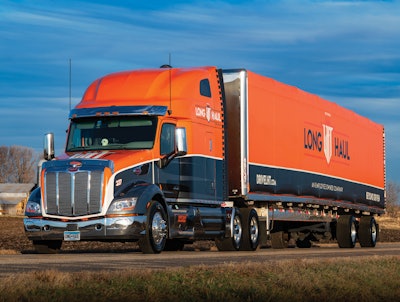 Long Haul Trucking (CCJ Top 250, No. 223) is a company that takes pride in equipping its drivers with top-notch, high-quality equipment, and Vice President of Sales and Marketing Anthony Book said the company wants its trucks to reflect the company's sense of pride. "The reason we equip our drivers with the best equipment available is because we respect, appreciate and want to reward them for all of their hard work," he said. "Drivers across America and the world deserve to be treated with respect as they play an essential role in the success of our country as a whole."
But it not just Long Haul's Albertville, Minnesota-grown pride the company wants to showcase. With its striking color packages, Book said Long Haul is "focused on doing our part in creating an image that portrays truck driving as a rewarding and well-respected profession."
Why we liked it: "Long Haul Trucking clearly knows how to make its trucks stand out, but in a minimalist way. Minimalist but not boring. The company features brand recognition in bold fashion. The trucks' colors are eye-catching and the company logo looks strong on these vehicles. Long Haul Trucking says it is a company that takes pride in equipping its drivers with top notch high quality equipment. The company says it equips its drivers with quality equipment out of respect and appreciation for its drivers. Long Haul Trucking projects a professional image as its trucks roll down the road." – Bill Grabarek, Online Editor, Trucks, Parts, Service and Successful Dealer.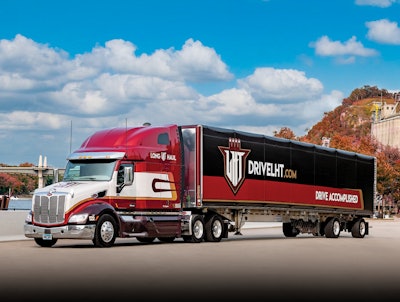 –
4. Supporting just causes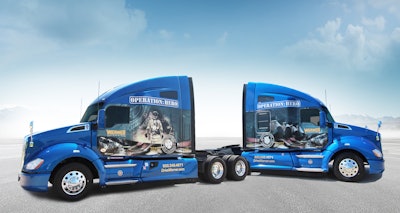 From an industry-wide standpoint, there's hardly a bigger supporter of military and first responders than trucking. It's routinely one of the biggest themes in the Five Flashiest Fleets contest submissions. Werner (No. 13) amped that up considerably with graphics kits that show the carrier's "support of our first responders; the men and women of this country's police and fire departments and the sacrifices they make every day," said Rob Troupe, Werner's director of corporate events and administration. Not to be left out, of course, is the U.S. military and the company's display of "unwavering support of our military men and women who sacrifice to keep this country safe," he added.
Werner's rolling displays of support aren't exclusive to servicemen and women. The company also has a wrap that raises autism awareness.
Why we liked it: "The Werner Freedom and Hero designs pop with patriotism. Heartwarming images of firefighters, veterans, and policemen against the blue demands your attention and the detailing is incredible. The Autism awareness program is interwoven with bright colors and smiling kids to evoke a more childlike glee." – Kelley Hoefle, Senior Marketing Communications Specialist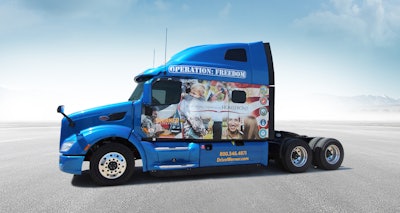 –
3. Super Nova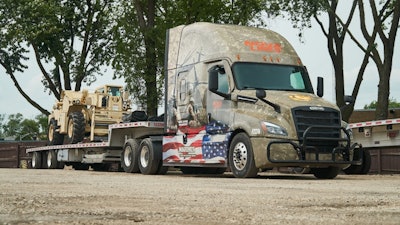 Pride is a major theme at Nova Lines, according to the carrier's Creative Solutions Coordinator Maciej Leszczynski. Yet Nova Lines' strength "lies in the spirit of those who operate our trucks throughout many cities and states regardless of what lies ahead with the courage to overcome the challenges as only a true flatbed driver can," he said.
With its Joint Task Force Fleet, the Bridgeview, Illinois, carrier honors "the courage that all military veterans show in serving this great country of ours. We honor those vets with our Joint Task Force Fleet because they have earned our respect," Leszczynski said. "We thank all of the military veterans who have served and protected us for centuries throughout the history of the United States."
Why we liked it: Nova Lines' Joint Task Force Fleet trucks are the embodiment of the military branch they represent. The Marine Corps truck, in particular, with combat scenes depicted on the sleeper, the American flag on the side skirts and the desert digital camo base scheme leave no doubt about Nova's patriotism and support for the U.S. military." – Matt Cole, News Editor, CCJ and Overdrive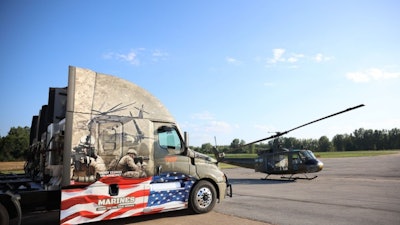 –
2. To Sir, with Love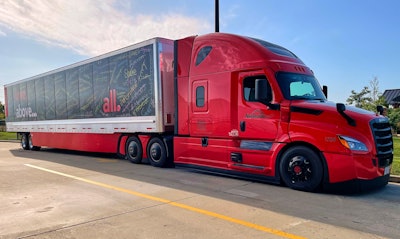 Plagued by lingering effects of the pandemic, and its 18 months of stress and uncertainty, the leaders of Illinois-based truckload carrier Nussbaum Transportation (No. 195) took on a project to help people remember to love one another. Its "Love, Above All" trailer idea came from two Bible verses: Peter 4:8 ("Above all, keep loving one another earnestly, since love covers a multitude of sins") and Colossians 3:14 ("And above all these things put on love, which binds everything together in perfect harmony.")
The whole company got behind it. The carrier asked employees, including drivers, to consider something in their lives that they needed to pause and remember to put Love above. They were invited to write their word on a giant, trailer-shaped chalkboard below the words "Love above …" then cross it out. The board was soon filled with words such as self-pity, anger, greed, fear of rejection, prejudice, greed, self-righteousness and racism, in many colors of chalk.
"Likely each one of us is faced with areas where we struggle to love," said Marketing Manager Ryan Jamison. "Maybe it's strong opinions, shattered expectations or fear of the unknown. Our sincere hope is that this trailer and the message it conveys will be a reminder. In the day-to-day mundane of life, in the face of difficult circumstances, amidst questions and a short supply of answers, may we learn to Love, above all."
Why we liked it: "Nussbaum Transportation really sets themselves apart with their 'Love above all' trailer. We've all heard plenty of negative words and phrases these past couple of years so it's good to see Nussbaum taking the higher road by providing a very memorable reminder of how love ultimately wins the day. Plus, I like the color combinations of red and black. Nussbaum pulls off the look particularly well with some help from those blacked-out wheels." – Tom Quimby, Senior Editor, CCJ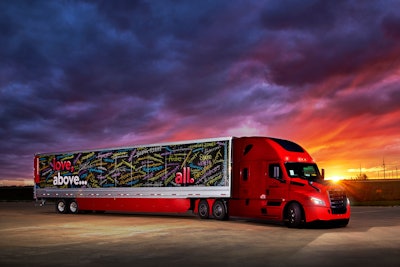 –
1. Red takes the Gold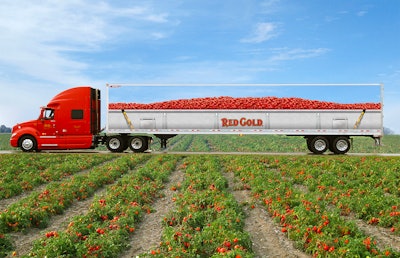 Red Gold, a tomato processing company based in Orestes, Indiana, with plants in Elwood, Indiana, and Geneva, Indiana, operates a fleet of more than 670 units, almost half of which come with a graphics package that make 100% clear what the company is all about: Tomatoes. The company produces canned tomatoes, tomato juice, ketchup, tomato sauces, salsa and other tomato products, consuming 95% of Indiana's tomato crop.
Red Gold Safety Manager Chris Turner said the company's goal with the graphics package was to make clear that "Red Gold produces the freshest, best tasting tomato products in the world."
Why we liked it: "The design gets right to the point: Red Gold is all-in on tomatoes. But they've managed to put the package together in a very clever way and make it both interesting and cool. Bonus points for using all the space that was available, and the red tractor just ties the whole thing together." – Jason Cannon, Chief Editor, CCJ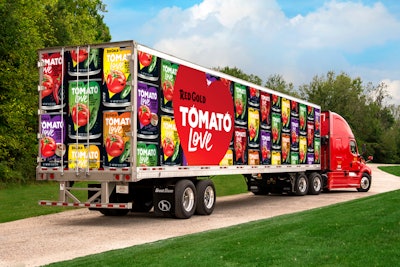 3M is proud to sponsor CCJ's "Five Flashiest Fleets" contest and congratulates all participants on their creativity and innovation. 3M is dedicated to helping fleets boldly share their brand message and vision through fleet graphics. Fleet graphics receive an average of 30,000 impressions per day, generating nearly 4x online activations per ad dollar than TV, radio and print, making them the most cost-effective form of advertising. Click here to learn about Fleet Products by 3M.