The following was published in CCJ's Air Brake Book, 11th edition, sponsored by Silverback HD. CCJ's Air Brake Book is a complementary industry resource, courtesy of our partnership with Silverback HD, the Technology and Maintenance Council and Commercial Vehicle Safety Alliance. You can download the entire Air Brake Book here.
During the Commercial Vehicle Safety Alliance's three-day International Roadcheck last year, 6,710 commercial vehicles and 2,080 drivers we placed out of service for various violations and brake system violations (26.5%) were the leading cause.
While brakes can fail or fall out of compliance at any given time, a proper and thorough pre-trip inspection is a fleet's first line of defense in catching the problem before an inspector finds it.
"I have always trained our drivers to document however long [an inspection] takes," said Michael Frolick, director of safety compliance for Toronto-based TransPro Freight Systems. "Some may do it in 30 minutes — 15 minutes for the tractor and 15 for the trailer, which is a standard benchmark for a tractor-trailer. But different configurations such as LCVs, heavy equipment, floats and flatbeds may need more time."
Regardless of how long the inspection takes, drivers should know what they are looking at and what they are looking for.
"Get [drivers] out there and observe them doing a pre- and post-trip [inspection]," said Tom Fallon, a regional safety director for Ryder, noting that younger drivers tend to be better at the 147-point inspection because they are fresh out of school. "If you can teach your folks to pre-trip and post-trip that truck right and get it fixed, that's going to improve your [Compliance Safety Accountability] scores."
Getting problems fixed
When a brake issue is flagged by the driver, the problem must be addressed by the maintenance staff. Open communication between drivers and the shop is key.
"It's a symbiotic relationship," said Taki Darakos, vice president of vehicle maintenance & fleet services at PITT OHIO. "Maintenance and operations depend on each other. If we're not doing good maintenance on our end, we're going to get into a vicious cycle where the driver says, 'Every time I bring something up to the shop, no one listens to me.' And then maintenance says, 'Every time this guy comes in, he's got a problem. He just needs to drive.'"
It's also up to operations to note repeat violations and determine at what point the issue could have been avoided altogether. Brake woes at TransPro led the company to make a friction change.
"We had the mechanics do an analysis of why the shoes were being removed," Frolick said. "We were using reman brakes at the time, and the techs noted they were cracking prematurely and causing drum wear." The company transitioned away from reman brakes and saw an immediate improvement, he said.
Transervice, where Darakos' served as Vice President of Maintenance before joining PITT OHIO, transitioned from drum brakes to disc brakes in 2012, with many of the trucks going through their service life – 750,000 miles – never needing a brake job.
"Techs love the idea of not having to do as much maintenance," Darakos said. "The negative is that it can lull you to sleep. If disc brakes are worn down and no one catches it, it can become a pretty expensive repair by wearing down to the point that the rotor is damaged."
Disc brakes are now standard with truck OEMs, but are still a premium investment over drums (generally well under $1,000). However, they offer reduced maintenance costs if they are maintained adequately.
"They're not indestructible," he says. "They wear down like everything else. If you let things wear down and you get rotor damage, that can be a $2,000 to $3,000 [repair] bill, and you lost all the things you tried to do."
As fleets transition from one friction type to another – namely from drum to disc – Silverback HD Product Manager Neil Ross said training technicians on the new equipment is paramount.
"Technicians should be performing wheel-off inspections every four months on a highway application and quarterly on a severe duty application," he said. "There are a host of online resources available from various manufacturers as well as quality aftermarket websites."
Post-trip inspections
If a pre-trip inspection is the first line of defense, a post-trip inspection is the last, Frolick said.
"[Post-trip inspections] help the next driver ensure he not only isn't wasting time getting needless repairs that could have been done earlier when he should have been departing, but also to avoid needless violations that could have been easily fixed had they been reported to the company at first notice to allow them to get it repaired," he says. "Instilling this procedure into protocol with your drivers is a key component to help reduce, if not eliminate, roadside violations and citations in your fleet."
If having a first and last line of defense isn't finding your brake problems before an officer does, in-house inspections are a good middle ground.
"We have to see every piece of equipment every three months, including owner-operators' trucks," Frolick said. Trucks are brought in for inspection an additional three times per year beyond quarterly checks. "Every time a guy comes in for an oil change, we're going over their truck."
If you're looking for a fast, easy inspection, be warned that the wheel area of trucks and trailers is a dark place, Darakos said.
"Lighting is important," he says. "If lighting is poor, you are going to miss things at PM time like chaffing. Also, yard lighting is important. Having a well-lit area where drivers can inspect a unit helps. We have handed out flashlights to drivers at safety meetings. You can't inspect what you can't see during a pre- and post-trip. Many times, the majority of runs are going out early in the morning."
Staying on the same page
Having maintenance personnel regularly participate in driver safety meetings, detailing any truck spec changes and setting up equipment to guide drivers through pre- and post-trip inspections, can pay quick and large dividends.
"Sometimes you change something on the spec side, and people don't understand the technology in terms of how it works and what the benefit is," Darakos said. "Then you are not really getting the full benefit. We probably have folks that don't understand the visual indicator and what it is telling them."
Darakos has before set a fault in the truck and walked the driver through the process of finding it, which yields a good idea of who is and who is not performing high-quality checks.
"If there are folks that it's not part of their routine, maybe they're just looking around ad hoc, you can usually pick it up pretty quick," he says.
Driver training is one of the biggest keys to dropping CSA violations, said Fallon, who advises fleets to get copies of CVSA's Out-Of-Service Criteria and use the commercial driver's license training manual as a minimum standard for inspections.
"A lot of drivers don't know the required minimum tread depths," he said. "They still want to pull the coin out of their pocket. That's not the way. They should be measuring it, because that's what the [U.S. Department of Transportation] does."
For trucks not equipped with brake stroke indicators, TransPro's brake inspections consist of measuring from the back of the brake chamber to the middle of the center of the clevis pin, applying the brake and remeasuring.
When conducting a road test with a driver, Frolick includes the "mark and measure" method to determine if the brakes are in proper working order and not out of adjustment.
"Regardless if [the drivers] pass or fail, it also allows me to not only get an idea of what kind of training they have had previously, but also to ensure the vehicle is safe since I will be a passenger," Frolick said.
Part of training, Darakos said, also is making sure drivers and technicians understand how otherwise little things can add up to cause major brake problems.
"It's also important for drivers and technicians to take care and hang gladhands up, and not just toss them on the back of the catwalk," he says. "This leads to problems, [and] it can also lead to contamination. A good habit is to have some extra gladhand seals that you can pop in. They're not that much from a cost standpoint, but they can cause a significant delay."
Training drivers and dispatch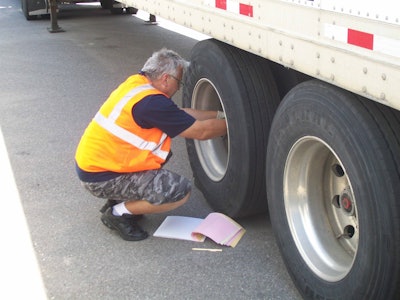 When a truck fails a brake inspection at the scale, drivers take the brunt of the blame, but Frolick said fleets bear a responsibility to support the truck and driver to ensure each operates safely.
"I believe drivers want to do a good job and are proud of their profession," he said. "I do have sound knowledge after interviewing someone that they have either had some training or very little. I do believe, sadly, that there are still some carriers out there that are more concerned about the dollar than the driver's or public's safety."
Frolick said the company's road test is two-and-a-half hours long, with a review afterward and a consistent mentor program to help new drivers over a four-week average program to share their knowledge and nurture a new driver coming out of school. Drivers also go through two mandatory safety meetings a year. A TransPro driver's training is tested in unannounced safety blitz inspections in the yard.
Coordination with dispatch also is important to prevent equipment in need of service from being sent with another load only because of its proximity to the customer.
"It's one thing for the computer to tell us maintenance is due, but it's another thing for us to actually be able to get it into the shop," Frolick said. "Dispatch doesn't operate the same way maintenance does. They may dispatch trucks and trailers closest to a load when the shop may be looking at them for maintenance."
When a driver performs poorly, fleets don't have an issue meting out punishment. But Frolick said it's just as critical to offer rewards for drivers who consistently have clean inspections.
"I think there's a disconnect in what [drivers] are trained to do and what they're motivated to do," he said.
Offering financial buy-in to the drivers saves far more than it costs in the long run, Frolick said. While inspection bonuses are independent of the company's safety awards, Frolick said it stands to reason that drivers who routinely earn inspection bonuses are hitting their safety marks.
"That could be $2,000 to $3,000 more a year," he said of the driver's earning potential. "There's no better feeling than being at that scale and knowing that you know everything about that truck."
With fleets fighting over drivers, Frolick said adding incentives for clean inspections allows TransPro to further compensate its best performers. When driver pay rises, turnover generally recedes.
"Gone are the days of the dinosaur where you tell them to do it or else," he says. "We want our drivers to buy into it and show them why it is required, not just because it's the law. And they are rewarded handsomely for it, as it's part of their performance safety bonus. Training is where it's at, and we deliver that as well."