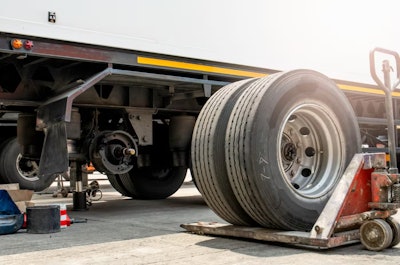 Tire prices saw repeated increases throughout 2021 and this year may not prove much better according to manufacturers.
The same supply chain constraints that led to longer delivery times and higher prices amid growing demand for trucks and key equipment like tires —one of the greatest expenses for fleets — are still posing challenges for manufacturers.
Last week, Yokohama announced another price hike for consumer and commercial truck tires in the U.S. "in response to the continued rise in operational costs." The company previously hiked prices Nov. 1, Aug. 1 and May 1 last year.
Other tire manufacturers have also continued to raise prices at a time when the rate of inflation in the U.S. hits 7%, a 40-year high. Last year alone, many tire manufacturers big and small raised prices an unprecedented five or more times, according to tirebusiness.com.
Bridgestone last Spring increased prices by 8% on Firestone brand truck and bus radial tires sold in the U.S. and Canada (one of four price increases in 2021) and added another 14% this month. Michelin increased prices on commercial tires up to 13% in July of last year, followed by a hike in September reaching up to 14% and then another increase up to 16% on January 1.
As market volatility continues, those hoping for a return to normal in 2022 may be in for a rough ride.
"In respect to our industry's supply chain dilemma, I believe those projecting a return to normalcy in 2022 might be a bit too optimistic," Jeff Barna, president and CEO of Yokohama Tire, said in a recent statement regarding the company's performance last year and its outlook on the year ahead.
[Related: Tire experts provide cold weather maintenance tips]
"To understand the true depth of this breakdown, one would need to peel back the dozen or so layers that have contributed to the malaise," Barna continued. "As an example, knowing that we have a problem with the 85-plus steamships anchored off the Port of Long Beach is only the tip of the 'macro' iceberg."
Barna pointed out other limiting factors like the microchip shortage, plant shutdowns, labor unrest at the ports, driver shortages, excess container complications and potential freight company arbitrage.
"The point here being that even if some or most of these are remedied in the near future, it will likely be 2023 before re-alignment of all variables is achieved," Barna said.
Andrew Briggs, Yokohama's vice-president of marketing and product management, also blamed a convergence of factors for higher tire prices including an uptick in raw material costs like rubber which shot up nearly 80% from April 2020 to April 2021. Prices have since come down but are still well above pre-pandemic levels.
"There hasn't been one single factor driving prices upward, but rather a multitude of headwinds generally stemming from the global supply chain crises," Briggs said. "This includes, but isn't limited to, higher raw material costs, as well has higher freight and logistics expenses for finished goods."
Michelin also cited the Suez Canal closure in March of last year as yet another supply chain failure. The canal was shut down for six days after a Japanese owned freighter, Ever Given, became grounded and brought ship traffic to a halt leading to another supply chain disruption along with billions of dollars in lost trade revenue.
"These tensions have affected the availability of raw materials and the ability of suppliers to deliver on time," Michelin said in a statement to CCJ. "This has also caused an increase in raw material and transport costs. Michelin is taking all the measures necessary to ensure the continuity of its activities, as it has done for several months now: firming up contracts to guarantee supply and control price effects, boosting local supplies in as far as possible in order to guarantee timescales, implementing new shipping solutions, etc. and, therefore, Michelin North America has not had a production disruption due to supply."