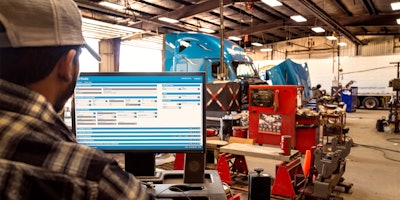 Trimble
Connection has been the primary theme so far throughout Trimble Transportation's 2022 Insight Tech Conference in Orlando this week, and part of the company's Connect and Scale 2025 customer-driven platform strategy includes a major integration with Navistar for connected maintenance.
This new integration connects the Trimble TMT Fleet Maintenance solution with Navistar's International 360 repair event management solution for streamlining outsourced maintenance to create greater efficiencies for both brands' fleets.
While some fleets manage all repairs in house, according to Trimble, 30% to 60% of its customers that use the TMT Fleet Maintenance and Service Center solution outsource their repairs to a third party.
As one of the industry's largest service dealers and manufacturers, Navistar supplies certified parts and repairs for many Trimble customers, and the add-on module creates a seamless integration that connects users to Navistar's 700 licensed service centers directly from TMT Fleet Maintenance.
"Beyond this new offering, Trimble is focused on building an ecosystem that facilitates collaboration between every carrier, every shipper, intermediary and repair vendor, which we refer to as our connected maintenance," said Mike Keus, vice president of Trimble maintenance technologies. "Connected maintenance leverages the Trimble transportation Cloud to exchange information between different products and third parties safely. This comprehensive next-gen platform supports all TMT Fleet Maintenance offerings, microservices and APIs."
Trimble's Navistar module completes the data flow between a Navistar service vendor and the TMT Fleet Maintenance system, allowing users to bypass the Navistar International 360 portal and eliminating the need to manually re-enter data or make multiple phone calls to manage a repair event. TMT sends vendor repair orders electronically directly to the Navistar vendor, leading to more accurate and complete information for each outsourced repair event and reducing errors that lead to repeat repairs. TMT acts as the system of record for these requests, allowing carriers to see all repair details in one location and track the status of the repair in real time as it moves through the service lifecycle.
"Customers want to know how to improve efficiency. We're all coming out with technology to help them work with the service provider, but we're creating separate portals. That's the wrong thing to do," said Bryan Mulshine, director of digital service delivery for Navistar. "I hate to see a larger customer with multiple brands and they have to log into 14 different sites to get an update on their vehicles."
Integration creates multiple efficiencies
With the direct connection in a single system, fleet managers can enter repair requests for both Navistar and non-Navistar assets and initiate them more quickly to increase asset utilization and limit downtime. The sooner the repair starts, the sooner it ends, reducing the amount of time assets spend in the shop, getting those trucks back on the road faster.
It can also help fleets that generate thousands of repair requests per month save hundreds of hours of employee time. Knight Transportation calculated that it saves 10 minutes per repair request entry by using this integration.
"It's literally the 'Easy' button," Steve Grover, Knight's senior vice president of technology and innovation, said in a news release.
And there's more to come.
"What I'm really excited about is what's on the horizon, like how we get our invoice data directly back to you from our Fleet Charge credit card. Even entire maintenance, when our vehicles get more progressive with condition-based sensing, how we're working together to where it's going to be more hands off for the customer and have a lower cost of ownership and improve their workflow," Mulshine said. "You have to embrace digital. We also have to embrace how we transmit info back and forth to make the customer's efficiency improve tremendously."
Part of Trimble's connected maintenance strategy also features additional integrations with other third-party service centers like TravelCenters of America and enables TMT Fleet Maintenance customers to manage these integrated repair events at more than 5,000 service centers throughout North America.
That strategy is part of the broader Connect and Scale 2025 strategy, which is centered on building cloud platforms to streamline the industry lifecycle of transportation from procurement to planning to execution.
CCJ will update readers with additional insight into this strategy in the coming days.