Motor carriers that still use asset tracking systems with 3G hardware will experience spotty coverage at an increasing rate before the major cellular players do a full shutdown of 3G CDMA service at the end of 2022.
In the meantime, vehicles and drivers will migrate to 4G LTE and 5G technology. No matter what network is used, areas along truck routes still have spotty coverage and less-than-ideal speeds for conducting routine business, such as when sending and receiving proof-of-delivery documents or transporting loads with extra data requirements for locations and temperature updates.
One way fleets could increase the speed and coverage for their 3G, 4G and 5G technology is with a cellular signal booster on an as-needed or a permanent basis. Drivers might also like the same technology for personal use, making it a popular prize for a contest, a recognition or award.
Wilson Electronics recently launched an in-vehicle cellular signal booster, Drive Reach OTR, compatible with all mobile phones and wireless carriers in North America.
The product uses an exterior antenna that reaches out to cell phone towers to receive a signal. It transmits the signal to the Drive Reach OTR booster that instantly amplifies it for each of the supported frequency bands used by devices in the vehicle. It also amplifies the signals of devices back to phone towers.
Trying it out
I've been testing Drive Reach OTR on a personal vehicle for the past four months.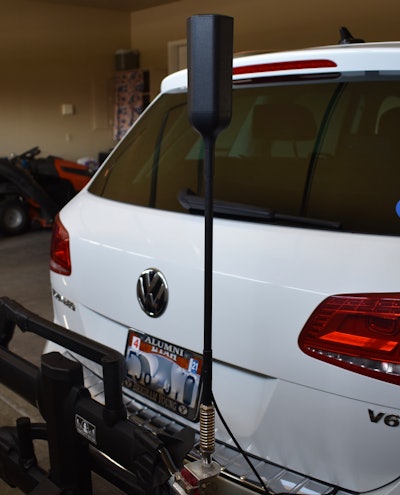 Installing the product was straightforward with clear instructions. As an added benefit, the plug fits into a vehicle's 12V socket and has a USB port to rapidly charge external devices. The power cord connects to a square-shaped cell signal booster inside the vehicle, which in turn connects to a small in-vehicle antenna placed on the driver's side B-pillar and to an outside antenna.
The outside antenna has height configurations for the booster to avoid common cell signal barriers and improve connectivity and speed. It has a hard plastic shell attached to a spring base that prevents it from bending and breaking in the wind.
The antenna base is secured to an aluminum mounting plate with two curved pieces that clamp together with bolts around the frame of a West Coast mirror.
The real question is whether or not the technology would actually strengthen call quality, minimize dead zones and improve data upload/download speeds? During testing, the product worked as advertised. It significantly boosted upload and download speeds by using an uplink power output of 29.5 decibel-milliwatts (dBm) and a downlink power output of 50 dB. This is the maximum allowable gain under FCC standards.
The company says the product creates a strong cell phone signal at a distance two times (74%) further away from cell signal towers than its previous models. During my testing, signal strength was noted by monitoring the 5-bar signal on a phone.
Turning the booster on at locations where my phone was only getting a one-bar signal showed an immediate increase to 3 bars, on average. In areas where I already had 3-bars the booster amplified the signal strength to 5 bars. One thing the booster did not do was pick up a signal in areas where my phone did not already have a signal.
The only negative item of note during the test was the appearance of light oxidation on the metal spring and bolts of the mounting plate for the outside antenna. The oxidation likely occurred by testing the device during the winter, where it regularly got doused in corrosive salt spread on winter roads.
The Drive Reach OTR, and a version for RVs, are available for purchase online for $499.99 with a two-year manufacturer's warranty and a 30-day money-back guarantee.