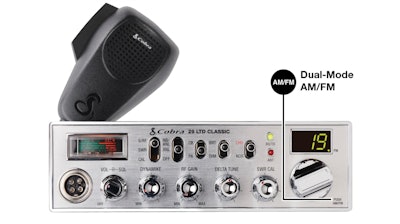 Cobra
Single-sideband comeback, more power and another new product reveal?
One thing's for sure, ever since Cedar Electronics, the parent company of Cobra, successfully petitioned the Federal Communications Commission to allow for the addition of FM to CB radios—a four year-long process—the Illinois-based company has been moving fast to step up their game in the quickly evolving world of fleet electronics.
After recently announcing the addition of FM to their most popular CBs, Cobra is now poised to strike again with another unveiling coming up this month at the Mid-America Trucking Show.
While Mark Karnes, vice president of Cedar Electronics, wouldn't say much about their upcoming reveal, he did encourage folks to come by their booth at the Kentucky Expo Center where they'll have "some new exciting things to talk about."
[Related: FM CB radios on the rise]
When asked about Cobra's interest in other fleet electronics like telematics and mapping, Karnes again alluded to MATS.
"I can't reveal what it is we will unveil at MATS, but it will be the highest priority items assigned to us by our fleet users and ordinary truck drivers," Karnes said.
In addition to CBs, Cobra currently markets dash cams and power inverters to fleets and owner-operators. So might a high priority item include a return to single-sideband?
It wasn't that long ago that Cobra offered SSB alongside AM mode on some of their CBs like the mobile 148 GTL. Unlike AM, which the FCC caps at a max of four watts, SSB users can enjoy up to 12 watts of transmission power, which allows for greater range.
Longtime Cobra fans were hit with tough news when the company nixed SSB shortly after merging with Escort in 2015 to form Cedar Electronics. However, competitors like President, Uniden and Galaxy have continued to offer SSB with their CBs, leaving users wondering if Cobra might once again offer the mode.
"You know, we're not ruling it out because certainly, like you've indicated, we have a certain core customer segment that continues to ask for it," Karnes said.
More power and better antennas?
While FM users will enjoy greater sound quality and reduced signal pileup that comes with AM, they won't be able to transmit as far, which brings up two other considerations: antenna selection and transmission power.
The FCC has long capped CB transmission power with AM channels at four watts. That also applies to FM. Since Karnes led the way for the FM petition at the FCC, is it possible that another petition might be coming to increase power output?
"Could be," Karnes said. "The FCC is wrestling with other entities that want spectrum and [26 to 27] megahertz, which is where we sort of center onto, is a reasonably safe area to be in as long as it's contained and it doesn't interfere with other broadband technologies.
"So we're kind of towing the line of appeasing the FCC while we take care of our customer interests and that's kind of our main goal right now," Karnes continued. "If they do allow higher output, it will be well thought through to kind of appease all parties, not just the CB user, but everybody else that's sharing the road or may share the adjacent spectrums."
Since FM range is not as great as AM, Karnes agreed that users may seek out more high-performing antennas to help make up for the loss. However, full maturation for FM will take about five years, Karnes added, so it's still too early to gauge impact on antenna choices.
"The difference we like to say is that it is the quality of the quantity," Karnes said. "FM is about the fact that while I might not be able to reach to as far as I normally could on AM, I hear ten times better what the person's saying for a lot longer and then it just simply disappears. It's just not going to carry the noise that AM would carry to the infinite level."
Karnes ultimately sees FM winning back CB users that gave up their rigs over annoying signal pileup on AM channels. He also believes FM will appeal to younger drivers.
"Today, there are a number of expectations that we're going to have noise-free communications," Karnes said. "It's fatiguing to have to go through and listen to conversations with that much background noise."
[Related: Can you hear in the difference? New dual-mode AM/FM CB radios]