Trucking news and briefs for Thursday, May 13, 2021:
Colonial Pipeline restarting operation, 10 states can permit overweight fuel shipments on interstate, federal highways
Colonial Pipeline said it initiated the restart of pipeline operations Wednesday afternoon.
Following the restart, the company said it will likely take several days for the product delivery supply chain to return to normal and some markets served by Colonial Pipeline may experience, or continue to experience, intermittent service interruptions during the start-up period. Colonial said it will move as much gasoline, diesel, and jet fuel as is safely possible and will continue to do so until markets return to normal.
Colonial Pipeline had been struggling to get its operations back in order following a cyberattack over the weekend.
Love's reported Wednesday night more than 20 stations were without fuel (either gasoline or diesel), and 63 others were at-risk. Pilot Companies reported 26 of its stations were similarly affected.
The White House and DOT have determined that 10 states with previously issued declarations of "major disaster" issued by President Biden within the past 120 days are allowed to use interstate highways in their state to transport overweight loads of gasoline and other fuels to help overcome any fuel shortages related to the Colonial Pipeline ransomware hack.
According to DOT, each state must continue to follow its own procedures for issuing special permits authorizing the loads, but the added flexibility lawfully permits trucks to run on the Interstate Highway System and other federal highways. This flexibility is in addition to preexisting authority for States to issue special permits allowing the trucks to run on State highways.
The previous presidential declarations created this authority for up to 120 days. Given the declarations' varied dates of issuance, that period will expire at different points for the affected states between now and early September. The first state whose 120-day period will expire is Maryland, on June 4. The last State is Virginia, on Sept. 7.
The 10 states covered are Alabama, Georgia, Kentucky, Louisiana, Maryland, Mississippi, New Jersey, North Carolina, Tennessee and Virginia. All these states are already covered under the separate Emergency Declaration that the Federal Motor Carrier Safety Administration issued on May 9, which grants truck drivers making emergency fuel deliveries in areas affected by the pipeline disruption relief from the Federal hours of service limits and certain other safety regulations.
I-40 bridge at Tennessee/Arkansas border closed indefinitely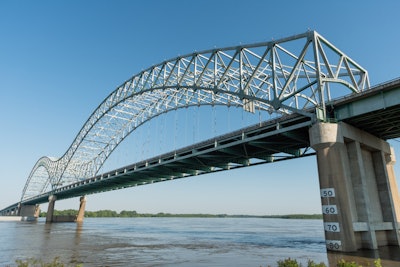 The Tennessee and Arkansas transportation departments have closed the I-40 Hernando de Soto Bridge over the Mississippi River after a routine inspection uncovered a crack in the bottom side of the bridge truss.
The bridge will be entirely shut down while crews investigate the crack's extent further and then repair the problem, which TDOT says "could take a couple weeks to complete." TDOT shares responsibility for the bridge with the Arkansas DOT. An ArDOT contractor discovered the problem and immediately shut down the bridge.
"It is unclear, at this time, how long the repairs will take," TDOT said in a press release.
Detours are available on both the Tennessee and Arkansas sides of the span.
Arkansas I-40 eastbound traffic should take Exit 5 to Interstate 55 to cross the Mississippi River into Memphis. Tennessee I-40 westbound traffic should take the I-55 Bridge across the Mississippi River to cross into Arkansas and then take Exit 4 to access I-40 westbound.
Federal data from January 2020, the latest available, shows the average daily general traffic on the Hernando de Soto Bridge -- also known as the "M" bridge -- is about 35,000 vehicles and estimates average daily truck traffic at 9,100.
Battle Motors has acquired commercial vehicle OEM Crane Carrier Company
Battle Motors, founded by Michael Patterson, the founder of Romeo Power, Paul Marsolan, co-founder and former CTO of InAuth, Inc. and Nick Sampson, co-founder of Faraday Future and former head of vehicle engineering at Tesla, has recently acquired Crane Carrier Company.
Crane Carrier Company has been manufacturing commercial vehicles for 75 years and is based in New Philadelphia, Ohio, with 180 sales and service dealers throughout North America, and is is bringing the Battle-Ready Class 8 severe duty full electric truck to the market this summer with 12 top tier Municipal customers.