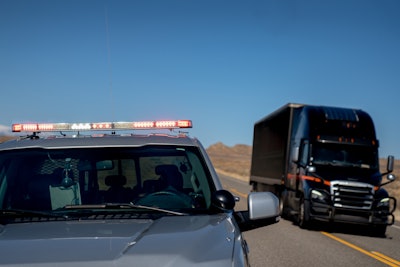 Approximately 83.5% of more than 40,000 trucks inspected during the Commercial Vehicle Safety Alliance's three-day International Roadcheck inspection blitz had no out-of-service violations, according to CVSA.
Inspectors did, however, remove 6,710 commercial vehicles and 2,080 drivers from roadways – a 16.5% vehicle and 5.3% driver out-of-service rate – over the three-day period from May 4-6. Last year's Roadcheck, held in late September, had a vehicle out-of-service rate of 22.2% and a driver out-of-service rate of 5.3%.
Inspectors primarily conducted the North American Standard Level I Inspection, a 37-step inspection process that involves thorough inspection of the vehicle (including underneath the vehicle) and the driver. Inspectors performed 23,135 Level I Inspections and removed 5,048 vehicles (21.8%) and 1,200 (5.2%) drivers from roadways.
[Related: Reducing driver turnover and brake violations with disc brakes]
In Canada and the U.S., inspectors conducted 9,410 Level II Inspections and placed 1,593 (16.9%) vehicles and 549 drivers (5.8%) out of service. They also conducted 6,836 Level III Inspections and placed 331 drivers out of service for a 4.8% driver out-of-service rate.
Each year, CVSA highlights a category of violations during International Roadcheck to bring awareness to certain aspects of a routine roadside inspection. This year, inspectors captured data on two categories – hours of service and lighting.
There were 1,367 out-of-service lighting violations, accounting for 14.1% of all vehicle out-of-service violations. It was the third most-cited violation, after brake systems and tires. Out-of-service lighting device violations include headlamps, tail lamps, stop lamps, turn signals and lamps on projecting loads.
Of the 9,691 out-of-service vehicle violations issued, the top five violations were for:
Brake systems – 2,564 (26.5%)
Tires – 1,804 (18.6%)
Lights – 1,367 (14.1%)
Brake adjustment – 1,203 (12.4%)
Cargo securement – 1,192 (12.3%)
The second focus area, hours of service, was the most cited driver out-of-service violation, accounting for 41.5% of all driver out-of-service violations, or 1,203 violations.
Of the 2,898 out-of-service driver violations issued, the top five violations were for:
Hours of service – 1,203 (41.5%)
Wrong class license – 565 (19.5)
Other – 482 (16.6%)
False logs – 427 (14.7%)
Suspended license – 132 (4.6%)
Examples of "other" driver violations include operating without the required operating authority, expired or no medical certificate, operating a commercial motor vehicle while ill or fatigued, driving while prohibited in the Drug and Alcohol Clearinghouse and more.
Last year in the U.S., there were more than 32,000 "failure to use a seatbelt while operating a commercial motor vehicle" violations, according to the Federal Motor Carrier Safety Administration's Motor Carrier Management Information System. It was the fourth most-cited driver violation in 2020. During this year's Roadcheck, inspectors checked safety belt usage during inspections and issued 773 seatbelt violations. Four were issued in Mexico, 305 in Canada and 464 in the U.S.