Trucking news and briefs for Thursday, Sept. 2, 2021:
CDL, med cert COVID emergency waivers extended
In addition to the emergency COVID relief hours of service waiver that was extended through November, the Federal Motor Carrier Safety Administration has also extended other COVID-related waivers dealing with licenses and medical certificates.
Related to commercial driver's licenses, FMCSA is allowing, but not requiring, states to extend the validity of CDLs that expired on or after March 1, 2020, beyond the allowable eight-year maximum period. Under the waiver, states have the discretion to determine whether, due to COVID-19, there is a continued need to extend the validity of CDLs that expired on or after March 1, 2020. States can now extend CDL validity through Nov. 30. The waiver also applies to commercial learner's permits that were due for renewal on or after March 1, 2020.
FMCSA is also allowing states to continue to allow CLP holders to take the CDL skills test without waiting 14 days after the issuance of the CLP.
The agency is also extending the waiver from the requirement that CDL and CLP holders have a medical exam and certification, as long as the driver has proof of a valid med cert and any required medical variance issued for a period of 90 days or longer and that expired on or after June 1, 2021.
Cargo theft firms warn of increased activity around Labor Day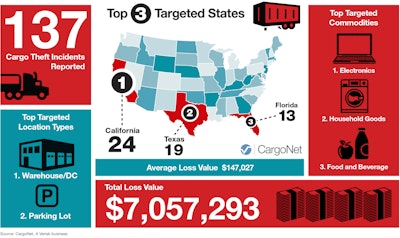 Cargo theft recording firm CargoNet is warning trucking companies and truck drivers of an expected increase in cargo theft activity during the upcoming Labor Day weekend.
CargoNet recorded 134 events involving cargo theft or theft of a trucking vehicle during the previous five Labor Day periods. Each event was worth an average of $147,027.
The firm notes activity was highest during the 2020 Labor Day period and increased 19% over the previous year. Nearly half of all events recorded during the previous five years took place on the Friday, Saturday or Sunday before Labor Day.
Electronics – specifically computers, computer parts, and televisions – were the most stolen category of goods in recent Labor Day periods. Electronics goods were distantly followed by household commodities such as major appliances, tools, and mixed shipments of household and houseware items, CargoNet says.
Theft activity was highest in California, Texas and Florida. More specifically, theft was most common in San Bernardino County, California, and was followed by Dallas County, Texas, and Los Angeles County, California. Theft was most common at warehouse locations, followed by retail store parking lots and truck stops.
The firm suggests trucking companies and shippers/receivers can step up security by arranging for same-day delivery of short-haul shipments, embedding covert tracking devices, and by using high-security locks to prevent trailer burglaries. Additionally, CargoNet says drivers should not leave their vehicles or shipments unattended, especially within 250 miles of pickup, and should also be on the lookout for any vehicles that appear to be following them.
Hyliion unveils improved hybrid powertrain
Electrified Class 8 powertrain developer Hyliion Holdings Corp. is unveiling an improved model of its Hybrid system at the Advanced Clean Transportation Expo in Long Beach, California.
The Hyliion Hybrid eX is the updated version of the company's hybrid powertrain, which offers fleets a lighter option that's easier to install, service and operate.
The Hybrid eX features a number of improvements over Hyliion's earlier Hybrid configuration, including a consolidated battery box aimed at streamlining the installation process; reduced net system weight, allowing for greater payload; new e-axle for improved efficiency; new automatic traction-assist and updated control interfaces for an improved driver experience; and more.
"The launch of the enhanced version of our Hybrid powertrain is a major milestone in our Hybrid commercialization process and reflects the ongoing work we are doing to innovate for the benefit of commercial fleets and the environment," said Thomas Healy, founder and CEO of Hyliion. "We expect these improvements to make the Hybrid that much easier for fleets to adopt, while also helping them to achieve their ESG and emissions targets."