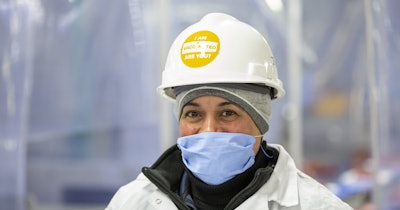 The heated debate over vaccine mandates has spilled over into the trucking industry with some shippers and major players now requiring drivers to be vaccinated, with Tyson Foods chiefly among them.
On Friday, Tyson's president and CEO Donnie King wrote that in response to the new and more dangerous strains of COVID in circulation, the company would require all U.S. workers to take the vaccine.
Tyson Foods has struggled with COVID outbreaks in its meat processing facilities, but sources close to Commercial Carrier Journal note an increasing demand from shippers, especially those with food-grade freight, for vaccinated drivers.
Tyson will require all in-officer workers to be vaccinated by October 1, all other workers by November 1, and all new hires before their start date. Only union workers will be spared from the mandate for now, as Tyson will bargain with the union on that issue directly.
Tyson, which employs more than 1,300 active drivers in one of the largest private fleets in the country, offered frontline workers a $200 incentive to verify their vaccination status. CCJ has reached out to Tyson for comment on specifically how many drivers will now face the vaccine mandate.
"We did not take this decision lightly. We have spent months encouraging our team members to get vaccinated – today, under half of our team members are. We take this step today because nothing is more important than our team members' health and safety, and we thank them for the work they do, every day, to help us feed this country, and our world."
If, as King writes, less than half of the company's 1,300 drivers have been vaccinated, the mandate from management could see hundreds flee the company. Recently, informal polling at CCJ's sister site, Overdrive, indicated that 35% of unvaccinated drivers don't trust "elites" and would be unlikely to take the shot under external pressures. Responding to a recent poll by CCJ sister publication Truckers News, 30% of company drivers said they would refuse a mandatory vaccine and force the employer to fire them. Another nearly 17% said they would claim a medical or religious exemption, while 16% said they would quit. Almost 7% said they would comply and get the vaccine. About 25% of drivers polled said they had already been vaccinated.
Other shippers follow suit, tackle legal questions
Tyson's move follows other shippers requesting vaccinated drivers, CCJ has learned. A fleet executive at a mid-sized regional carrier said a shipper had asked for vaccinated drivers only. A second source asked to remain anonymous to avoid jeopardizing their business dealings showed CCJ a contract from a shipper that said drivers must have their vaccination status on file with HR to avoid wearing masks on the premises.
"We haul a lot of food-grade product," the source said. "A lot of our customers have requirements in general, like more stringent health and safety requirements for drivers, so there are really strict rules about who can be in their facilities and what PPE they have to have on."
Upon receiving a contract from the shipper that asked for vaccinated or masked, the fleet executive looked into whether or not it was legal for them to inquire about drivers' vaccination status.
"We use a third party HR provider, so we actually asked them do we have the right to ask our employees their status, and they said yes," the executive said. "Initially we started by asking our drivers their status and for proof, so several of our drivers have since offered proof and we have filed that in their personnel file. We're not requiring vaccinations of our drivers as of yet. But, by the same token if our customers are going to ask for vaccinated drivers, then we wanted to know who could fulfill that requirement."
How fleets can plan around the added complication of driver vaccination status, when capacity is already tight and truck utilization at record levels, presents a whole new set of challenges. The source said their company was looking into ways to incentivize vaccinations across the fleet.
Penalties for unvaccinated drivers?
In the case of Tyson, it's clear that drivers who refuse the vaccine and aren't protected by union bargaining will have to look for work elsewhere. The fleet executive who spoke to CCJ said that unvaccinated drivers, or drivers without proof of vaccination weren't punished, but could find themselves in hot water.
"We had to suspend a driver last week because he was noncompliant with a shipper's mask policy, but in their mask policy it stated that if the driver took their proof of vaccination to HR, the driver would be exempt from mask wearing," the executive said.
In fact, around the industry, so far there are more incentives to get vaccinated than punishments for avoiding it.
Greg C. Gantt, president and CEO of Old Dominion (CCJ Top 250, No. 10) explained how COVID considerations hit his business on Monday.
"While our daily volumes increased during August, our growth was affected by the recent rise in COVID-19 cases as well as various other matters impacting customers' supply chains throughout the country," said Gantt. "As a result, we made the decision to offer a financial vaccination incentive that we believe is an important investment for the safety and well-being of our OD Family of employees."
Currently, the National Safety Council recommends "employers follow our guidelines to encourage vaccine uptake by incentivizing and requiring vaccines as well as sharing information about the safety of vaccines."