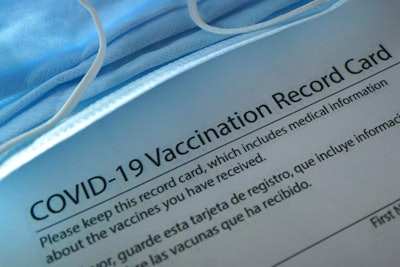 Count the Truckload Carriers Association (TCA) among industry groups to voice concern over President Joe Biden's plan to mandate vaccinations and COVID-19 testing nationwide.
TCA joins the American Trucking Associations and the Owner-Operator Independent Drivers Association (OOIDA) as opposing the political maneuver, although OODIA conceded that any looming employee-count based mandate likely wouldn't apply to most of its members.
In an email Thursday, TCA Chairman Jim Ward urged TCA members to contact local Senators and Representatives "to explain the ramifications this plan could potentially have on our industry. We have always said that there is no better advocate for our segment of the industry than our members themselves. I encourage each of you to reach out to those that govern and tell your story so that we can effectively educate federal decision-makers on this concerning issue."
President Joe Biden last week charged the Occupational Safety and Health Administration (OSHA) with developing and enacting a rule requiring all employers with 100 or more employees to ensure their workforce is fully vaccinated or show a negative test at least once a week, impacting more than 80 million unvaccinated workers in private sector businesses.
Ward, also president of Williamsport, Maryland-based D.M. Bowman (CCJ Top 250, No. 218), wrote in his email that "this mandate could have wide-reaching implications for our industry and the nation as a whole ... Obviously, the logistics of vaccinating an army of professional truck drivers operating in an irregular operating environment remains a strong concern. A larger fear is that a rule requiring a vaccine or weekly test could lead to a massive driver exodus from this great industry. Already faced with a shrinking pool of drivers from COVID-19 itself, we are all confronted with the pervasive challenge of locating qualified drivers to deliver our nation's freight safely, effectively, and efficiently."
The effective date of Biden's would-be mandate is not yet known as it still has several administrative hurdles to clear en route to enactment, and trucking groups have strong allies in the fight against it in some states, with many Republican governors already pledging to push back on forced vaccination and testing.
"The vaccine mandate is unprecedented in its audacity and unlawful in its application," Alabama Attorney General Steve Marshall said via statement last week. "The Biden Administration knows this full well. The State of Alabama will not allow such an authoritarian power grab to go unchecked. When they file their proposed rule, we file our lawsuit."