Trucking news and briefs for Friday, Jan. 14, 2022:
New York plans to allow third-party CDL road testers
New York Gov. Kathy Hochul announced Wednesday a plan she said "will help address a critical shortage of truck and bus drivers by significantly expanding the availability of road tests for Commercial Driver License applicants."
The initiative would allow qualified third parties to offer CDL road tests, which would create more testing locations statewide and expand capacity at the existing state-run sites, reducing the time it takes to get qualified CDL drivers on the road.
The New York State Department of Motor Vehicles will hold a public hearing Jan. 26, to hear and review comments on the proposed plan. The hearing will take place virtually via WebEx from 10 a.m. to 12:30 p.m. It will be open for public comments following a brief introduction by DMV representatives. Written comments may be submitted to CDLThirdPartyTesting@dmv.ny.gov from Jan. 18 to Feb. 4.
During the public hearing, the DMV will provide an overview of the proposal that calls for a phased rollout of this initiative that would initially allow other state agencies and authorities that have large fleets of commercial vehicles to begin conducting CDL road tests. The second phase would include qualified private entities.
The DMV will establish a monitoring system to ensure that qualified CDL trainers safely administer the road tests in compliance with state and federal regulations. The DMV will use the feedback gathered during the public hearing to evaluate and develop an implementation plan.
Nikola tractor approved by CARB as zero-emission vehicle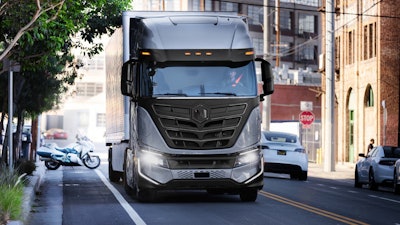 Nikola Corporation's Nikola Tre battery-electric vehicle (BEV) has been deemed eligible for the Hybrid and Zero-Emission Truck and Bus Voucher Incentive Project (HVIP) program by the California Air Resources Board (CARB).
With this approval, purchasers of the Nikola Tre BEV can now qualify for an incentive of up to $120,000 per truck, helping to reduce the total cost of ownership for any purchaser operating in the state of California.
Launched by the California Air Resources Board in 2009, HVIP is the earliest model in the U.S. to demonstrate the function, flexibility, and effectiveness of a limited pool of first-come first-served incentives that reduce the incremental cost of clean commercial vehicles. HVIP is administered by CALSTART, a national clean transportation nonprofit consortium, on behalf of CARB.
With a range of up to 350 miles, the Nikola Tre BEV is expected to have the longest range among the current HVIP eligible Class 8 tractors. The Tre's cabover design is ideal for metro-regional applications because it has improved visibility and maneuverability, along with a smooth and quiet ride free of the smell of diesel emissions.