Trucking news and briefs for Friday, Oct. 6, 2023:
Speeding tops list of Operation Safe Driver Week infractions
While the Commercial Motor Vehicle Safety Alliance's Operation Safe Driver week traffic-enforcement and safe-driving awareness and education initiative is aimed at drivers of both cars and trucks, commercial vehicle drivers received the majority of warnings and tickets/citations during the week.
Law enforcement officers in Canada and the U.S. initiated 11,448 traffic stops of commercial motor vehicle drivers and passenger vehicle drivers who were engaging in unsafe driving behaviors during Operation Safe Driver Week, held July 10-16.
Officers issued a total of 4,494 tickets/citations and 5,756 warnings to drivers of both commercial and passenger vehicles. Of those, 2,634 tickets/citations and 4,592 warnings were given to commercial motor vehicle drivers, while 1,860 tickets/citations and 1,164 warnings were issued to passenger vehicle drivers.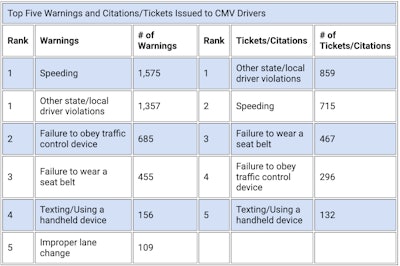 Speeding, the focus area for this year's Operation Safe Driver Week, was a top infraction for all drivers. Commercial motor vehicle drivers received 1,594 warnings and 731 tickets/citations for speeding, and passenger vehicle drivers received 625 warnings and 1,293 citations/tickets for speed-related infractions. Combined, a total of 2,219 warnings and 2,024 citations/tickets were issued for speeding.
Drivers were given warnings or issued tickets/citations for "other state/local driver violations," which was the No. 1 reason for tickets/citations for commercial motor vehicle drivers and No. 2 for passenger vehicle drivers during this year's Operation Safe Driver Week. "Other state/local driver violations" include such violations as no registration certificate, no proof of insurance, size and weight violations, defective equipment, etc., which are violations officers usually discover after they have pulled over a driver for another infraction.
Another top unsafe driving behavior identified during Operation Safe Driver Week was failure to wear a seat belt. A total of 512 warnings and 553 tickets/citations were issued. Commercial vehicle drivers received 455 warnings and 467 tickets/citations for not wearing their seat belt.
Commercial motor vehicle drivers received 156 warnings and 132 tickets/citations for texting/using a handheld device while operating a commercial motor vehicle.
[Related: Brakes, HOS again top list of Roadcheck OOS violations]
New York City passes bill to add truck parking
The New York City Council on Sept. 28 passed a bill that paves the way for at least three parking locations for tractor-trailers in the city.
The bill now just has to be signed by Mayor Eric Adams to become law.
The text of the bill states that by Dec. 31, 2025, the city is required to "offer off-street parking for tractor-trailers and other commercial trucks at no less than three locations that are feasible and appropriate to offer such parking."
The locations, according to the bill, can include "real property owned by the city as well as real property owned by other governmental entities that the city may contract with to provide such parking."
The city last August began a crackdown on illegally parked trucks, which in the first five days of enforcement resulted in NYPD issuing 597 summonses, attaching 89 wheel clamps, and towing 55 illegally parked vehicles to a temporary storage facility.
The enforcement action was met with opposition from the Trucking Association of New York, which called for more truck parking in the city to fix its parking problems rather than issuing tickets and towing trucks.
Freightliner adding nat-gas Cummins X15N as Cascadia option
Freightliner is adding Cummins' natural gas X15N engine as an option for Cascadia trucks.
Freightliner will offer the new X15N, with 400hp to 500 hp and 1,450 to 1,850 lb-ft of torque, in the Cascadia 126" BBC, in both sleeper and day cab configurations. Production is targeted to begin in 2025.
"The X15N [is] an industry first big bore natural gas powertrain with power and torque curves almost identical to diesel," said José Samperio, Cummins vice president and general manager of North America On-Highway," adding it "will help long-haul fleets see improved economic and environmental performance."
When operating on renewable natural gas (RNG), the X15N engine can significantly reduce lifecycle greenhouse gas emissions of heavy-duty trucks, according to Cummins. This can range from a 90% reduction to carbon neutral, or even carbon negative, depending on the bio-source and waste feedstock used to produce the fuel. The new X15N achieves lower NOx levels than the 2024 EPA and CARB standards.
Leonard's Express refurbishes terminals, shops
Leonard's Express (CCJ Top 250, No. 110) has upgraded its terminals and repair shops to show appreciation for its drivers and service technicians. The renovations were unveiled in September as part of National Truck Driver Appreciation Week (NTDAW) and National Technician Appreciation Week (NTAW).
"At Leonard's, we demonstrate our appreciation for drivers and techs year-round," said Leonard's Express CEO Ken Johnson. "They deserve to be celebrated even more during these special weeks of recognition."
This year, Leonard's Express focused on bringing more of the comforts of home to its drivers and techs in five different locations across the country:
Farmington, New York – Fresh paint, soundproofing, new lighting, dog beds, updated locker room with new lockers, and an information center with desktop computer.
Caldwell, Idaho – Installation of air conditioning.
New Castle, Delaware – New event space (large tent, tables and chairs, and a speaker/microphone), and break area (picnic table, sunbrella, Blackstone grill).
Taylorsville, North Carolina – New outdoor seating area (picnic table, sunbrella, Blackstone grill) and a new TV.
Eau Claire, Wisconsin – New outdoor seating area (picnic table, sunbrella, and hardscaping), and personalized coveralls for each technician.
The company also teamed up with Samsara to organize a raffle for all drivers. Drawings occurred once per day throughout NTDAW with prizes including a massage gun, AirPods, an iPad Air, a Sonos Move portable speaker, and a Yeti cooler.
For the techs, Leonard's provided each shop with a budget for new tools and worked with sponsors including Freightliner, Kenworth, Snap-On, and ThermoKing to deliver the tools, as well as apparel to their work sites.
Each driver and tech also received a Leonard's Express-branded item (such as a shirt or hat) and the company hosted cookouts and potluck events where everyone enjoyed a constant flow of food, drinks, and snacks.