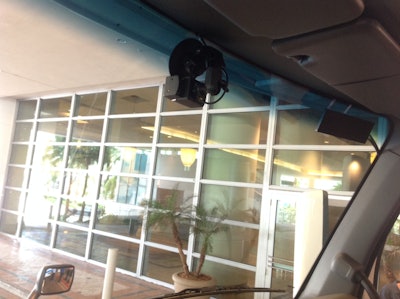 A California industrial technology company has added several new features and enhancements to one of its safety systems.
Trimble Video Intelligence's digital video recording system can now support up to four cameras, including an advanced driver assistance system (ADAS). The company has also added a driver monitor, a notification system, additional cameras and a driver assist video functionality.
"Trimble's Video Intelligence solution goes far beyond surveillance and investigation," said Jesse Chappell, global business development manager at Trimble Transportation. "This strategic technology with enhanced video features has become a key component in safety programs, encompassing driver fatigue, distraction and road hazard monitors and alerts, and is a major risk reduction tool for drivers and fleet managers."
The company's four-channel DVR now includes a 1920x1080-pixel high-resolution, forward-facing ADAS camera that mounts on the windshield, providing views of the road ahead and offers driver coaching opportunities and accident monitoring. It warns drivers of unintentional lane departures, provides forward collision notifications and more.
Recorded data is processed in real time using artificial intelligence to provide immediate feedback and trigger event recordings.
The DVR is 40% more efficient than the rate of the previous DVR with the new enhancements, the company said.
The system also now includes additional cameras, including a driver- or passenger-side pod camera that captures events that take place alongside a vehicle, in adjacent lanes or in a driver's blind spots. A rear-facing camera that mounts on the back of a tractor offers additional context around triggered incidents near the rear of a truck and helps further identify driver coaching opportunities.
Driver Assist is now available as an add-on that displays live video from the pod or backup cameras in the cab when the turning indicator is engaged or the truck is in reverse to help in navigating blind spots and backing into tight areas.
Trimble Video Intelligence also now has monitoring and alert options for drivers in addition to recording.
The Dynamic Driver Defense, or DCube, provides real-time audio and visual alerts to help reduce incidents caused by hazards like lane departures, harsh braking, following too close and more.
The system also now offers a Cabin Intelligent Monitor (CIM) that monitors drivers for distraction, seat belt usage, smoking, fatigue, cell phone usage and camera obstruction. AI recognizes real scenarios and records them for future use of coaching better driving habits for increased safety.