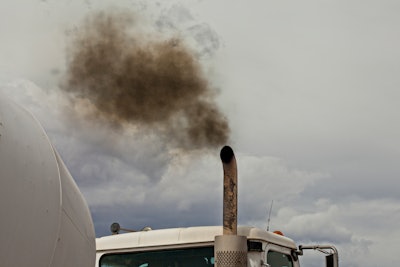 Getty Images
Cummins North America has implemented its Planet 2050 initiative that includes multiple targets to reach by 2030 in reducing its Co2 footprint with a goal of carbon neutrality by 2050. Many other companies, like Walmart for example with its aim for zero emissions by 2040, have implemented sustainability goals.
And trucking companies are stuck in between – from a Cummins engine in a truck to dropping a load at a Walmart dock – having to find ways to reduce emissions while being part of the largest single source of greenhouse gases generated in the U.S.: transportation, representing 29% of total emissions.
Steve Hueser, transportation director at Cummins North America, which specializes in diesel and alternative fuel engines, said any efforts trucking companies make toward reducing their emissions will give them a competitive advantage.
"Electric, natural gas, hydrogen, it's definitely going to be the wave of the future. As with anything, we will measure that performance. We have targets specific to transportation operations to reduce the Co2 footprint that we use, and so … understanding what different types of power vehicles you have in your portfolio to help us reach our targets for 2030 is important," Hueser said during a panel at the recent TCA Truckload event in Las Vegas. "I think the ESG-type carriers will be a competitive advantage as we have global targets that we're trying to hit as a business. So I think sustainability is a differentiator, especially in certain lanes."
Technology that helps with things like driver coaching and route optimization to reduce emissions from fuel use has enabled trucking companies to better meet their ESG goals, but there's only so much software can do.
Trucking companies have been investing in software technology to help reduce their emissions, and there are many options on the market.
One of those technology providers is Shipwell, which recently released a load optimization feature within its transportation management system that it claims helps customers significantly reduce the time it takes to plan and route shipments, the costs associated with moving them and the carbon emissions produced by the carriers hauling them.
Shipwell said in a news release that its efficient routing tool helped one beta customer reduce more than 10,000 pounds of carbon emissions by slashing the distance driven by more than 2,700 miles for just one shipment batch.
"Packing multiple customer orders into the most ideal mode allows a greater quantity to be dispatched at once, greatly reducing both the costs for the shipper and the number of miles those shipments need to travel before reaching their destination," said Shipwell Co-founder and CEO Greg Price.
Samsara is another tech provider that offers fuel management tools that track fuel use and report on vehicle and driver behavior, allowing companies to reduce fuel consumption by identifying wasteful driver behaviors such as engine idling, speeding and unnecessary acceleration, as well as report and maintain IFTA compliance.
Illinois-based trucking company GP Transco (CCJ Top 250, No. 163) said it reduced idling by 35% and saved an estimated 205,000 gallons of fuel during a one-year time period using Samsara's technology. In 2021, the company announced it reduced its carbon footprint by 30 million pounds of emissions.
"There are a lot of factors that affect fuel use, but the main ones are driving habits and unnecessary idling – that is where Samsara is irreplaceable," reads a quote from Jonas Bidva, GP Transco's vice president of operations, in Samsara's recently released inaugural ESG report.
The technology also offers bespoke coaching for drivers on how they can improve fuel efficiency by making good use of cruise control, reducing idling and other fuel-saving habits.
Samsara also provides detailed, real-time reporting and metrics to help carriers reach their sustainability goals. Customers can monitor carbon emissions, identify fuel and energy waste, reduce paper and food waste and find the best way to transition to electric vehicles (EVs).
Alexander Stevenson, vice president of product at Samsara, said better data can help carriers understand the changes they need to implement to reach their ESG goals.
"ESG initiatives are often stuck at the spreadsheet stage. Many organizations have goals, but understanding the changes that need to happen in their daily operations to reach these goals is challenging. This is where new technology can help," Stevenson said. "The proliferation of Internet of Things (IoT) connectivity, cloud computing and AI is making it possible for organizations to get the insight they need to drive safer operations and advance sustainability initiatives. Better data also helps measure the magnitude of these improvements, so they can double down on what's working and focus efforts in the right place."
He said Samsara is helping its customers make small operational improvements that increase fuel economy, which can drive big change for an entire fleet. But small is the scale for what trucking companies can do to reduce emissions as they wait in limbo for hydrogen and EVs to become more readily available.
Matt McLelland, vice president of sustainability and innovation at Covenant Transport (No. 38), said there isn't a whole lot trucking companies can do to improve their ESG scores. While social and governance are part of the equation, he said the focus of ESG for trucking companies lies with the environmental piece as diesel trucks pollute the planet.
"We've all, at this point, kind of picked all the low-hanging fruit. We all get about seven, eight miles to the gallon. We've all done trailer skirts; and we've all done aerodynamics; and we've all invested in a newer fleet that allows us to take advantage of the incremental changes in diesel technology that happen every year to reduce emissions," McLelland said. "If you're going to drive 700, 800, 900 miles a day, electrification doesn't work and hydrogen is not really available … so there's not a lot that we can do.
"Technology and software, we can use a little bit of that to optimize routes, but we all have been doing that for a long time. From a technology perspective, software, things that involve computers, there's just really not a lot that you can do to reduce your emissions."
Sustainability isn't cheap, he said.
But it's the trend that is putting trucking companies in a tight spot as their customers make big public statements about net-zero initiatives.
McLelland said before sustainability became popular, shippers only cared about which carriers could give them the best price, the best customer service and safe, on-time delivery. Now, they've added green to the list.
Soon, companies like Covenant could be held accountable to their shippers that may begin requiring a greenhouse gas report with every bill for that shipper's carbon accounting.
The Security & Exchange Commission in March issued a 534-page proposal to require publicly traded companies to produce ESG reports. Currently, McLelland said, about six of the top 50 carriers by revenue issue ESG reports with a handful more releasing corporate social responsibility reports.
"The reason that (proposal) has public companies scared, and particularly companies like Covenant and our competitors, is because it's just something we've never done before. It's expensive. It's complicated. It's going to require lots of new processes and investments in technology and probably two or three extra people just to keep track of all of this because it's very complicated," he said. "So we're all watching to see whether or not this proposal is actually going to be turned into a requirement."
But Covenant is already working to reduce its carbon footprint. The company recently put an electric vehicle on the road in Atlanta and is looking into renewable diesel made from feedstock that is better for engines, significantly reduces carbon emissions and doesn't violate the engine warranty. McLelland said renewable diesel is one of the most encouraging things as trucking companies wait on mass EV options, but even it isn't very available.
Stevenson said Samsara research shows that 77% of operations and fleet leaders believe fleet electrification is important for their organization to meet sustainability goals. And while those goals have been pushing trucking companies to adopt technology in recent years, today's rising fuel prices are urging increased interest in EVs.
"Electrification of an entire fleet takes time, but our solutions can kickstart electrification plans and better manage EVs once they are rolled out," he said.