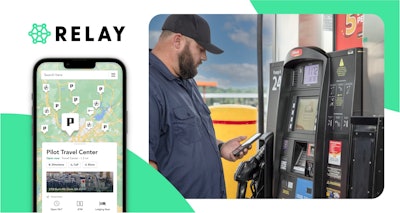 Relay Payments
Amanda Corlew, human resources and safety manager at Holland, Michigan-based carrier TransWay, said it seemed like the 55-truck operation experienced fuel card skimming fraud at least once a day for a month.
"When that would happen, we would have to shut down a driver's fuel card. We would have to figure out how to get them a new fuel card in the meantime; not all of our drivers come back to our offices here," Corlew said. "We then had to give them the number off of a different fuel card. They'd have to go into the truck stop every time that they were going to fuel or get a cash advance or do anything and visit the fuel desk instead of being able to just pay at the pump to keep them moving."
Fuel card skimming for TransWay has been a very inefficient and costly hindrance, she said, but since the carrier has switched over to an all-digital payment system, it hasn't experienced any issues with fraud. TransWay recently began using fintech company Relay Payments, which has built a digital payment network – similar to that of Apple Pay or PayPal – specifically for the transportation, logistics and supply chain industries. Relay, which launched its digitized diesel payment platform at Pilot Company's more than 800 travel centers this week, is also integrated with participating Flying J and One9 Fuel Network travel centers in addition to regional and independent truck stops like Road Ranger, AMBEST Travel Centers, Roady's, etc.
Companies like Relay are working to transform the transportation industry with updated technology to not only mitigate but eliminate fuel fraud.
Relay Co-founder and CEO Ryan Droege said fuel fraud is easy money for criminals because they aren't likely to be caught and prosecuted for several reasons, and the "antiquated" card method is ripe for harvest with its readable magnetic strip.
At the pump, the driver inserts their card, which can then be read by an electronic skimming device attached to the card reader. Droege said carriers typically don't realize they've been defrauded until the driver's next attempt to fuel and their card is locked. This costs the industry hundreds of millions of dollars annually.
"Fuel fraud can have a significant impact on a fleet both financially and operationally," said Steve DeMelis, vice president of product at Fleetcor, parent company of payment processor Comdata. "Financially, fuel fraud can impact a company's bottom line by adding a significant amount of fuel expense to a company's balance sheet, especially in instances where the fraud goes undetected for long periods of time. Operationally, the burdens of detecting and verifying fuel fraud, blocking fuel cards and distributing new fuel cards can weigh heavily on a company's staff."
Corlew said when card skimming occurred, TransWay incurred the additional expense of routing a driver through the company yard – even if it was out of the way or meant taking a load it wouldn't typically take – so the driver could pick up their new card. She said sometimes she has even put the card in the hands of the company owner and had him drive to meet the affected driver. She said it usually takes two to three weeks from the time the fraud is identified and when the driver gets a new card; then there's the time spent between when the transaction happens, when it's disputed and when the company actually gets the money returned.
"From a company perspective, there is now a stolen fuel card that is buying diesel fuel where it shouldn't, and the company is going to be liable for dealing with that headache," he said. "… That doesn't really help the driver who's sitting at a diesel lane on empty; they normally have to go out-of-pocket or figure out some other payment method to fill up for that immediate use case. Then the company has to go through the logistical problem of how do you get a new plastic card to a driver that could be multiple states away."
But it is impossible to be skimmed when using Relay, Droege said.
Relay uses a mobile app that authenticates the driver and their location, and it provides a code to type into the fuel pump to turn it on. The platform also ensures that drivers and carriers can continue to use their existing savings and direct billing arrangements with the truck stops it has integrated with.
"It's a much more secure transaction," he said. "Our viewpoint is the only way you can really mitigate (fuel fraud) is with much better technology. By moving off of a plastic card to a digital token-based authorization method, you eliminate that fraud vector, and so we think it's going to be pretty transformative to the industry."
While Relay prevents card skimming, it has cybersecurity measures to ensure other avenues of fraud are prevented. Droege said Relay detects and blocks fraudulent actions about once a month; the company follows a variety of different compliance regulations, has an around-the-clock security team that runs continuous tests and has 24/7 monitoring tools to prevent cybersecurity breaches.
Comdata also recently partnered with Transflo to develop Transflo Wallet, a mobile-app-based cardless fuel payment solution that enables freight brokers to send digital fuel advances to carriers and drivers through a secure and user-friendly mobile app. But DeMelis also pointed out a variety of measures fleets have when using cards, as they remain the primary source of fuel payment.
"Comdata cards come standard with a portfolio of controls, limits and prompts that a fleet can activate. These features include protection as simple as validation of a driver pin at the pump to advanced controls such as network by card where the fuel card is locked to only work at the station dictated by the fleet's fuel optimizer," DeMelis said. "For customers that want to take their fraud protection to the next level, Comdata offers a collection of Enhanced Authorization Controls (EAC) that, when implemented, provide the industry's only no fuel fraud guarantee. Using telematics information, these EACs allow customers to put guardrails around their fleets' fueling activity, such as declining the transaction if the vehicle is not present and limiting the amount of fuel a driver can purchase to only what the vehicle requires."
DeMelis also offered some educational tips on how to identify red flags:
• Fuel fill-ups happen too frequently. Internal fuel fraud may involve siphoning fuel out of a company vehicle, filling up the tank of a personal car on the company fuel card, or driving a fleet vehicle for personal use. We recommend watching for frequent fill-ups when checking fuel card reports.
• Fuel charges don't match mileage, tank capacity or authorized fuel grade/type. Fuel purchases that are out of line with miles driven on the company vehicle or with tank capacity may also indicate internal fraud. Being alert for gasoline being purchased on a card assigned to a diesel truck, or purchases for a fuel grade that is not within spec for the vehicle assigned to the card can aid in catching this type of red flag.
• Card and vehicles fueled don't match. The red flags should go up immediately when there are instances of multiple vehicles being fueled on the same card or the wrong card being used to pay for fuel on a particular truck.
• A fuel charge from an odd location. Most regional drivers and long-haul truck drivers with regular routes will fuel up at the same locations (or handful of locations) based on their habits and routes. Keeping tabs on station locations and looking for purchases at any filling station or truck stop where a fleet's drivers don't normally stop is important. Such a change in behavior may be a red flag for fraud. Fueling that occurs within a state that the fleet doesn't drive to or through or where there is no reason purchase fuel is also suspect.