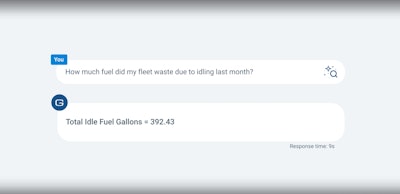 Geotab
The trucking industry has long had the reputation of being behind the curve when it comes to adopting technology as many processes continue to be manually performed despite the demand for greater efficiency within the supply chain. But telematics providers in the industry are working to bring commercial fleets up to speed, and speed is exactly what Geotab had in mind when it created essentially its own version of the recently popularized Chat GPT.
Geotab is set to launch a beta project that introduces generative AI models into its platform in early July. Project G, which acts as an analytics digital assistant, will use natural language models to transform the process of analyzing fleet data. The project will test a chat interface linked to Geotab Data Connector where customers can get data insights on their fleet based on their specific question.
"My goal is very simple: reduce time to insight, because I think if you can reduce the time to insight, you empower people in the right positions to make decisions faster," said Mike Branch, Geotab's vice president of data and analytics. "One of the things that … is always a struggle for customers is people are lost in the world of data. They want to get insights very quickly.
"Sometimes it does become a bit of a struggle to weed through these insights, even though it's on a dashboard, and our hypothesis was that with this wonderful world of generative AI that's out there, is there a world in which we can enable our customers very simply to go on a chat-based interface, ask a question about their fleet, and have it give you that answer very quickly."
The answer is yes.
Branch said depending on the complexity of the question, so far in testing the solution, responses have been generated in as little as seven seconds and up to 60 seconds.
"We're working very closely and hard to kind of keep those timeframes down as much as possible," he said.
He said fleets can keep questions precise or open ended, and the generative AI will take that question, translate it into technical code and run those queries to get the answer they want. But he said fleets should understand that generative AI has its limitations and could misinterpret a question.
Those questions – based on that fleet's data – could vary from vehicle performance and idling time to fuel economy comparisons, vehicle usage, cost savings and beyond. Some of those questions could look like, "How productive is my fleet?" or more specifically, "Assuming productivity is the most number of stops in the shortest amount of time, what would that look like?" The tool would compute that ratio and give the fleet its top-performing vehicles based on the definition provided.
"Some interesting questions that folks have started to look at asking is 'I've had a pilot program in place from February to March, and it was in an effort to try to reduce idling. How did it do?' What it then does is it leverage generative AI to interpret that question and then figure out what question it needs to ask of our data behind the scenes to give you an answer," Branch said. "In that case, it would say, 'Prior to the pilot, you had idling of X, and after the pilot you had idling of Y.' It's akin to going into Google really and having it understand that question and understand your data very securely."
Project G is built on privacy-by-design principles and keeps all customer telematics data within Geotab's environment. Geotab has over 55 billion data points processed daily across more than 3.6 million connected vehicles.
Branch said this tool helps fleets that may not have the resources to hire a data analyst, for example, to harness these insights to create greater efficiencies. He said it's a simpler way to sift through data that a fleet may not typically know how to access.
"If you can ask a question and you understand your fleet, you can use this technology," he said.
Branch said data in the past has been accessed via dashboard, and fleets have some core KPIs that they typically track on a routine basis that they know how to access easily from that dashboard. But this tool allows them to ask ad hoc questions that may be a bit more complex to put together in a dashboard.
"Certainly, I don't think the need for dashboards is going away. The (Project G) system does a really good job of understanding context … so the two will coexist," he said.
And in the future, beyond the beta project, Branch said the system will grow in its capabilities to understand more datasets and provide additional context.