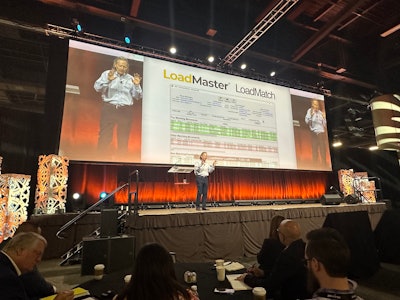 Angel Coker
Shift into high gear. That was the theme for the McLeod Software user conference held in Phoenix this week as the company hopes to help its customers do with the launch and enhancement of several new products and features.
McLeod President and CEO Tom McLeod kicked off the show talking about what he called a stable economy and encouraging customers to not only "tune up" their businesses but to invest and expand operations.
"When things are stable … it's a wonderful time to work on your business and to be prepared for when stronger growth comes back," he told the audience Monday. "We want to help you use the software that you've already got; you've already paid, but you've got features that you're not using. We're investing in software product development; we're investing in the tools from your input."
McLeod said in a one-on-one chat with CCJ he is most excited about the company's move to the cloud. The company's most recent system upgrade includes PowerBroker//web, the web-based user interface for PowerBroker.
"This is an important step in our migration to the cloud for our entire product line. We're going to be able to move in a stepwise direction over the next year or two as we roll out this type of interface and functionality throughout our entire product line," he said. "We've got queued up large chunks of additional functionality with the next three or four releases that should get us to essentially complete migration.
"We've had, historically, two major releases a year; we've extended that for functionality reasons to more like a seven-month, maybe there's an eight-month cycle," he added. "Customers can still use both initially. At some point out in the future, that's likely to change as we take more and more advantage of some of the cloud-native technologies, which we're already adding in several places during the migration. But that really eases the transition for customers; they don't have to start all over. They can add and take advantage of new functionality as they upgrade."
The shift to cloud operations, along with a new subscription-based model that was announced during the conference, will enable more fleets to access this technology, including smaller fleets that traditionally haven't had access, McLeod said.
He said he's also excited about the company's newest feature included with its base LoadMaster product that aims to make for simpler operational planning. McLeod announced the release of LoadMaster LoadMatch at the conference.
The new tool helps planners find the best load for every driver based on instant analysis of the fleet and every driver's current position, status and available hours of service at the time they are creating the assignment. By reviewing company preferences and driver-specific requirements, it provides users with the ranked top five eligible loads for each driver. It examines all critical parameters in the system, such as hours of service, empty distance to the next load, any lane preferences, and minimum revenue per order goals.
"You can pick a truck, and the system will go through all the available freight, and it's optimized based on several criteria. One is, of course, empty miles. The second one is an extensive list of preferences and restrictions that you can put on an individual driver, divide your fleet up into different divisions, exclude or include drivers from certain parts of the country or certain customers or certain commodities. All that's taken into consideration: driver time-off events, running hours of service, feasibility, so that you come up with a short list of ideal load assignments for each truck," McLeod said. "You can take a new planner and have them up to speed much more quickly. You can take an experienced planner and help them to validate the choices that they're making."
Investing in data science
McLeod also unveiled its AI-powered MPact PRO Predictor, a new built-in feature of MPact PRO, it's lane and rate analysis tool. Predictor enables customers to forecast freight rates up to 14 days in advance, factoring in line haul rate, carrier type, trailer type and commodity type. Its forecast confidence level can be adjusted to match the business's risk preferences.
The company also rolled out the MPact API, which gives customers access to MPact PRO Predictor data. This gives customers who have signed up to be anonymous rate contributors for its Market Insight data set the option to programmatically access the market lane intelligence housed in its MPact lane and rate analysis product via an API. MPact data can be imported into internal reporting, dashboards and homegrown applications by customers for their own market comparison purposes. The MPact API returns buy and/or sell data from key market area origin and destination pairs based on freight that moved during the time period being examined.
"This allows our customers to take that data, bring it into the back office and build on projects. Providing that data and giving them the ability to ingest it themselves, and incorporate it into their own solutions, they're able to create some real interesting solutions," Doug Schrier, McLeod's new vice president of growth and special projects, said during a conference press briefing.
Schrier said McLeod is moving its McLeod IQ to the cloud as well so customers can more easily obtain insights into the data. Cloud IQ Version 2024 is the newest McLeod hosted version of McLeod IQ, the company's advanced business intelligence, analysis and reporting solution for LoadMaster and PowerBroker. Cloud IQ offers more than 30 reporting and analysis templates, which include subjects like fuel analysis, lane analysis, customer scorecard, driver scorecard, revenue reporting and more, and with its integration with MPact lane and rate data, it offers performance benchmarking, giving customers greater insight into the markets they serve.
"We want to see you maximize your margin and take advantage of the market," McLeod said. "If you're charging too high, you can lose freight. If you're not charging enough, you're leaving money on the table. With the MPact PRO product, we're seeing a lot of companies are really achieving great results with it."
A new type of integration partner
McLeod has added cargo insurance providers to its integration partner category via its Logix Solution feature.
Logix Solution for Cargo Insurance streamlines the process of buying supplemental cargo insurance, as well as comparing the costs of quotes, without exiting the McLeod system to go to an insurance web portal. A cargo insurance button has been added within LoadMaster and PowerBroker that, when clicked, automatically submits order details to McLeod's insurance partners. Then through a web browser, the system presents the tailored premium and deductible with terms and conditions. With a one-click purchase, the insurance certificate is automatically saved into DocumentPower and auto-indexed and classified to the order with the option to automatically create insurance charges on the customer order and invoice.
McLeod is currently partnered with insurance providers Loadsure, McGriff and Redkik with two more in the works.
Also in the Logix Solution, McLeod has added a shipper portal automation feature that helps customers save time and receive payments faster by eliminating the manual process of uploading required trip documents to a shipper's TMS solution.
"Many of you have to go to a shipper website and either manually retrieve load information, manually upload documents, key in delivery times, arrival, departure … Isn't that fun? You get to surf around on the website. No, it's not fun! It's an interruption of your work," McLeod said. "We are rolling out shipper portal automation so that we can automate the upload of documents and data to the websites that are requiring that and we'll have more and more interaction going on with the websites here shortly."
McLeod is currently partnered with Transplace and BluJay.
Shipper portal automation connects a customer's DocumentPower system where these documents are logged to the shipper's web portal and uploads the required documents. When it identifies a billed load is ready for upload, it uses the shipper's required documents and file formats for the portal and completes all necessary steps to upload those documents and have the shipment released for payment. The solution also generates a report that indicates the success or failure of each automated transaction so that customers have a log of what went through the automated process, as well as any exceptions that need to be addressed.