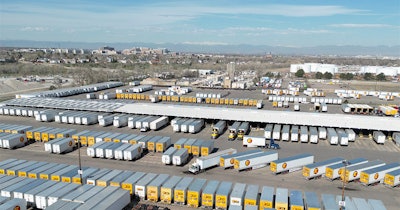 In a statement posted to its website Tuesday, Estes Express Lines (CCJ Top 250, No. 10) confirmed it was the victim of a cyberattack Monday that caused "an outage in our core infrastructure and it is impacting a number of our systems."
CCJ reached out to Estes Express multiple times Monday and Tuesday, however, the phone calls would not connect.
"While we are unable to share specific details at this time, our terminals and drivers are effectively picking up and delivering freight while we work through this event," the company statement read. "We're working as quickly as possible to resolve this issue and to return to business as usual."
The Richmond, Va.-based carrier expressed its gratitude "for the dedication and responsiveness of our more-than-22,000 employees and the way they've banded together to keep serving our customers and each other," and extended its appreciation to customers and vendors "for their patience and support during a challenging time. Thank you to our many customers who have reached out to offer their help. The best way to help right now is to allow us to do what we do best, picking up and delivering your freight."
Estes said it would continue to share updates as it recovers through this incident.
Trucking has been fertile hunting grounds for Internet pirates for years.
Out of all industries, the transportation industry ranks among the top 10 in terms of how many companies have suffered data breaches, during which various consumer data was leaked, according to a recent study by NordPass. In total, almost 280 transportation organizations worldwide lost clients' data.
In its 2023 Travelers Risk Index, cyber threats were one of the top three business concerns (for the ninth straight year) among the 1,200 survey participants from small-, medium- and large-sized companies queried by the Travelers Companies, Inc.
Of respondents taking the national survey, 58% said they worry some or a great deal about cyber, ranking it just behind medical cost inflation (60%) and broad economic uncertainty (59%).
"Cyber risks have extremely serious consequences – one attack can weaken an organization or potentially put it out of business," said Tim Francis, Enterprise Cyber Lead at Travelers. "Fortunately, there are effective measures that companies can take to address vulnerabilities and successfully manage through a cyber event."
About half (51%) of transportation companies worry about the potential for compromise, theft, and/or loss of customer/client records due to a theft, according to the Index.
Although there is a concern about cybersecurity among transportation companies, the report revealed that the level of preparation industry-wide leaves a lot to be desired. Less than one-third (32%) of transportation company respondents have simulated a cyberattack to identify areas of system vulnerability and less than half (48%) purchase cyber insurance to protect against a data breach/cyber event.
Half of respondents claim to have written a business continuity plan in the event a cyberattack occurs, according to the Index, while 54% of transportation companies have a cybersecurity incident response plan in the event a cyber-attack occurs.