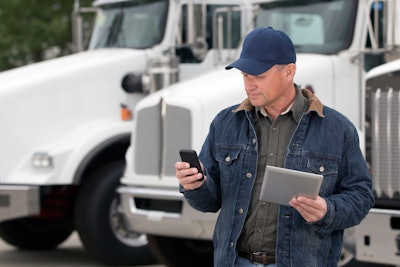 Trucking is one industry that still generates a lot of paperwork with bills of lading, proof-of-delivery receipts, registrations, inspection reports, insurance documentation, accounting files and more.
Efficient document management is quickly becoming a vital survival strategy. Electronic files are much more optimal to record, track and share across departments and with whichever team members might need them.
Just think, if you are on a time-crunch for a sensitive piece of information, would you rather be rifling through multiple filing cabinets with a small heap of paper building around you? Or doing a super-quick digital keyword search for all relevant records?
RELATED: Digitizing compliance and going paperless to manage big data
Then, when you locate what you need to communicate, do you want to have to run it down to the dispatcher's office and then return and refile it? Or attach a copy in an instant chat or email with the appropriate data point? Hint: there's only one right answer.
Digitization has opened new avenues for transforming electronic files and the processes based on them to grant even more access, shareability, visibility, control, storage, ease of use and manipulation.
Efficiency, flexibility, and agility are often great corporate results once you start getting on the digitization train. One advantage that will become more apparent over time is having a business ready for the future.
RELATED: 5 factors driving the digitization of transportation
The capacity to leverage the ever-increasing volumes of data generated by a business today is a critical component of growth and success. This is especially true in trucking where tractors are a mobile office with sensors and various telematics implementations.
Three important factors to consider are:
1. Digitized data and files remove human error when entering or manipulating figures. Otherwise, office personnel are left with managing spreadsheets, which entails hunting through multiple data sources to copy, paste and patch together marginally usable files. The process is inefficient and leads to more errors.

2. Turn spreadsheet management into operational intelligence. Digitization creates trackable, reviewable data points along every step of your operations. This makes it easy to gain key insights into each facet of the business. Operational intelligence output can be set up to display in dashboards that cut across the entire organization so that leaders can get an instant feel for and view into what exactly is going on in the business.

3. Avoid management in the rear-view mirror. This is what happens when you try to make real-time decisions based on outdated data. By the time you have old data in hand, an important deadline has passed, or factors have changed that would have affected the decision.
The applications for digitization of paper-based processes are virtually endless.
Here are a few to consider:
Smoothly process claims and create a nuclear shelter. Automating the claims process will help prevent nuclear verdicts. An automated platform and digital document management system can do everything for claims processes from auto-routing correspondence to the correct personnel or departments, to ensuring everyone involved has visibility and shareability of the required documentation.
Optimize predictive analytics and alerts. Superior operational intelligence enables you to make better estimates and predictions that will be more in line with actual outcomes. For example, by anticipating driver behaviors, you can get in front of potential liabilities to mitigate risks. A proactive communication alert will help you head off potential issues such as an upcoming physical exam or some other compliance event. Workflow can be added to send messages to drivers and escalate completion tasks to other team members until satisfied.
Enhance onboarding. High on the list of pain points for most trucking companies is the three-headed monster of recruiting, retention and training. Moving the onboarding function to a digital platform and paying attention to digitizing paper efforts can help improve matters. For example, a digital interface can let new team members read policies online, do e-signatures on electronic employment documentation and carry out much training virtually.
Speed your financial cycle. With paper load documents, fleets often spend up to seven days to gather information to send an invoice. In some cases the payment collection cycle can take up to 90 days. The faster you can get payment, the better your financial situation will be. Billing, collections and pretty much any accounts receivable function are rife for digitization.
Digital transformation holds the key to all this and more. Digitization can improve even the most daily basics of mobilizing a fleet, getting routes right and cutting empty miles.
Trucking represents a superb opportunity to travel the digitization road and become more efficient, competitive, and successful. Good luck with turning the wheels on your own digital transformation journey.
George Thellman is the senior director of Transportation Management Solutions at EOX Vantage, which provides enterprise operating systems and managed services to clients in a variety of industries.