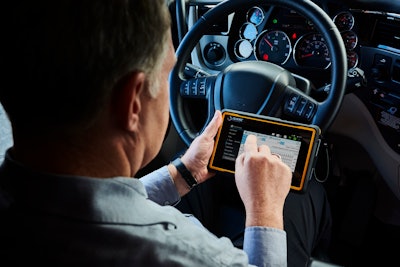 Isaac Instruments
Canada-based specialized carrier Equipment Express moved a 1,000-ton press to Tennessee last year with three superloads, three permitted oversize-overweight loads and two legal loads.
Many of the carrier's loads, which are often permitted and require special timeframes for movement, can't fit into typical parking spaces, so Equipment Express uses smart compliance to help plan stops at safe areas while ensuring its drivers meet hours of service regulations.
Brian Sillett, compliance and safety manager at Equipment Express, which uses Isaac Instruments telematics, said Thursday during a TCA webinar with Isaac that is one of the many benefits to using smart compliance technology to create a more efficient fleet.
Another benefit is simplified roadside checks. Drivers can display information for compliance officers on their tablet from the last eight to 14 days, and with the information readily available, it reduces delays, which will be helpful next week during the Commercial Vehicle Safety Alliance's International Roadcheck event, which is a 72-hour high-visibility, high-volume commercial motor vehicle inspection and enforcement initiative that will take place May 17-19. This year's blitz will focus on wheel ends.
Melanie Simard, director of compliance, client service and technical support at Isaac Instruments, said the smart driver's vehicle inspection report (DVIR) tracks each inspection point as the driver goes through the process, and they can show the inspection officer tracking on their tablet.
"We used to train drivers to have the same typical process of inspecting their trucks step-by-step. When you're a creature of habit … you have more of a chance of missing an inspection point," she said. "With the smart DVIR, all those points can be listed and configured to your liking and to your organization … At a roadside inspection, the driver has to show the roadside officer this list, and in the past, the list was in the permit binder, the permit binder was somewhere in the truck. Where? With the smart DVIR, it's right there on the tablet… It helps them make sure they did not forget a point."
Smart compliance technology makes for more thorough pre- and post-trip inspections, and it makes for a more efficient fleet and happier drivers and customers. Simard said fleets can reduce or maybe even eliminate major breakdowns by noting minor defects proactively and getting those repaired.
This keeps drivers off the side of the road and keeps the money flowing as they're paid by the mile and keeps the product moving closer to the customer's hands.
Brian Turner, director of safety and compliance at Carolina Freightways, said proactive maintenance has improved greatly with a 50% to 60% increase in notifications from drivers during inspections. Drivers can connect directly with maintenance by taking photos during their inspections and submitting them into the system to get things fixed before they hit the road, ensuring their equipment is compliant and reducing any downtime from a breakdown.
"Reducing the paperwork has been refreshing," Turner said. "We get to know immediately what's taking place when it's taking place and get the driver back moving, keeping them making the money that they want to make and keeping the company efficient."
Sillett said the system also helps keep defected equipment out of service. As soon as a truck or trailer fails an inspection at Equipment Express, the dispatcher and mechanic get an email, and that equipment is automatically locked out of the system, so a driver can't put it on the road because it can't be accessed for a pre-trip inspection, and a dispatcher can't dispatch it.
"(Previously), you had to wait until the paper comes in … and at that point in time, it might be too late; that piece of equipment is already going down the road," Sillett said. "So this locks that piece of equipment right out of the system right away, and it alerts everybody that we have a problem."
In addition to tracking pre- and post-trip inspections, Simard said the technology, using telematics, notifies fleets of potential compliance issues with real-time alerts so fleets can be proactive in mitigating risks, culminating in better uptimes and a more efficient fleet, allowing drivers to focus on higher-value tasks like driving.
Isaac's technology also updates electronic logbooks automatically as the driver drives, helping them maintain compliance with hours of service (HOS), which is an important factor for companies like Equipment Express as the Canadian government inches closer to full implementation of its ELD mandate on Jan. 1, 2023.
"We cross regularly into the U.S., and with the new Canadian hours and the messy situation over the last couple of years of all these different mandates going into effect, it's been nice for the drivers to be able to think a little bit less about it and have the computer do some of the hard processing for them, where they have the ability to look up the information they need, what (hours) they have left and available, so they can go back to focusing on completing their work," Sillett said.
Simard said the system can be set up to alert drivers in advance of the end of their HOS so they don't end up in violation while looking for a parking spot.
Turner drove a truck during the era of paper logbooks with 10 hours of drive time and eight hours off. The rules have changed since then because of driver fatigue-related accidents, and so has the technology, allowing the driver to better their time management and improve efficiency.
"The good thing about having an electronic system is it streamlines the efficiency for the driver; he no longer has to stop and fill out the logbook, where he's been, what has happened. Now, the system is monitoring what he's doing as the day goes by," Turner said, and if the driver is efficient, so is the fleet.