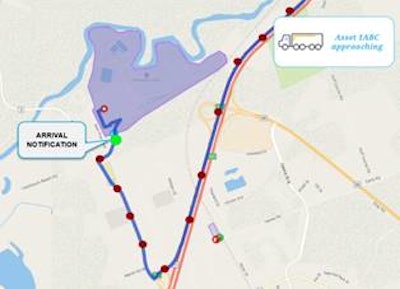 Trimble
Geofencing has long been used by carriers to track shipments, assets and employees but has more recently evolved to offer better insights via data in an industry that is relatively new to using data as a whole.
For example, Trucker Path has used geofencing to amass about 20,000 parking locations where drivers can park their trucks safely and legally by gathering data on space availability from users when they cross that digitally drawn fence around a specific geographic area. It also asks drivers about wait time at shipping facilities so drivers have an understanding or expectation based on people who were there before them and can plan accordingly.
"It really helps to drive efficiencies because it gives you a look forward as a driver, which then rolls up to the fleets," said Chris Oliver, chief marketing officer at Trucker Path.
Those efficiencies are important in a time of resource scarcity and higher prices. Trimble Maps recently introduced updated geofencing technology to add precision in pinpointing commercial locations like warehouses to improve efficiency.
Trimble began working on its polygonal Places Data in 2019, launching initially as a small library of locations. The company has since identified a larger number of locations and higher volume of data and released an expanded version this year.
Geofences have traditionally served as simple wide-radius circles around an address, triggering automated arrival notifications and driver alerts a mile or so away from a driver's actual destination. Trimble's enhanced Places Data added more accurate, useful data points to millions of commercial locations across the U.S., such as which service road or entrance a driver should use, reducing delays due to incorrect directions and risky driving behaviors caused by stress and confusion.
"Typical mapping systems in the industry offer customers a radius around the stop location to raise alerts; these incorrect alerts then have to be verified by back-office personnel and also require driver interaction in some cases before communicating to the shipper," said Rishi Mehra, director of operations and strategy at Trimble Maps. "The lack of reliability of these notifications make it impossible for fleets to calculate true dwell and detention times for facilities."
Mehra said Trimble used a combination of manual research, machine learning and partner verification to build out the accurate polygon geofences, which cover the actual facility and the drive area (including parking spots) within each facility. Trimble Maps has coded the internal road network for a lot of these locations as well.
Compared to a simple wide-radius circle, he said these polygons offer precise entry and exit notifications, eliminating false positives from circular fences when a driver is still far out from the facility or even doing a drive-by without actually entering the facility. Trimble Maps also offers the capability of having sub-geofences within the master polygon to allow for precise location awareness within large yards. These features assist in route planning and navigation.
"The precise location information helps carriers ensure that drivers are navigated to the correct location and proper entrance to the facility," Mehra said. "The drivers have the confidence to not have to worry about last-mile navigation challenges and instead can focus on actual driving and delivery. This can help eliminate a lot of the accidents we see due to incorrect location data."
Logistics company NFI (CCJ Top 250, No. 21) has received a lot of positive feedback from its drivers about the addition of notes and paths to enter a facility, said Alexa Branco, senior operations support manager at NFI.
Once a driver enters a facility, these precise polygon geofences are used to generate auto-arrive and depart notifications and dwell and detention time calculations among additional services, allowing carriers to more accurately calculate actual mileage and cost, helping improve their bottom lines – a highly sought-after feature with elevated diesel prices. Mehra said the use of the average dwell time can also be helpful when bidding for future contracts.
"This capability enables fleets to make the full delivery on time, the first time. Using the Maps platform, fleets can also provide drivers with specific comments related to each facility, making their delivery process even smoother," he said. "All of this can help eliminate the wasted time at and around facilities, getting drivers back on the road faster, which partially helps address the driver shortage problem. As drivers are able to get in and out of facilities faster, they can utilize more of their available drive time based on hours of service regulations."
The data geofencing can provide is useful outside of finding parking quickly, saving on fuel, route planning and calculating dwell time, among other things.
For example, a Midwest customer of route optimization platform Route4Me uses geofencing to alert drivers when they enter a high crime area to make them aware that they need to pay extra attention to their load. Customers can also draw on the map to create "avoidance zones" so drivers are routed around that area.
Oliver said the technology can even be used to draw a line in front of a steep downgrade so fleet managers can see if their drivers are going too fast down the hill.
He said geofencing provides many opportunities to create efficiencies, and the technology continues to evolve.