Earlier this year, Mercedes-Benz pulled the curtain back on Metris, a new mid-size cargo van which aims at commercial segments needing something smaller than the company's flagship Sprinter.
This week, CCJ was able to take a pre-production 2016 Metris for a road tour in and around the mountain ranges near Telluride, Col.
Walking up to the vehicle, very little of the exterior is surprising. Last year, sales of Euro-style vans – a hallmark of Mercedes – surpassed sales of traditional style vans for the first time in history. Now that every major OEM has featured Euro-styling in recent releases, that's a trend not likely to reverse any time soon.
Most noticeable are some of the interior elements the 2016 Metris borrowed from Mercedes' C-Class, like the instrument cluster and a blinker-like, column-mounted gear shifter switch.
Sprinter's bulbous dash-mounted shifter didn't make the cut in Metris, where gear shifting feels more like setting cruise control or switching on the windshield wipers.
The commercial van is also not short on guilty pleasures like independent climate control for both passenger and driver and a dash mounted navigation screen.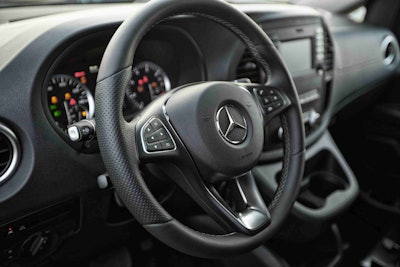 The steering wheel is thick yet both stylish and comfortable. Tucked just behind the steering wheel itself are two paddle shifters, allowing the driver to manually gear up or down with the vehicle in drive – another nod to the C-Class. Among other practical uses, the paddle shifters allow drivers with a trailer in tow (the van features a tow rating of 5,000 pounds) to reduce gearing versus applying the brake to slow the vehicle down a steep grade.
The elegantly thick steering wheel also hides an optional lane departure warning that provides a subtle vibration of the steering wheel when the vehicle crosses a lane marker on either side. There is no audible departure warning like what is featured on Sprinter. Cameras mounted in the van's headliner monitor lane markings on both sides of the lane.
Under the hood lies something somewhat different in Mercedes' commercial lineup. For Metris, the company ditched the 4 cylinder diesel engine familiar to many Sprinter fleets in favor of a 4-cylinder gasoline engine mostly borrowed from, yes, the company's C-Class.
The engine specifically tuned for the rear-wheel drive Metris puts out 208 hp and 258 lb-ft of torque. I didn't know what to expect when asking the turbocharged 2 liter engine to climb some aggressive mountainous grades (many were 7 percent or more), but the engine consistently stood up to the challenge. Shifting from the G-Tronic 7 speed automatic transmission could not have been more smooth.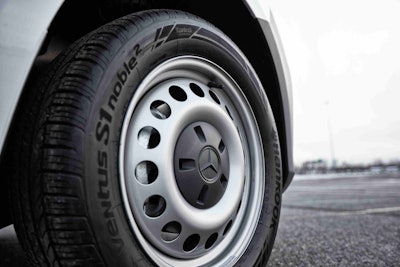 I found both the transmission and engine very responsive over the varying terrain that Colorado threw at the Metris. In the drive around the mountains, I got around 25 mpg. However, you could expect a little less once the van is fully upfitted and loaded close to its 2,600 lb. payload capacity.
The van's 38.7-inch turning radius makes Metris a force to reckon with in an urban pickup and delivery setting. Also, at just a tick under 75 inches tall, Mercedes is banking on Metris' "garageability" – the van's ability to navigate in parking garages and smaller spaces typically off-limits to commercial vans – as a major selling point.
Metris does not offer electric sliding doors, but I found the manual versions opened and closed easily.
Additionally, Mercedes is projecting service intervals of a fleet-friendly 15,000 miles.
Metris is expected to arrive at U.S. dealers in October but Bernie Glaser, vice president and managing director Mercedes-Benz Vans USA, says Mercedes will begin accepting pre-orders later this month, adding he expects to have 30 production models for key fleet customers to demo by summer's end.

Cargo van configurations start at $28,950, and the passenger van starts at $32,500 (excluding $995 destination/delivery charge for both vans).
In terms of safety, Metris offers more than OSHA. In a cargo van spec, Metris will feature six airbags. Passenger van specs get two more. All models will feature standard Attention Assist, Crosswind Assist and load-adaptive ESP.
Attention Assist is an impressive feature, especially considering it is slated to be standard on all models. It's an advanced system that essentially learns the driving habits of the person behind the wheel. It creates a driver profile and measures 70 different variables contributing to drowsy driving.
Optional safety features will include Active Parking Assist, Lane Keeping Assist, Parktronic, Collision Prevention Assist, Blind Spot Assist and a rearview camera.