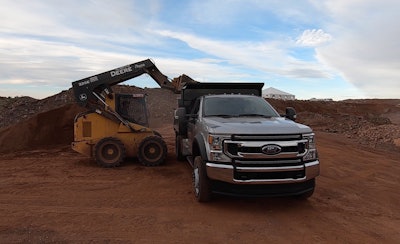 Productivity and safety go hand-in-hand. It's something Ford has kept in mind while stepping up its driver assist offerings for its 2020 Super Duty chassis cab lineup.
F-350, F-450 and F-550 chassis cabs for model year 2020 can now be optioned with audible lane departure warning and pre-collision assist with automatic emergency braking and forward collision warning. An aux camera input is also available for greater visibility while driving in reverse.
For added safety, automatic high beams come standard while fog lamps are now optional on XL and XLT trims and standard on Lariat. Other driver assist features for 2020 include FordPass Connect 4G Wi-Fi modem along with Sync, which is standard on XL trim, and Sync 3 which comes standard on XLT and Lariat.
Sync connectivity bypasses the need for buying navigation services.
"Now that cell phones and smart phones are so popular Sync 3 comes standard with Apple Car Play and Android Auto," Ford Super Duty vehicle integration engineer Robbie Calkins explained.
"You can download Waze (a free driving directions app). It allows you to be compatible with those types of apps. There's no investment needed for navigation. It's based on the familiarity of the app used by the driver on their smartphone. It's the technology used every day for personal driving. You just bring it over to your truck. It's simple plug and play."
The biggest change comes under the hood where the 6.8-liter V10 has been replaced with a stronger and lighter 7.3-liter V8 that's mated to a more fuel-conscious 10-speed TorqShift transmission. Both are new for model year 2020.
"This new engine mated with the 10-speed is a fantastic drive," said Mike Pruitt, Super Duty chief engineer. "It really helps find the right gear and deliver the torque and power that you need whenever you're doing work."
Selectable drive modes in the new 10-speed include normal, tow/haul, eco and deep sand/snow. A PTO provision with best-in-class 300 lb.-ft. torque is included with the 6.7-liter Powerstroke. Those longing for the prior TorqShift-G 6-speed automatic with Selectshift can still get it on the 2020 F-350 chassis cab and 2020 F-250 and F-350 pickups.
The 6.2-liter gas V8 is now only available on the 2020 F-350 chassis cab and F-250 and F-350 Super Duty trucks. Stepping up to the 7.3 on the F-350 chassis cab costs roughly $1,000 while the price is nearly double that for F-250 and F-350 pickups.
A 2020 Ford F-450 dump truck powered by the new 7.3 and loaded with roughly two tons of dirt easily handled the load at a recent media event hosted by Ford near Phoenix, Ariz. The truck quickly and confidently powered up a hill just moments after doing some doughnuts in the dirt. (Yes, Ford's demo included some dirt churning fun.)
The doughnuts and brief hill climb came easily for the 7.3 which is lighter and stronger than the outgoing V10. The fit and trim 7.3-liter swaggers in at 587.4 pounds while delivering a dyno certified best-in-class 350 horsepower and best-in-class 468 lb.-ft. of torque. That's 45 more horses and 112 more lb.-ft. than the retired V10 which weighs a hefty 617 pounds.
Given its pushrod design, the single cam 7.3 also has fewer parts than the 6.8 which features four overhead cams and 32 valves versus 16 on the 7.3. A variable displacement oil pump steps up lubrication when and where its needed most including piston cooling oil jets. The increased lubricity reduces wear-and-tear along with parasitic losses which leads to improved fuel economy.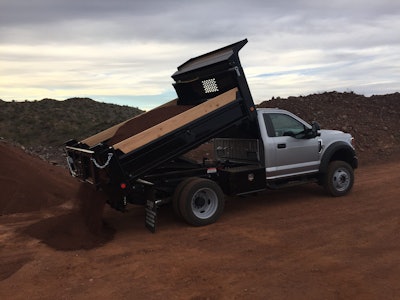 So far the best fuel mileage I've seen with the 7.3 during my two-week stint with a 2020 F-250 Lariat is 18.3 MPG highway. That was done on 90 octane non-ethanol fuel which Ford said is fine to use. You can actually run 93 octane which I just added last night. We'll see how it goes.
If you need more power (or just want it), ask for the new third generation 6.7-liter Powerstroke diesel which delivers a best-in-class 475 horsepower and best-in-class 1,050 lb.-ft. torque. Acceleration in this engine when paired up with the new 10-speed TorqShift is nothing short of amazing. While the 7.3 is fast, the new 3rd gen Powerstroke is faster and stronger—but then again, it's got 45 more horsepower and 575 lb.-ft. more torque. It's blast to drive. Literally. But, as the saying goes, with more power comes more responsibility and, in this case, a roughly $10,250 upcharge in chassis cab trucks and $10,495 in Super Duty pickups.
"One of the key advantages of the 7.3 is that it's easy to work on," Calkins said. "If you were to pop the hood you could see that it's so much easier than the 6.7. You've got good visibility. Everything's rather exposed. In terms of working on a V8 engine, that layout is going to be very familiar with your technicians and how they worked on previous fleets. It's not a huge jump in architecture from the 6.2-liter."
Other changes for 2020 Ford chassis cabs include a new grille, new headlamps and new front bumper with a different airflow bumperette.
Deleted exterior colors for 2020 are ingot silver, magma red, ruby red metallic tinted clearcoat and white platinum metallic tri-coat. New colors are iconic silver (shown on the dump truck above), rapid red metallic tinted clearcoat, star white metallic tri-coat and velocity blue.