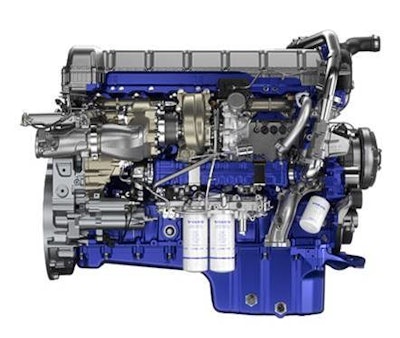 Volvo Trucks is making its D13 Turbo Compound (D13TC) engine standard on all Volvo VNL models, the company announced Thursday.
In the Volvo VNL 740, 760 and 860 models, the new D13TC engine offers more fuel savings for a wider range of applications, such as long haul or local delivery, as well as fully or partially loaded. On average, the D13TC engine delivers improved fuel efficiency of up to 11% compared to 2015 Volvo truck models. Enhanced fuel efficiency options from Volvo Trucks like the Xceed package, available on the VNL 760 and 860, can include the FlowBelow Aerokit and other optimized exterior design features to deliver fuel efficiency gains as high as 16%.
Originally introduced in North America in 2017, the current generation the D13TC engine is designed to minimize greenhouse gas emissions while enhancing fuel economy.
Depending on the operation, the next-generation D13TC engine provides fuel savings up to 6% compared to the 2020 Volvo D13 VGT engine. The new Turbo Compound engine improves emissions, reducing the overall carbon dioxide footprint while still maintaining high average transport speeds.
The new D13TC engine also provides optimized performance efficiency for a wide range of applications, including tanker, bulk haul and flatbed. Dynamic Torque, a feature standard on the D13TC engine, enables the vehicle to adjust to the exact load without impacting performance. Fleet operators benefit from the system's versatility and the reduced impact of fuel price fluctuations, while drivers appreciate the responsiveness and uphill power.