The Federal Motor Carrier Safety Administration's (FMCSA) Drug and Alcohol Clearinghouse has now been in effect for a year and a half, and through the first quarter of 2021, drug and alcohol violations are on pace to be higher than in 2020, according to data from FMCSA available through March.
As of April 1, there were more than 2.1 million users registered in the Clearinghouse, including truck drivers, fleet representatives, consortia/third-party administrators (C/TPAs), medical review officers (MROs) and substance abuse professionals (SAPs).
While none of the regulations regarding drug and alcohol testing and reporting have changed, the Clearinghouse is starting to make it easier for fleets to conduct pre-employment screenings of their drivers.
Jared Rosenthal, founder and CEO of drug consortium Health Street, said fleets are required to look back three years when hiring a new driver. Prior to the Clearinghouse, this has required reaching a driver's previous employers to get their drug testing records. Now, for at least half of the required time period, that is done with a simple query of the driver's CDL number in the database.
By January 2023, when the Clearinghouse has been in place for three full years, carriers will be able to conduct their pre-employment checks solely in the Clearinghouse, Rosenthal added.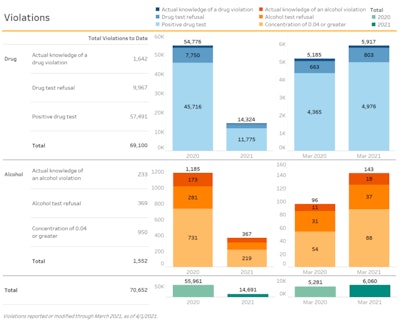 Another benefit to the Clearinghouse, Rosenthal said, has been that when a driver fails a drug test, it's more difficult to hide.
"Sometimes, obviously, there's an incentive if you're a driver who fails a test two years ago, maybe you don't mention that you worked at that previous place," he said.
Since the Clearinghouse took effect at the beginning of 2020, through the end of March 2021 there were 69,100 total drug violations reported, which includes actual knowledge violations (1,642), drug test refusals (9,967) and positive drug tests (57,491). There were also 1,552 alcohol violations, which included actual knowledge violations (233), alcohol test refusals (369) and blood alcohol concentration of 0.04 or higher (950).
Through the first three months of 2021, there were 14,324 drug violations and 367 alcohol violations reported to the Clearinghouse compared to 54,776 drug violations and 1,185 alcohol violations through all of 2020. If that pace keeps up through the rest of the year, there will be considerably more violations this year than last.
The majority of positive and refused drug tests occurred in pre-employment screenings and random drug tests, while most positive and refused alcohol tests were found via random tests and reasonable suspicion.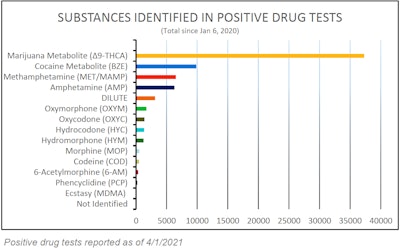 FMCSA's data also shows that marijuana remains by far the most used illegal substance among CDL holders with 37,261 positive marijuana tests through March. The next-highest substance identified in positive drug tests has been cocaine, with 9,848 positives.
Rosenthal said a big reason for the high number of marijuana test-positives is the rapidly changing laws at the state level across the country. While weed is legal in some states for recreational use, legal in others for medical use or not legal at all, it is still considered a Schedule I drug at the federal level.
He said he expects to see at some point in the future a device that will be able to detect marijuana, like a breathalyzer detects alcohol, which could change the federal stance on the drug.
"My prediction is there is one thing that will change the law for sure, and that is the invention of a so-called 'weedalyzer,' so a breathalyzer for marijuana," he said. "Nobody is supporting putting truckers on the road that are high, but the problem with this issue, legal or not, is we don't know based on a drug test if you're high at that moment."
He added that the general public, by and large, doesn't have a problem if a truck driver has a beer at night, then gets up the next day and drives.
"Once we have a device that tests for marijuana the same way, I think that law will change," he said.
For drivers who do have a drug or alcohol violation recorded in the Clearinghouse, they must complete the return-to-duty process before they can get back behind the wheel.
FCMSA said, as of April 1, there were 64,846 drivers in the return-to-duty process with their status in the Clearinghouse and only 10,609 of those had completed their RTD test with negative results. The remaining 54,237 drivers had either not started their RTD process, were working with an SAP, or were eligible to take their RTD test and had just not yet completed it.