Technology news and briefs for the week of Oct. 17:
New driver safety mobile application from CEI Group
The CEI Group (CEI) has launched a new driver engagement mobile safety solution, DriverCare CoPilot, via app download to a driver's smartphone. Driving trend data is available to managers via a web portal.
Drivers are scored on certain behaviors including phone distractions, speeding, harsh acceleration, hard braking and more. Within minutes of a completed trip, drivers receive scores for overall performance and each measured behavior, and can review their trip on an interactive map. Drivers see where they rank in their team and in the fleet overall. With a DriverCare training supplement, drivers are assigned remedial training and receive individual coaching when their scores fall below a certain threshold.
The beauty of this solution is how it creates awareness for the driver so they can self-manage their areas of risk, and they do," said CEI President Terry Winslow. "They become aware of exactly how they are behaving on the roads, and the results are sometimes eye-opening. They also know they'll be compared to their peers and, when that competitive nature kicks in, drivers correct their behaviors to get better scores."
Brian Kinniry, CEI's director of product management, said the technology platform on which DriverCare CoPilot is built first stemmed from scientific research at MIT, adding the platform leverages data from billions of recorded miles, which identified a causal link between certain unsafe driving behaviors and crashes.
"The transparency to the driver, and the engagement tools in DriverCare CoPilot proactively addresses driver risk. Combined with DriverCare Risk Manager, fleets now have a complete picture of risk assessment, and a closed-loop solution that supports their objectives for a collision- and injury-free safety culture," Kinniry said.
SmartHop launches load-booking app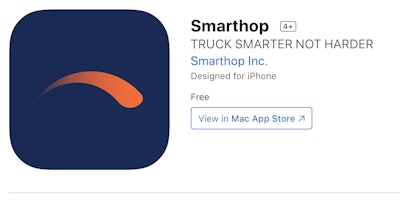 SmartHop launched its first mobile application, enabling the booking of loads via smartphone. With the SmartHop App, truckers can find the most optimal, highest-paying loads from their phone without the need to search load boards, reducing time and stress for an already overburdened workforce.
Available on the Apple Store and Google Play store, the SmartHop app provides:
Suggested Loads: Alerts sent directly to drivers' phones with suggested loads picked just for them. View the load and strategy details, or dismiss it with a click.
Load Strategy: The Strategy Details option shows a map visualization of a load strategy with multiple loads that work together to create higher future earnings.
Load Details: All the information drivers need to know before accepting the load, including whether there are multiple pick-ups or deliveries.
Load Bidding: If drivers are unsatisfied with the price, they have the ability to make a new offer. SmartHop will evaluate the driver's new bid and notify them if it's cleared. Once verified by SmartHop, the driver can accept or dismiss the load.
Driver Profile: See miles, RPM and earnings tracked directly on drivers' profile page.
New project44 data stream helps 3PLs find more capacity
project44 has made available a data-driven solution it expects will increase transparency in the freight management process by giving 3PLs real-time insight into terminating capacity and capacity that was previously hidden.
Cooperative by project44 was developed and tested with leading third-party logistics providers and leverages the world's largest and most comprehensive network of truckload carriers, representing about 150,000 truckload carriers and more than 300,000 truckload shipments every week. Because project44 knows the time and location of every delivery, they can identify when and where a driver will become available to haul freight and with increased transparency into the freight booking process now available through Cooperative, carriers can do more business with 3PLs and 3PLs can retain and maximize their trusted truck networks.
"The heart of our business is using the technology that serves as the industry's connective tissue, and the most accurate logistics data available, to solve colossal supply chain problems that were previously thought to be unsolvable," said Jett McCandless, founder and CEO at project44. "It's exciting to co-develop this product with 3PLs and be the first to bring a valuable tool like Cooperative to market to enable 3PLs and carriers to overcome today's capacity shortages and better serve their customers."
The added transparency helps 3PLs by increasing real-time data and revealing carrier performance by lane. Within the cooperative, 3PLs can continue to work with their trusted carriers or expand their network to leverage thousands of additional carriers when needed. When 3PLs opt into Cooperative, they can query the entire pool to find out when and where terminating capacity will be available based on time, location, truck type and other criteria. The Cooperative API responds back with additional information such as the carrier identifiers, carrier names and contact information, and data needed to track the load. The project44 machine-learning ETA model generates results and responds back with that added data. Then, the 3PL identifies the best candidate to meet their needs and contacts the carrier to book capacity. Finally, the newly booked load is sent to project44 for tracking.
With Cooperative, carriers become visible to a broadened network of shippers and 3PLs resulting in the opportunity to book more loads at better rates with fewer empty miles.