I have two black-and-white spotted dachshund mix rescue dogs, though they are more like my children – the human form of which I do not have.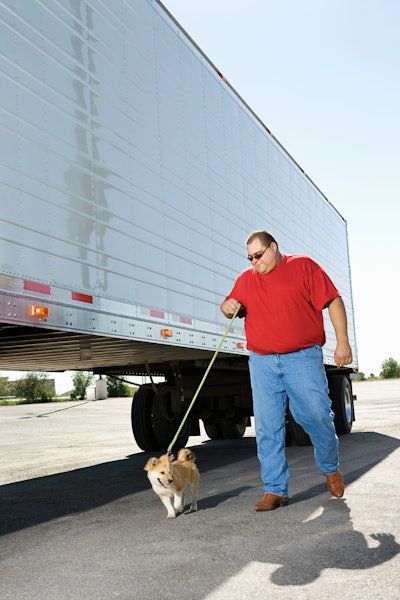 In 2020 when the world went home to hide from Covid, my babies were so happy to have mommy with them almost 24/7, and if it weren't for them, I would have gone mad staring at four walls and a laptop all day.
Can you imagine being an over-the-road trucker, confined to a small space with nothing but you and the road – and the rude four-wheelers cutting you off? Who would you talk to when you're up at 2 a.m. driving across the country while your spouse, parents or friends are tucked away in bed?
Yes, I talk to my dogs (and horse and cows and cat); call me crazy; heck, I even speak a little French with them. And as one with loved ones who haul loads across 48 states and Canada, I'm glad the ones who have their pet(s) on board have someone to talk to when I can't.
National Take Your Dog to Work Day was recently celebrated in late June, and while many professions don't allow for this privilege, many carriers do, and it's a benefit that can go a long way in attracting and retaining drivers.
According to a survey from Truckstop.com, most professional truck drivers who travel with a pet passenger (54%) would reconsider their profession if they could not take their pet with them on the road.
The survey found that 56% of professional truck drivers travel with their pets on the road more often than not, 66% of whom said it's for companionship and 19% for emotional support. Those 19% are 64% more likely to reconsider their profession if they couldn't travel with their pet.
For many, a pet is a source of comfort. I've seen a big burly man climb down from his truck with a Chihuahua in a pink tutu in his arms. But truckers account for many unknown rescues of animals across the country.
My grandparents were team drivers back in the early 2000s, and before they retired, they managed to bring home two black cats, though I'm not entirely sure CJ (Carolina Jane) – named for the state she was rescued in – is very happy with my grandmother right now; she had all her hair (necessarily) shaved off recently.
Truckstop.com customers Mary and Johnny Gaskins rescued their yellow lab, Oscar, from the trash outside of a breakfast restaurant in Vanceboro, North Carolina, when he was only six-weeks old.
"It was love at first sight, and I couldn't believe someone could do such a thing to an innocent puppy," Mary Gaskins said in a statement provided by Truckstop.com. "We take him everywhere; he has improved our way of life. When you're on the road, it's stressful, and you're sitting for hours on end. Oscar forces me to get out of the truck while at rest stops and walk and helps ease the stress brought on by what can be a very stressful job. We may have saved him, but it turns out he saved us."
Every year, millions of cats and dogs are euthanized in our nation's animal shelters because there are more pets than there are responsible homes for them, and there are obviously great benefits – both physically and mentally – to having a pet on the road.
So for those carriers that don't allow pets, it's worth reconsidering so you don't have drivers reconsidering working for your company as we've seen from the data is a possibility. Maybe also consider hosting a pet adoption event at your terminals. As a former young professionals board member for the Greater Birmingham Humane Society, I can assure you there are plenty of humane societies out there who would love to partner with you to help clear their overrun shelters.
Footnote: Join CCJ and recruiting experts from three fleets Aug. 11 at 2 p.m. CT for a complimentary webinar discussing tips on finding, keeping drivers in a demand-driven market. Register here. Free registration is compliments of Bestpass.