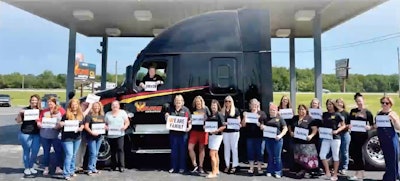 Women in Trucking
During a recent Women in Trucking (WIT) webinar, Brian Everett showed an image from the organization's annual I Heart Trucking photo contest where a group of women employees of Wilson Logistics stood in front of one of the carrier's Class 8 trucks holding signs that described their function within the company. One woman stood out among the rest – many from accounting and HR – sitting behind the wheel and holding a sign that said "driver."
Everett, who leads strategy and management at WIT, used the photo to illustrate the numerous jobs women can hold in the trucking industry while sharing the statistics from the 2023 WIT Index – an annual survey that collects data from WIT members to better understand how the industry is incorporating women.
While many companies are actively working to recruit more women to their driver ranks, the number of women drivers decreased year-over-year, the survey found. According to the WIT Index, an average of 12.1% of all CDL drivers in 2023 are women, which is a slight decrease of about 1.6% compared to 2022.
"Recruiting women into this role is top of mind for a lot of our Women in Trucking members. They're really trying to tap into that market because … obviously women are very good candidates to be professional drivers," Everett said. "They're quality folks. They're reliable. They've got efficient and safe pro-truck mentalities. They're typically less likely to take risks, which I think, especially on the road, is a very important character-distinguishing piece. They generally possess some strong multitasking skills, organized communication skills – all the things that really can be good quality characteristic traits of a female, and that's why I think we're seeing a real healthy increase in the number of women within the professional driving role."
Data from the U.S. Bureau of Labor Statistics, around 8% to 9% of driver populations are women, but Everett said it's important to note that the WIT Index is specific to CDL holders and does not include women drivers in a broader sense like those who drive delivery vans in the last-mile segment. He said the WIT Index data is going to be a bit skewed compared to industry wide standards, too, because respondents were all WIT members.
Just under 360 respondents participated in the 2023 survey, up from 180 in 2022. Those participants included carriers (truckload and LTL, refrigerated, flatbed, expedited and liquid) companies with private fleets like manufacturers and retailers, intermediaries like asset-based 3PLs and brokers and technology companies that provide solutions like transportation or warehouse management systems. Participants were asked to provide information on women in leadership roles from the C-suite and boards of directors to mid- or upper-management. The survey also asked about the number of women in more functional roles such as CDL holders, maintenance technicians, human resources, talent management, dispatchers and safety, etc., and they were given the option to select "does not apply." And finally, participants were asked if their company has a formal diversity and inclusion (D&I) policy.
"What we found in talking with our members over the last several years is having a formal policy helps the company to guide and strengthen their overall diversity and inclusion and equity initiatives in their workforce," Everett said. "Secondly, the D&I policy would provide some sort of connectivity of diversity and inclusion to a specific mission, vision or values of the company, and this helps to really give leadership guidance in terms of what they're wanting to do with D&I and what diversity looks like for their corporates."
He said a good D&I policy also includes the current state of diversity and inclusion at a company. And the WIT Index, he said, can be helpful in benchmarking that status to help companies see where they need to improve.
According to the WIT Index, 56.4% of respondents have a D&I policy, 19.3% said it's in the process, 5% were unsure and 19.3% have no policy. But more and more companies are defining that area based on last year's survey when only 45.5% said they have a policy, and 31% said they didn't.
And Everett said WIT members are also experiencing increased gender diversity in top leadership roles as well.

Webinar to teach you how to find and keep your best drivers
Fleets face never-ending challenges when it comes to finding and keeping good drivers even in a down market. In this webinar on July 27 at 1 p.m. Central, leading fleets weigh in on what's working for them and how they established driver cultures that are foundational to their company's success. This CCJ webinar is sponsored by Bestpass.
Among all respondents, 31.6% said they have women in C-suite roles. Of those, 22.9% said between 1% and 19% of their C-suite positions are held by women; 32% said between 20% and 49% are women; 17% said 50% to 89% are women; 7.8% said 90% or more are women; and 13.1% have zero women in their C-suite.
"I gather or assume that some of these are going to be specifically smaller companies where maybe they only have three C-level individuals," Everett said. "We all know that there is a need for more females to be leaders, and it has never been more critical. There has been a never-ending amount of data that supports the claim that there is better productivity for companies that have diverse thought from women as well as men and people of other ethnic diversity and that kind of thing."
An average of 28.4% of respondents have women in board positions, and an average of 36.9% have women leaders who are supervisors.
For the more "functional" roles, 74.6% of all HR/talent management roles are held by women; 43.5% said they have women in dispatching roles; and 41.6% have women in safety roles.
"HR and talent management has long been perceived as a female-oriented profession primarily, I think, because of the skillsets that women tend to hold there. They typically have a higher emotional intelligence quotient score than men," Everett said.
On the other hand, maintenance technician, he said, has traditionally been a male-oriented profession. But where the number of women drivers has fallen, the number of women techs has increase, according to the WIT Index. While the number remains very low – 49.6% of respondents have zero women techs within their workforce – it increased by 3.8% from 2022 (3.7% women techs) to 2023 (7.5%).
"A major concern in the trucking industry … has been the widely reported shortage of professional drivers in our industry; but (for the) drivers who can't complete their mission when their trucks are broken down … the technician is so vitally critical to the operation of any organization that's involved with trucking," Everett said.
And the industry is short of technicians, too. The American Trucking Associations reported that the industry will need about 200,000 technicians over the next 10 years to keep pace with the current needs of truck maintenance demands, and Everett said technical schools are training only about 3,500 diesel technicians a year.
"If we've got an industry need of 200,000 technicians in the next 10 years, we've got a major gap to fill there," he said. "Obviously that's not a traditional role that you would think of a woman in, but there are so many women who have that skillset, that interest, and that passion at heart for being able to get under the hood."