Trucking news and briefs for Wednesday, April 13, 2021: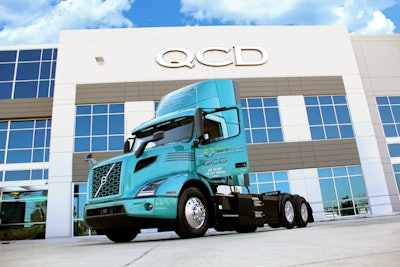 Volvo secures largest VNR Electric order to date
Foodservice carrier Quality Custom Distribution (QCD) will deploy 14 Volvo VNR Electric models in its Southern California last-mile delivery routes over the next two years, representing the largest single purchasing commitment of the Volvo electric trucks to date.
Volvo Trucks will begin delivering the Class 8 battery-electric trucks to QCD this fall to operate out of its distribution center in Fontana, California.
"Earlier this month, we delivered QCD's first VNR Electric to be used in its first-class distribution and logistics services," said Peter Voorhoeve, president, Volvo Trucks North America. "With this exceptional commitment to deploy an additional 14 Volvo VNR Electric trucks, we are pleased that QCD has chosen to continue its longtime partnership with our organization to achieve its sustainable freight transportation goals."
The 14 leased Volvo VNR Electric trucks and supporting charging equipment are assisted with funding by a $3.9 million grant awarded to Volvo Financial Services (VFS) from the Mobile Source Air Pollution Reduction Review Committee's (MSRC) Inland Port Program. Combined with MSRC grant funds, the VFS leases provided through the program will reduce QCD's total cost of operating the electric vehicles, making the trucks cost-competitive with existing diesel technology. The MSRC is a committee of California's largest transportation and clean air agencies and stakeholders.
Through the Volvo LIGHTS project, QCD recently took delivery of its first Volvo VNR Electric. With this additional order, QCD's total fleet of VNR Electric trucks will reach 15 by the end of 2022.
Covenant announces leadership changes
Covenant Logistics Group (CCJ Top 250, No. 38) recently announced changes to its executive leadership team.
David R. Parker will remain Chairman and become CEO. Joey Hogan will become president and Paul Bunn has been promoted to Senior Executive Vice President and Chief Operating Officer. Hogan and Bunn will report to Parker.
"Based on the successful execution of our strategic plan during 2020 and the rate of improvement in 2021, we are accelerating the planned evolution of our management team," said Parker. "We have great confidence in the next generation of leaders, and it is time for them to enhance their contribution." 
Bunn will assume daily responsibility for all operations, sales and operational improvement of Covenant. He has been with the company for 12 years.
Hogan will continue focusing on mentoring the leadership team while leading the financial and administrative side of Covenant. Hogan has been with Covenant almost 24 years. He becomes the company's principal financial officer.
John Tweed will step back from the Co-President position and transition to a short-term consulting role effective July 3.