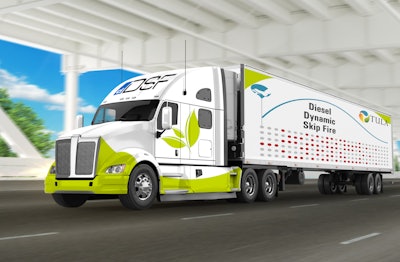 Cummins
To simultaneously reduce emissions and improve fuel efficiency in a diesel engine during a low-load cycle is no easy feat.
Over the past two years, Cummins and Tula Technology have been working towards this goal. At the Society of Automotive Engineers World Congress in Detroit Tuesday, the companies revealed their best testing efforts to date with Tula's diesel Dynamic Skip Fire (dDSF) technology.
Compared to today's cleaner-burning diesel engines, the cylinder deactivation (CDA) system was said to have further reduced NOx by 74%, while dropping CO2 by 5% and improving fuel efficiency up to 20% in a Class 8 tractor powered by a Cummins X15 engine.
[Related: Program aiming to cut emissions could drive fuel costs]
"We are really pleased with the results," said Lisa Farrell, director of Cummins' Accelerated Technology Center. "As expected, the technology is showing a lot of promise, particularly for NOx reduction that will help (fleets) meet future NOx regulations."
While netting up to a 20% uptick in fuel economy is impressive, dropping NOx is "really the driver, the emphasis of the technology," Farrell said.
R. Scott Bailey, president and CEO of Tula, said the goal of NOx reduction has kept "a significant percentage" of the company busy "working on this technology over the last several years."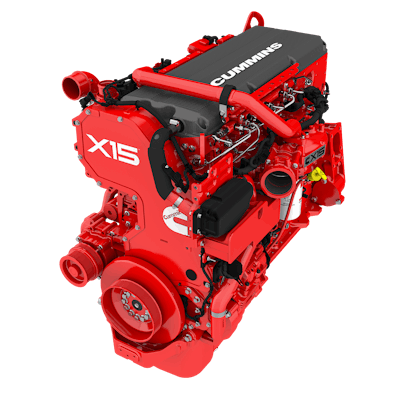 Cummins and Tula began working on diesel cylinder deactivation in early 2019. Tula's proprietary software algorithms manage carefully measured and timed doses of fuel and air mixtures while controlling precise intake and exhaust valve closings which can shut down unneeded cylinders to save fuel and increase exhaust temperatures in low-load conditions, which in turn burn off more NOx.
The technology also achieves CO2 reductions through improvements in combustion and reductions in pumping work.
Cylinder deactivation is nothing new for Tula. General Motors has used the Silicon Valley-based company's Dynamic Skip Fire software to cut emissions and improve fuel efficiency by as much 15% in its late-model Chevy Silverado 1500 and GMC Sierra 1500 pickups.
Incorporating CDA in diesel engines, however, presented greater challenges that included noise, vibration and harshness (NVH) and oil accumulation in cylinders. Testing, however, eventually led to answers Farrell explained.
"That's the reason that we find dDSF so attractive is because it helps with some of those issues that we're seeing traditionally as a result of cylinder deactivation with six cylinders," she said.
John Fuerst, chief engineer at Tula, said dDSF can be used on light and medium-duty diesel engines.
"We see a huge amount of opportunity down at the lower displacements," he said. "The fuel economy impact is a little bit smaller because you're not burning an ocean of fuel every year like an over-the-road X15, crossing the country back and forth."
Cummins and Tula's news about sharply cutting NOx comes as California's new Omnibus Regulations grow closer for model year 2024 with strict requirements limiting heavy-duty diesel and gasoline engines sold in the state to no more than .05 grams of NOx per brake horsepower hour (g/BHP-hr.), a 75% drop from the current limit of .20 grams. For model year 2027, CARB is targeting a near-zero, or .02 g/BHP-hr. NOx level.
[Related: Fleet exec has plan to bridge the gap to electric trucks]
A 50-state program backed by the U.S. Environmental Protection Agency at the behest of an emissions-hungry Biden administration would pit carriers up against uniform emissions regulations around the nation.
When asked when dDSF might enter mass production, Fuerst said, "We're working with 20-plus OEMs worldwide at some, some level or another. In terms of timing, the answer is probably 2024 or 2025. But the question is when do you need it?"
While Farrell wouldn't say when Cummins might make dDSF available, she did say that the system "will aid our efforts to produce more reliable, more powerful engines while meeting our environmental goals."