Trucking news and briefs for Friday, July 30, 2021: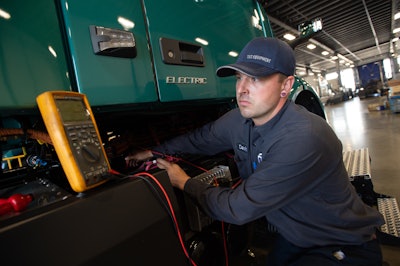 Volvo names first certified EV dealer
TEC Equipment, Volvo Trucks' largest West Coast dealership, has been named the company's first Volvo EV Certified Dealer in North America. TEC Equipment's Fontana branch in Southern California is the first location to achieve the electric vehicle certification, signifying that its sales team is fully trained to consult with customers that are considering investing in any of the VNR Electric model configurations. Its service team has also been fully trained and equipped to safely perform battery-electric truck maintenance and repairs for trucks in operations.
"Volvo Trucks' Volvo EV Certified Dealer certification program will help us build the robust sales and service ecosystem required to support customers across the country with their zero-emission transportation goals," said Peter Voorhoeve, president, Volvo Trucks North America. "It's fitting that TEC Equipment is our first dealer group to achieve this certification, as they have been an integral partner in the innovative Volvo LIGHTS project and deployed the first Volvo VNR Electric model in North America."
Volvo Trucks designed its Volvo EV Certified Dealer program to ensure technicians understand the proper safety procedures when servicing electric drivetrains and components. In addition, TEC Equipment's technicians have been outfitted with personal protective equipment for working with high-voltage systems.
Spot volume rebounds after three-week slide, flatbed rates suffer large drop
Data from Truckstop.com and FTR Transportation Intelligence for the week ending July 23 implies that the post-July 4 holiday volume bounce occurred a week later than anticipated. Volume was sharply higher in all segments, but volume also lagged pre-holiday levels in all segments by varying degrees. Despite a delayed rebound from lost holiday volume, there's no data that suggests spot volume will outpace seasonal expectations.
June traditionally is the market's peak, but a host of factors – supply chain and freight network disruptions, tight capacity, further stimulus, and intermodal sector service issues – should tend to keep volume robust, at least in the van markets. One major negative factor that bears watching is the recent resurgence of the COVID pandemic.
One potential sign of seasonality or, perhaps, normalization is a moderation in rates. Total spot rates peaked in late May but had not fallen much since then. However, in the latest week rates were down almost 8 cents, led by the specialized and flatbed segments. Flatbed's decline of nearly 9 cents was the largest since the collapse in April 2020. Dry van and refrigerated saw small declines in rates despite the solid rebound in volume. Total spot rates have fallen in six of the past eight weeks.
Total truck postings rose 15.4%, not quite matching the increase in load postings. The Market Demand Index moved up to 153.7.
Last week, market rates fell 2.5% to $2.98. Compared to last year, rates are up 35%. Total load postings in the Truckstop.com system jumped 18.7% during the week ended July 23 (week 29) as all segments saw sharp gains. Load volume was 15% below that in week 25 – the week prior to the recent three-week slide. Total spot rates fell nearly 8 cents per mile. Van increased 2.8 points to 188.0 as load availability rose 29.1% and truck availability rose 27.1%. Flatbed decreased 6.3 points to 213.9 as load availability increased 11.3% and truck availability rose 14.6%. Reefer increased 6.8 points to 136.5 as load availability rose 27.4% and truck availability increased 21.0%.
TuSimple partners with Ryder for terminal locations
Autonomous trucking firm TuSimple has partnered with Ryder System to leverage select Ryder fleet maintenance facilities to serve as terminals on TuSimple's Autonomous Freight Network (AFN).
Through the partnership, TuSimple and Ryder will work together to identify existing Ryder facilities to serve as terminals along the TuSimple AFN. Terminals are secure facilities and serve as the start and end point for autonomous driving missions. By adding more terminals to TuSimple's AFN, shippers and fleets will have greater access to autonomous freight operations. Leveraging Ryder's existing freight trucking terminals, TuSimple can quickly scale across the country without needing to build new facilities.
TuSimple's fleet of more than 50 autonomous trucks (SAE Level 4) transports freight for customers across the states of Arizona, New Mexico and Texas. Later this year, TuSimple expects to expand operations to the East Coast, carrying freight between Phoenix, Arizona, and Orlando, Florida.