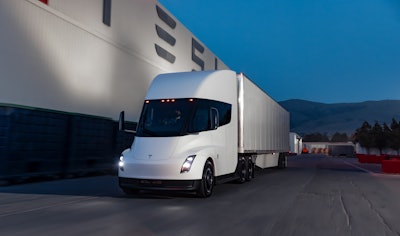 Tesla
Tesla on Monday said it would delay the debut of its electric Class 8 tractor to next year, marking at least the third time Semi truck production has been pushed back since it was unveiled in 2017.
Citing ongoing supply chain issues – including a global shortage of semiconductors and challenges ramping up vehicle production at new manufacturing sites around the world – the company said the "pace of the respective production ramps will be influenced by the successful introduction of many new product and manufacturing technologies, ongoing supply-chain related challenges and regional permitting. To better focus on these factories, and due to the limited availability of battery cells and global supply chain challenges, we have shifted the launch of the Semi truck program to 2022."
"In order for Cybertruck and Semi to scale to volume that's meaningful for customer deliveries, we've got to solve the chip shortage working with our suppliers," Tesla founder and CEO Elon Musk said during the company's investors call Monday.
Tesla listed Semi as "in development" on a slide deck shown to investors behind Cybertruck – the company's electric pickup, which was unveiled about two years later than Semi. Both trucks have "TBD" listed for a production site and capacity, but in announcing Semi's delay Monday the company noted "we are also making progress on the industrialization of Cybertruck, which is currently planned for Austin (Texas) production subsequent to Model Y."
The most recent delay was not totally unexpected as Musk has noted several times this year the company is experiencing a shortage in battery cells for production models of its passenger vehicles.
"The Cybertruck and Semi actually both are heavy uses of cell capacity," he added, "so we've got to make sure we have the cell capacity for those two vehicles or it's kind of pointless. We can make a small number of vehicles, but the effect of cost if you make a small number of vehicles is the same. Like, they would literally cost $1,000,000 a piece or more."
When the sleek zero-emission tractor was unveiled in 2017 in Hawthorne, California – the home Tesla Motors' design center and company founder Elon Musk's SpaceX rocket factory – production was penciled in for 2019, and orders began to trickle in from the likes of UPS, FedEx, PepsiCo, Anheuser-Busch, J.B. Hunt, Walmart and others. In April 2020 Tesla said it would shift Semi deliveries to 2021 and now – 15 months later – it's been bumped into next year.
Jerome Guillen, president of Tesla's Heavy Duty Trucking division, departed the company last month. A Freightliner expat, Guillen served in a key leadership role in the development of a new generation Freightliner Cascadia in the early 2000s, and his involvement was widely viewed as vital to the success of Tesla's Semi program.
While Monday was bad news for Semi reservation holders, it was a good day to be an investor. The company reported that it produced and delivered more than 200,000 vehicles during the second quarter and surpassed $1 billion in quarterly net income for the first time.