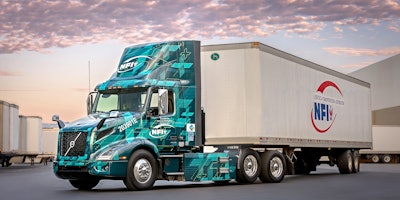 Volvo Trucks North America
NFI Industries (CCJ Top 250, No. 21) confirmed this week that it's on track to have the first zero-emission fleet location in the U.S. following a commitment to acquire dozens of all-electric Class 8 trucks.
As part of the Joint Electric Truck Scaling Initiative (JETSI), sponsored by the South Coast Air Quality Management District (South Coast AQMD), California Air Resources Board (CARB) and the California Energy Commission (CEC), NFI will add 30 Volvo VNR Electric tractors and 30 Freightliner eCascadias at its warehouse location in Ontario, Calif. by the end of 2023.
"We're excited. We are definitely excited," said NFI senior vice president of fleet services Bill Bliem who added that NFI will also be "putting in the first [fleet operated] electric tractor maintenance facility."
[Related: Schneider places big eCascadia order; Hino rolls out new Class 8 fuel cell]
The trucks will run round trips to the Ports of Long Beach and Los Angeles where NFI ranks as the largest drayage operator. The runs average 130 miles round trip, which posed problems for their current VNR Electrics and Freightliner eCascadias if they pushed for a second round trip without charging.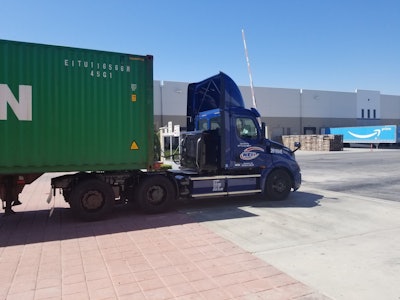 "Right now we can't quite get that second trip," Bliem said. "We believe with these new production trucks that we'll be taking delivery of next year, we'll be very close to making that second trip. And we feel that we can give an opportunity charge in between trips for maybe 20, 30 minutes if necessary and make that second trip."
[Related: NFI gives progress report on electric Class 8 trucks]
Bliem credits charging partner Electrify America for guiding them to plan ahead with a microgrid to help meet their charging needs. Thirty-four 150- and 350-kilowatt DC fast-chargers will be installed across four acres of property. Solar panels will power a five-megawatt energy storage system supported by lithium-ion batteries.
"Solar and other renewable energy is complementary to the adoption of electric vehicles in general and it certainly helps to further reduce the carbon footprint in the transportation sector," said Rachel Moses, director of commercial services and business development at Electrify America.
"From a resiliency perspective it will support infrastructure needs and ultimately lower the operation costs," Moses continued.
Electrify America, already the largest open DC fast charging network in the U.S., is taking on the nation's single largest charging infrastructure project for heavy-duty electric trucks through its partnership with NFI.
No stranger to electric trucks, NFI had already been running VNR Electrics, eCascadias and Kalmar electric yard tractors prior to signing on the line for 60 more electric trucks.
"They are really at the forefront," Moses said. "To have the experience that they have already at such a nascent stage of vehicle availability, they are an incredibly advanced, innovative fleet. We're providing scope for the infrastructure but it is NFI that is really all in for the vehicles, having an electric shop facility and training and the entire project investment initiative."
The JETSI project will help fund 50 of the trucks, with 10 additional Volvo VNR Electrics funded by Volvo Trucks North America and SWITCHON.
"It can't be done without any support funding. We would never get an ROI," Bliem said. "I don't think we'd ever get an ROI right now with the price of vehicles, the price of batteries. It would just not be possible without the support of CARB, CEC, South Coast Air Quality Management District and all the other agencies out there."
This week, Schneider (No. 7) announced that JETSI backed the purchase of 50 Freightliner eCascadias for use at their Southern California intermodal operations making it one of the largest battery-electric fleets in North America.