Trucking news and briefs for Wednesday, Sept. 1, 2021:
Hino debuts new fuel cell truck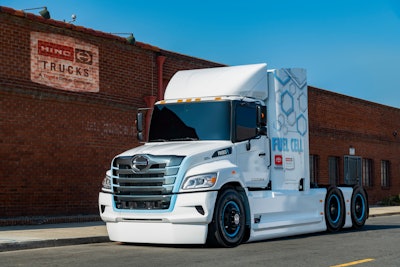 Hino Trucks debuted Tuesday its Class 8 hydrogen at the 2021 ACT Expo in Long Beach, California.
In October 2020, Hino unveiled its Project Z – a development path to zero emissions Class 4 through Class 8 trucks, leaning on partnerships with technology leaders in advanced electrification drive systems. Hino itself is a subsidiary of Toyota.
Powered by a hydrogen fuel cell electric drivetrain, the Hino XL8 prototype is the first fruit of that effort.
"It's amazing what our team has been able to accomplish in a relative short period of time," said Glenn Ellis, Hino Trucks senior vice president of customer experience. "We are looking forward to validating the performance, reliability and efficiency of our hydrogen fuel cell electric system in the XL Series chassis."
"From Project Z announcement last October, Hino Trucks Senior Vice President of Vehicle and Parts Sales Bob Petz aid the company has received significant interest from customers, "and now we have something tangible to show them in our prototype FCEV."
Barr-Nunn expands pay platform
Barr-Nunn Transportation, is expanding its Assured Pay fleet offering to solo and team drivers living in 43 states.
Eligible Assured Pay fleet drivers hauling regional loads primarily in Illinois, Indiana, Ohio, Kentucky, West Virginia, Virginia, New Jersey, Pennsylvania, Maryland, Massachusetts, and Connecticut earn $265 for on-duty shifts and $90 for each load hauled during that shift. Drivers work 21 days on and are home for seven whole days. In addition to receiving safety bonuses and transition pay, drivers hauling seven loads and completing seven shifts earn $2485 per week.
Eligible Assured Pay fleet drivers receive a fully loaded late model tractor equipped with a flat-screen TV, microwave, refrigerator, inverter, and other amenities for 21-day trips. Barr-Nunn Transportation also offers three weekly home-time Assured Pay Fleets, where solo drivers are home every weekend and earn up to $260 per shift and $90 per load. Five shifts and five loads equate to $1750 per week and home time on the weekends.
Assured Pay fleet options are also available to qualified team drivers. Team drivers in the 21-day Assured Pay fleet each earn $400 per shift. Established teams living in the northeast or parts of the Midwest can be home weekends and earn $400 each per shift, equating to $2,000 each per week plus bonuses and home every weekend.
In addition to Assured Pay, company drivers are eligible for safety bonuses, paid time off, Blue Cross Blue Shield insurance, matching 401(k) program, paid life insurance and a free-rider program starting day one.
Schneider adding 50 electric Freightliners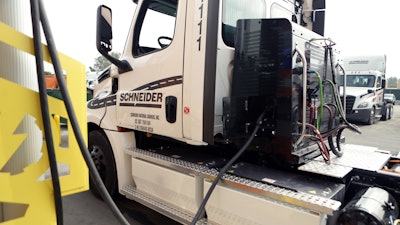 Beginning next year, Schneider (CCJ Top 250, No. 7) will add 50 Freightliner eCascadia to its Southern California intermodal operations, making the organization one of the largest battery-electric truck fleets in North America. Schneider has plans for more BEVs and route options.
Funding for the 50 BEVs was announced Tuesday as part of the Joint Electric Truck Scaling Initiative (JETSI), sponsored by the South Coast Air Quality Management District (South Coast AQMD), California Air Resources Board (CARB) and the California Energy Commission (CEC). The initiative is working to significantly increase the number of zero-emission heavy-duty trucks available for goods movement while achieving necessary emission reductions.
"Schneider's sustainability initiatives got a big boost when we were selected to participate in the state of California's Joint Electric Truck Scaling Initiative," said Schneider President and CEO Mark Rourke. "The scaling of zero-emission vehicles is a key component of our goal to reduce carbon emissions by 7.5% per mile by 2025 and by 60% per mile by 2035."
Schneider has piloted an eCascadia for six months through Freightliner's Customer Experience fleet. "Our drivers who tested the eCascadia really enjoyed it," said Schneider Executive Vice President and Chief Administrative Officer Rob Reich. "It's a great driving experience."
Performance Team – A Maersk Company places largest order of VNR Electric models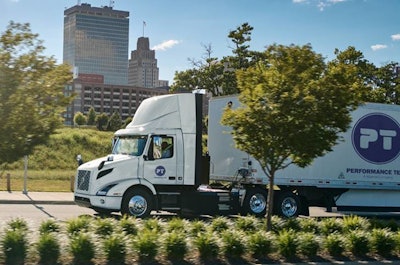 Performance Team – A Maersk Company, a warehousing and distribution company, has ordered 16 Volvo VNR Electric Class 8 trucks — the largest commercial order of the North American zero-tailpipe emission model to date. The VNR Electric model from Volvo Trucks North America will be the first zero-tailpipe emission, battery-electric Class 8 truck in Performance Team's fleet, which will be on the road by the end of this year. When put into service, all 16 vehicles will carry regional loads daily to customers across Southern California.
Designed for local and regional freight distribution, the Volvo VNR Electric improves local residents' quality of life by decarbonized and quiet transportation on urban streets and roadways. The significant reduction of noise and vibrations also creates a best-in-class, clean and comfortable working environment for drivers.
"We're seeing a 30% growth rate in our Warehousing and Distribution business," said Jason Walker, executive vice president of operations of Performance Team – A Maersk Company. "Customers are looking for more truck power to meet high volume delivery demands. This new order of Volvo VNR Electric trucks will give us firsthand experience on their performance carrying regional loads and environmental benefits. Our findings will help determine next steps in our fleet modernization and the electric infrastructure necessary for future operations."