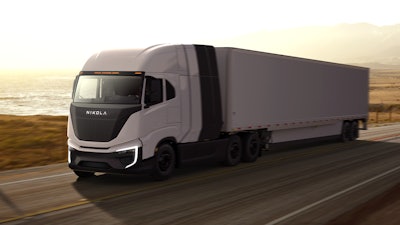 Nikola Corporation will pay $125 million to the Securities and Exchange Commission (SEC) in five installments over two years, bringing an end to a legal tussle that saw the company accused of misleading investors about its products, capabilities, technology readiness and prospective customers.
Under the terms of the resolution, Nikola neither admitted nor denied the SEC's findings. The company said it will seek reimbursement from founder Trevor Milton for costs and damages in connection with the government and regulatory investigations.
The SEC charged that before Nikola had produced a single commercial product, Milton embarked on a public relations campaign "aimed at inflating and maintaining Nikola's stock price," and that Milton's statements in tweets and media appearances "falsely gave investors the impression that Nikola had reached certain product and technological milestones."
When Nikola went public last June, its stock price rocketed to nearly $100 per share, giving it a worth in excess of Ford. It currently trades below $10 per share.
Wall Street's top regulator found that Milton misled investors about Nikola's technological advancements, in-house production capabilities, hydrogen production, truck reservations and orders and financial outlook, also finding that Nikola further misled investors by misrepresenting or omitting material facts about the refueling time of its prototype vehicles, the status of its headquarters' hydrogen station, the anticipated cost and sources of electricity for its planned hydrogen production, and the economic risks and benefits associated with its contemplated partnership with a leading auto manufacturer.
"As the order finds, Nikola Corporation is responsible both for Milton's allegedly misleading statements and for other alleged deceptions, all of which falsely portrayed the true state of the company's business and technology," said Gurbir S. Grewal, director of the SEC's Division of Enforcement. "This misconduct — and the harm it inflicted on retail investors — merits the strong remedies today's settlement provides."
The first installment will be paid by year's end, and the remaining installments will be paid semi-annually through 2023.
"We are pleased to bring this chapter to a close as the company has now resolved all government investigations," the company said via statement. "We will continue to execute on our strategy and vision to deliver on our business plan, including delivering trucks to customers, expanding our manufacturing facilities and our sales and service network, and building out our hydrogen infrastructure ecosystem including hydrogen production, distribution and dispensing stations."
Nikola also agreed to continue cooperating with "ongoing litigation and investigation." Milton in July was charged by the SEC with fraud "for repeatedly disseminating false and misleading information – typically by speaking directly to investors through social media – about Nikola's products and technological accomplishments."