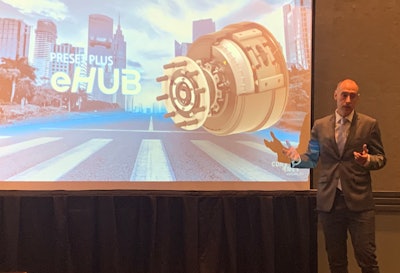 ConMet has its eyes squarely set on the reefer trailer market, forming several key partnerships and supply agreements to get its PreSet Plus eHub to mass market.
ConMet eMobility last January announced a commercial partnership with Carrier Transicold. When paired with a third-generation Carrier Vector unit, the technology can deliver a zero-emission transport refrigeration solution. California recently announced plans to make zero-emission TRUs mandatory and other states are likely to follow.  
The system has already hit the road in California. The companies Match 1 announced an agreement with Sysco Corp. to supply the foodservice distribution giant with a zero-emission refrigeration system as part of a commercial evaluation program from its Riverside, California, operating site.
The eHub system pairs an in-wheel electric motor with a ConMet PreSet Plus hub assembly, engineered to capture kinetic energy and convert it to electricity.
On a delivery route January 26, battery level never got below 25% after starting the day at about 50% charge over the course of an 11 hour day.
The electricity is stored in a high-capacity, lightweight battery that sits beneath a trailer, providing the vehicle with auxiliary power.
"Once we have power in the battery I can put power back in the wheels," Marc Trahand, vice president and general manager of ConMet eMobility, said at the Technology and Maintenance Council Annual meeting in Orlando Sunday, adding that supplemental power provides forward propulsion assistance.
When shared with transport refrigeration units (TRUs), this regenerative energy is capable of providing zero-emission refrigeration to a fully loaded trailer, eliminating the need for a separate diesel engine and reducing overall fuel consumption.
ConMet eMobility is also working with Great Dane – the first manufacturer to specify a pre-configured trailer option for the eHub system.
ConMet last week also announced a partnership with Meritor, an agreement that calls for Meritor to develop purpose-built trailer suspensions, brakes and tire inflation systems to work with the PreSet Plus eHub.